By Nikki Goddard
Sweet wines can be polarizing, particularly among less experienced drinkers, who often fall firmly into one of two categories: those who prefer to drink them almost exclusively, and those who shun them altogether. They might consider them (or think others consider them) unsophisticated, or they may think that all sweet wines are syrupy and saccharine.  
The reality is that the vast, complex world of sweet wine encompasses an enormous range of styles, flavors, sweetness levels, and production methods—it's impossible to reduce the entire genre to a single descriptor. Instead, these wonderfully diverse wines deserve a closer look.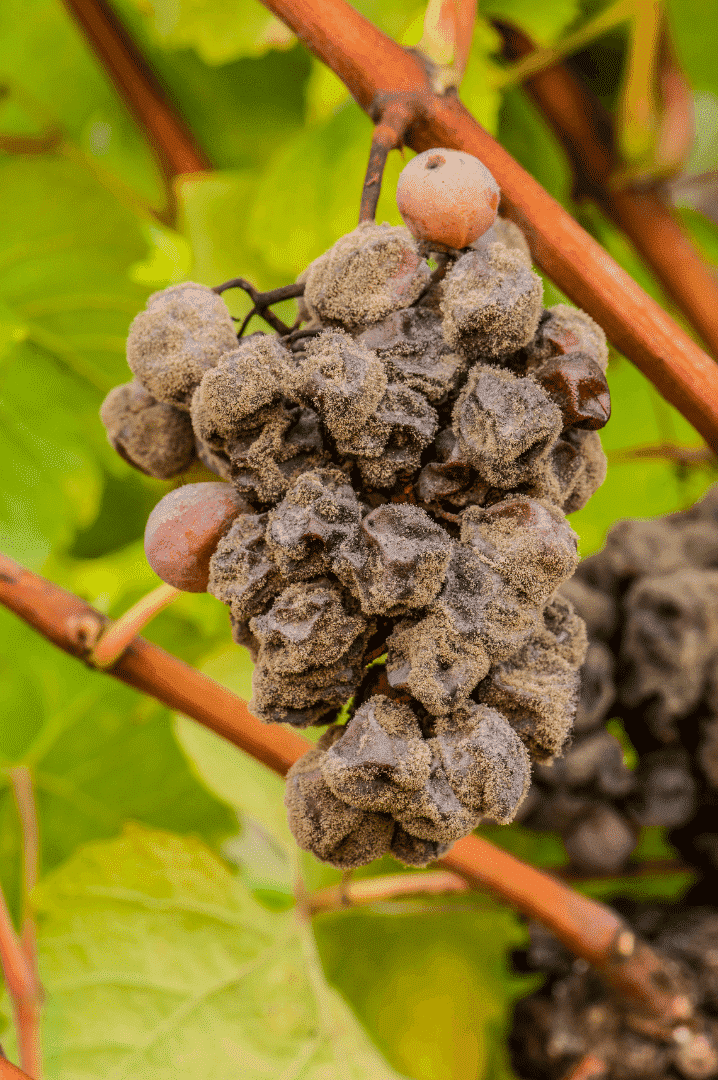 Sauternes has long been regarded by many as the world's finest region for the production of sweet wine. Geography is to thank for this; Sauternes' damp, intermittently sunny climate creates ideal conditions for the development of Botrytis cinerea. This fungus (more appealingly referred to as "noble rot") causes the grapes to shrivel, concentrating their sugar content and ultimately producing, in the best circumstances, long-lived, golden-hued wines with luscious notes of honey, caramel, and dried stone fruit. 
But Sauternes is far from the only botrytized wine worth exploring. The production method is risky (the weather must be just right, or the grapes will simply rot), labor-intensive (individual grapes must be picked by hand), and costly (yields are necessarily minuscule), but nonetheless, dedicated producers in regions prone to botrytis persevere in order to extract the sweet, noble nectar it produces. 

Hungary's Tokaji, where botrytized grapes are referred to as "aszú" berries (which means "dried" or "drying" in Hungarian), is another prestigious member of the noble rot family. Historically, the aszú grapes were collected in baskets, or "puttonyos," and then added to the must of non-botrytized grapes (Furmint and Hárslevelü are the primary varieties). Today, "Tokaji Aszú producers can decide whether to use the 5 or 6 puttonyos designations on their labels, and all the aszú wines must have at least 19% potential ABV," notes Deborah Parker Wong in Somm Journal article from the February-March 2018 issue. At the top of the sweetness scale sits Eszencia—a sublime, barely alcoholic ambrosia so thick and syrupy, it is traditionally consumed from a spoon. 
Germany, Austria's Burgenland, and several additional regions of France are also strong contenders in the botrytized wine realm. In Germany, Riesling is the primary grape of choice, categorized by must weight (a measure of ripeness) as either Beerenauslese (BA) or Trockenbeerenauslese (TBA). In Burgenland, the same categorization is used, but a wider selection of grape varieties is available to winemakers—including red grapes like Zweigelt and Blaufränkisch, a rarity among botrytized wines. France's best examples of the style include Loire Valley specialties Coteaux du Layon, Vouvray Moelleuex, and Quarts de Chaume, all made from Chenin Blanc; Alsace's Sélection de Grains Nobles (SGN); and Monbazillac in the Southwest. 
Late harvest wines offer another way to achieve sweetness in the vineyard; the longer the grapes hang on the vine, the sweeter they become. Germany excels at this category, typically, again, with Riesling, which falls under the Spätlese or Auslese designations, just below BA and TBA on the 'must' weight scale. Several regions in France also produce excellent late harvest wines, known as "vendanges tardives" in Alsace, Gaillac, and Jurançon. The latter appellation often relies on a practice called "passerillage," where grapes eventually begin to shrivel on the vine, concentrating the sugars in a manner similar to botrytis. Late harvest wines are also common throughout the New World. 
In colder climates, when grapes continue to hang through the frosty winter months, they eventually freeze, creating a similar effect. The wines made from this frozen fruit (which is still frozen when pressed) are known as ice wine, or, in German, eiswein. This style is also popular in Austria, Oregon, Michigan, and the Niagara region of Canada. Wines made from frozen grapes tend to have more pure, fresh fruit notes than botrytized wines do.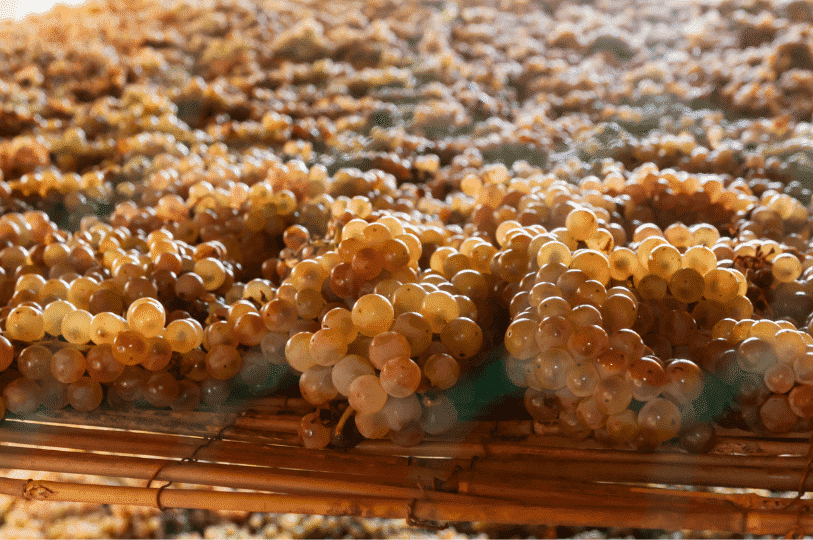 Drying the grapes after they have been picked is yet another way to achieve sugar concentration. This ancient technique is particularly popular in Italy (known locally as "recioto" or "passito"), where Amarone della Valpolicella reigns supreme. Tuscany's Vin Santo is another classic example. To make this style of sweet wine, grapes are picked whole and dried in the sun or in special drying rooms, causing them to shrivel. This process also introduces oxygen, often giving the wines a nutty character. In Valpolicella, "ripasso" wines are also produced by re-fermenting young wine on dried Amarone skins to add flavor and texture. 
Outside of Italy, examples of dried grape wines include the Jura's Vin de Paille and the ancient—perhaps the oldest named wine in the world—a specialty of Cyprus called Commandaria, which traditionally uses a solera-like system that resembles the production of Sherry. 
Sweet fortified wines, including some Port, Madeira, Marsala, and some styles of Sherry, achieve their sweetness through the addition of spirit to the grape juice prior to the completion of fermentation, which kills the yeast, arresting fermentation, leaving unfermented sugars behind. 
In France, wines made by this method (known as "mutage") are called Vin Doux Naturels (VDN). This technique actually predates the existence of Port. These tend to be simpler, more fruit-focused, and less age-worthy wines that offer immediate pleasure and refreshment. VDN production is concentrated in the south of France, particularly in Roussillon. Notable examples include Banyuls, Rivesaltes, Muscat de Rivesaltes, and Muscat de Beaumes-de-Venise. Vin de Liqueur, or Mistelle (Mistella in Italian; Mistela in Spanish) is a similar style, although the spirit may be added to unfermented grape must rather than fermenting juice. Pineau des Charentes, a popular example, is typically enjoyed as an aperitif. Other Vins du Liqueur include Floc de Gascogne, Ratafia de Champagne and Macvin du Jura. 
Finally, sweet sparkling wines are produced through the addition of dosage (typically a mixture of wine and sugar syrup) prior to bottling. In France, the category includes Demi-Sec and Doux styles of Champagne.
There is so much more to quality sweet wine than just Sauternes, and these wines have so much more to offer than just cloying, sticky sweetness. The nuances among and between the sweet wines of the world are worthy of the attention of any wine lover, and just about anyone should be able to find a style that suits their palate.
February 16, 2022. Corrections: In our originally published article on Sauternes, we incorrectly, though with sweet intentions, stated that three to six puttonyos are currently in use for labeling. Those numbers are only five to six. Additionally, Brachetto and Moscato are made without dosage. And Bogey-Cerdon is made by ancestral method without dosage. All corrections have been made above.
Other articles you might find interesting: