The Tokaj Wine Region in Hungary is a two hour drive, east and a bit north, from the country's capital city of Budapest. To the north of Tokaj is Slovakia, east is the Ukraine and south is Romania–an area besieged by wars and subject to Mongolian influence for centuries before Ottoman control, followed by a period of reform that led to the Austro-Hungarian Empire, which was dissolved only as recently as the end of World War One.
Viticultural practices and winemaking in the region date back to the year 1241 (nearly 300 years before wine was made in the U.S. and a whopping 600 years before California would become a boon-state for wine thanks to the Gold Rushers of 1849).
Tokaj is a wine growing region of varied landscapes and climatic diversity as well as varietal-diversity, with international grapes mixed in among indigenous varieties like "Kadarka," "Hárslevelu," Kékfrankos," "Olaszrizling" and Hungary's prestigious "Furmint" variety.
This past week a group of Hungarian winemakers with the organization FurmintUSA brought a taste of Hungary to the Rudd Center at Napa's Culinary Institute of America (CIA). László Bálint, an electronic engineer by trade, who fell in love with wine, and particularly the Furmint grape, is the co-founder of Furmint USA along with Balázs Humayer. The purpose of their U.S.-tour is to get to know Sonoma and Napa, and because Bálint teaches WSET (he is a Diploma holder) he is excited to share his first-hand accounts of California's premier wine regions with his students back in Hungary.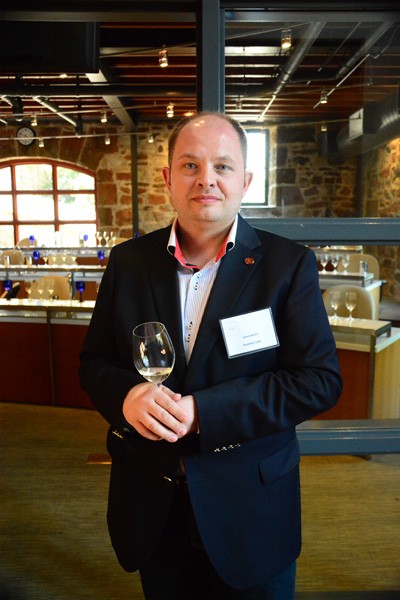 As for Tokaj, he says they are on a mission to disprove the myths that only sweet wines and cheap wines are made in the region. "These dry Furmints are real world classes wines that can compete globally," he said, before adding, in a jocular tone, that American students really should simply: "keep calm and drink Furmint." No problem.
Paul Wagner, President of Balzac Communications played host and educator while leading a group of students, trade and media through a tasting of eight expressions of Furmint.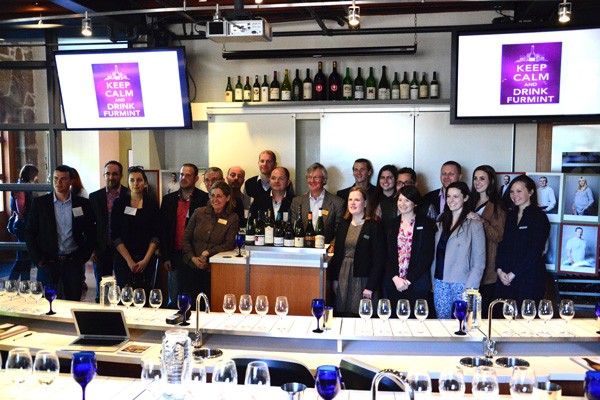 "American palates are coming back to a place where they seek balance," Wagner contended amidst discussion of the transformation in American tastes since the late 1970s. He went on to say that the evident changes are a direct result of a younger generation of wine buyers and drinkers asking for wines far beyond Chardonnay and Cabernet Sauvignon.
The group agreed that an America still reeling from Prohibition and trying hard to rediscover its wine roots, may have in fact aimed too high by opting for wines with big tastes and bold flavors. And while those styles helped catapult the industry, the tides have turned and demand has forced producers to slink back from fruit and butter bombs to a place where winemaking is once again about finesse, elegance and above all, balance.
And as we tasted through the bone-dry, brightly crisp Furmint wines from Tokaj, the concept of "balance" became clear. With laser-like acid balanced by incredibly fresh, fruity notes, tamed or sometimes even enhanced by selective oak aging, the wines we sampled were complex, showy and downright sophisticated–and many in the room said they would have a hard time placing them outside of Chablis in a blind tasting. Big compliments all around.
"I would put them against the great whites of Friuli, Bordeaux and Burgundy," said Wagner. "Give me your best shot," he continued, "because I've got something that belongs in the same ballpark."
"There's no better time than right now to introduce these wines to the U.S.—these are discovery wines," said Christie Dufault, a wine and beverage instructor at the CIA. "You could probobably sell this entire production in Brooklyn and San Francisco," she joked. The room agreed. So, let's get into it.
Below is a roundup of the eight wines tasted, in order of tasting. We've intentionally left off prices since these wines are scarce and relationships with importers and distributors are still in the works for many. Generally speaking, unoaked Furmints are roughly $25-$35 while single vineyard, aged, oak influenced versions will run about $35-$60. Blue Danube is one of the biggest importers of Hungarian wines and newcomer Palinkerie out of NYC is making some noise as well.
We encourage you to seek out these producers, reach out to Furmint USA, engage and taste as much Furmint as you can get your hands on. Dry Furmints from Hungary are going to make major waves in the next half of this decade.
Furmint Fact Takeaways:
Indigenous Hungarian variety
Mid to late season ripening
Different clones
Medium skin thickness
Small to medium berry size
Prone to noble rot
---
THE WINEMAKERS AND THEIR WINES
---
 (winemaker portraits courtesy of furmintusa.com)
Basilicus Winery | Basilicus Winery 2012 Furmint, Lapis Vineyard, Tokaj, Hungary 
Owners: Richárd Basa and András Kanczler
Personal take on Furmint: "Tokaj is the primary growth place for this cultivar in Hungary, imparting dry Furmint varietals a distinctly mineral character (with salt, flint and chalk). This is why Furmint should be regarded as a prime terroir wine."
Group tasting notes: Dried apricots, lanolin, wet-wool, almond note, which followed through on the palate.
Cases produced: 148
Gróf Degenfeld Winery | Gróf Degenfeld 2011 Tokaji Furmint Estate,Tokaj, Hungary 
Owner: The Count Degenfeld Family
Personal take on Furmint: "Where it is grown in complex soil types, like the Degenfeld Vineyards, a characteristic minerality shows through, first in the grapes and then in the wine, which tends to be typical of all great grape varieties."
Group tasting notes: "There a sagey, dusty herb character" said Wagner, and lots of comments on chalkiness. "I'm having Chablis flashbacks," said Christie Default. "I know we're not there, but something is triggering this. These wines are round but — there's that snap in the finish that let's you drink this all day long."
Cases produced: 541
Erzsebet Cellar | Erzsebet Cellar 2011 Estate Furmint, Tokaj, Hungary
Owner: Miklós Prácser and Elizabeth Prácser
Personal take on Furmint: "It is a special, indigenous and precious variety with great potential."
Group tasting notes: More fruit, riper in the nose, sweet fruit character, some undercurrents of cream and melon notes, great, lengthy finish.
Cases produced: 166
Kvaszinger Winery | Kvaszinger Winery 2012 Hatalos Furmint,Tokaj, Hungary
Owner: László Kvaszinger
Personal take on Furmint: "I see a huge potential in Furmint because it is a cultivar that can beautifully reflect the terroir."
Group tasting notes: Used oak provides a little creamer mouthfeel than some of the others, orange blossom character, and fresh apple cider notes.
Cases produced: 250
Tokaj-Hétszolo Vineyards | Tokaj-Hétszolo 2012 Furmint, Tokaj, Hungary
Owner: Michel ReybierThe story:
Personal take on Furmint: "Whether it comes to Aszuú or sweet wine or dry wine, Furmint always gives characteristic, complex and well-structured wines."
Group tasting notes: Apple, earthy, more vegetative, slight petrol note, bracing acidity.
Cases produced: 204
Majoros Estate | Majoros Estate 2011 Furmint, Deák Vineyard, Tokaj, Hungary
Owner: László Majoros and Hajnalka Majoros Bodnár
Personal take on Furmint: We think this interview with Joe Roberts (@1WineDude) says it all. Say hello to…the Furminator!
Group tasting notes: Pretty smoky note in the nose, some rubbery notes, more of that apple and yellow pear notes, oak helps open up the freshness of the character and gives us some herbal notes as well.
Cases produced: 333
Barta Winery | Barta Winery 2012 Furmint, Old King Vineyard, Tokaj, Hungary 
Owner: Barta Family
Personal take on Furmint: "Every year it presents new challenges to the winemaker. It gives a beautiful elegant wine with great complexity and minerality lively acidity and long aging potential."
Group tasting notes: Bright apple and pear notes, herbal and fresh, lively, smooth, — "One thing you keep seeing is that this kind of acidity could really be jarring," said Wagner, "but these are balanced and you want to keep drinking."
Cases produced: 433
Balassa Winery | Balassa Winery 2013 Furmint, Betsek Riolit, Tokaj, Hungary
Owner: Istvàn Balassa
Personal take on Furmint: "The variety best suited to express the terroir with great depth and clarity.
Group tasting notes: Super floral on the nose, slightly lower acidity, lower production than the last, got some tropical fruit notes, fuller mouthfeel, some orange peel and creamy notes on a long, long finish.
Cases produced: 40
Robert Bath, MS, who joined us for the tasting said: "I'm reminded of Austria 15 years ago. Now, keep in mind these are small production, hand-crafted wines and the effort, the money, the emotion involved in sharing wines like this–is exactly what we saw from Austra 15 years ago I think that this is the recipe for success–showing wines that are outstanding examples of the grape and above all by outstanding personalities."
We leave you with the first video in a series produced by FurmintUSA and staring the one and only 1WineDude, Mr. Joe Roberts. Enjoy.