WSET Level 4 Diploma in Wines
Everything you need to prepare for, execute and excel at this rigorous certification
The WSET Level 4 DIPLOMA IS A BIG STEP IN YOUR WINE JOURNEY.
DON'T GO IT ALONE.
As WSET's highest certification, the WSET Level 4 Diploma offers an expert-level understanding of the factors influencing a wine's style, quality, and price. You'll build theoretical ⁠and practical knowledge through in-depth study of numerous wine regions and by honing your tasting skills.
Interested in learning more? Our Diploma Manager, Noelle Hale, explains how our WSET Diploma program works:
dipWSET and NVWA Diploma Manager
Why study for your WSET Level 4 Diploma with us?
HOW THE WSET LEVEL 4 DIPLOMA WORKS
The Diploma has six units. D1 must be taken first, followed by D2. Once you have taken the D1 and D2 exams (you don't need to have your results back), you can take the other units in any order. Click the blocks below to learn more about each unit, see upcoming start dates and register.
Rolling WSET Level 4 Diploma Schedule
The graphic below includes a rough guide of when NVWA offers each unit throughout the year. For example, a D1 class starts each January, June and October. Click on each unit's row below to see upcoming start dates and register.
ALL EXAMS MUST BE TAKEN IN-PERSON IN NAPA.
Our WSET Level 4 Diploma is ideal for you if:
Frequently Asked Questions
Get the skills and support you need to succeed
YOUR INSTRUCTOR TEAM FOR WSET LEVEL 4 DIPLOMA
Meet some of our superstar team, who are experts not only on the topics they're teaching, but also experts on teaching.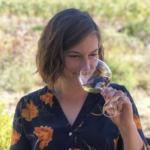 Noelle Hale, dipWSET and Diploma Manager
Jess Helfand, dipWSET and WSET Certified Educator
Csilla Kato, dipWSET and winemaker
Erin Kirschenmann, dipWSET
Liz Pirnat, dipWSET and WSET Certified Educator
Five years ago I completed the WSET 3 at Napa Valley Wine Academy. I jumped into the certification program a bit on a whim, knew very little about wine and knew no one in the industry. At the time I was working for a software company in Toronto and lived a life on autopilot, commuting to a job that brought me little joy but a nice paycheck. After one year of saving, working 7 days a week in the office and as a restaurant server on the weekends, I finally quit my job and never really looked back. I'm currently completing the Level 4- Diploma. It's exciting, It's difficult. It's super nerdy. But I like that. I got a lot of amazing people encouraging me along the way - great teachers, winemakers, writers, Masters of Wine - that are helping me train and are kind to let me taste with them Moral of the story: don't work in tech. Just kidding!
Ken Shroeder
CS
3 Reasons Our Students Have Higher-Than-Average Success Rate
Extra learning opportunities you won't find anywhere else
DIRECT ACCESS TO WINE INDUSTRY EXPERTS
Have other questions? Still wondering if this program is right for you?
Schedule a call to speak with our Diploma Manager.
We're Premier, not Pretentious
We design our programs for students, not snobs. We know wines are complex, but believe wine education should be approachable and fun.
(There's a reason our unique approach is winning awards.)
Helping enthusiasts and professionals become confident wine authorities.