Celebrated wine writer and author Jordan Mackay ("The Sommelier's Atlas of Taste" and "Secrets of the Sommelier") shares a personal journey story while teaching us about all things Pinot Noir.
My initiation into the world of Pinot Noirs came with equal portions of allure and danger, those two qualities that never fail to make an experience memorable. I was in my mid-twenties and eager to learn about wine, attending a fancy wine dinner where I knew I was out of my league. When my hosts poured me a 1985 Chambolle-Musigny, the stage for my awakening was set. I knew little about this wine other than that it came from Burgundy. 
Raising the absurdly large, bulbous Burgundy glass, I peered into a wine so pale as to resemble a rosé more than a red. Then I sniffed it. The wildly complex aroma twirled me away into a reverie of blackberries and strawberries, flowers and forests, gardens and stones. When I finally took a sip, the wine's flavor—simultaneously sweet and dry—expressed some platonic ideal of red cherry. How could an ounce of this translucent liquid carry a power, intensity, and complexity that seemed to promise all the secrets of the universe? For better or worse, I was forever changed.
Pinot Noir can be a siren to those vulnerable to its charms, and a vexing lover to those overwhelmed by its powers. It's a grape that conjures dreams of greatness and promises nothing in return.
My experience is hardly unique: one of the hallmarks of the grape itself (and the wondrous wines made from it), is its ability to provoke sensuous language. Pinot Noir can be a siren to those vulnerable to its charms, and a vexing lover to those overwhelmed by its powers. It's a grape that conjures dreams of greatness and promises nothing in return. Even if you've found the ideal climate and soil, paid dearly for the perfect plot, and mastered the careful propagation techniques the grape requires, you still may end up producing average Pinot Noirs. And even though the average Pinot Noir is usually perfectly enjoyable, the best Pinots inspire the pursuit of elusive, ethereal moments that just might blow your mind.
Pinot Noir tends to make medium- to light-bodied red wines: fairly pale in color, low in tannin, and with moderate acidity. Its core flavors suggest red or black berries, often with hints of floral and earth notes to provide complexity. It tends to be drinkable when young with moderate aging potential and at every register pleases most people (except those who favor "big" or "strong" wines). Its relative lightness allows it to pair well with an array of entrees, soups, meats, pastas, and salads alike. All this is true, except when it isn't, as Pinot delights in confounding expectations. 
The title of a 1994 book "The Heartbreak Grape" alludes to the tantalizing allure and ever-present threat of disappointment for those who try to grow Pinot. Pinot's demands on its producers begin with location. It prefers cool-to-moderate climates where temperature extremes are rare, and land is pricey. It needs a gentle climate because it's not particularly hardy. The skins of a Pinot Noir grape are thin—resulting in its pale color and low tannins—and don't provide much protection against vineyard pests like molds and mildews, nor against untimely rains, frosts, or brutal heat waves.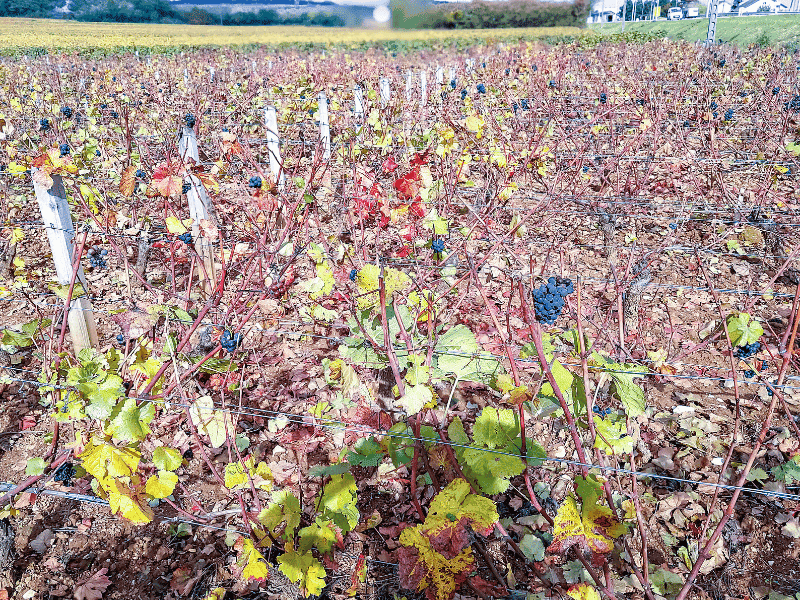 Beyond its taste in address, Pinot Noir likes to be coddled, requiring a great deal of precise and constant viticultural handwork—an expensive proposition for any vineyard owner. And, to cap it all, Pinot Noir's yields tend to be disappointingly low. Two to three tons of grapes per acre is considered standard, even good, but the very best wines tend to come from even lower-yielding sites. In contrast, Cabernet Sauvignon often results in wines that cost more than Pinot Noir while cropping at 4-7 tons per acre. In sum, Pinot has expensive tastes, is finicky in its needs, and requires constant attention. It would seem only a fool would grow Pinot Noir. Ah, but passion makes people do foolish things. 
I've visited most locations in the world where the highest quality Pinot Noir is grown, and they tend to be places where a Silicon Valley mogul might make a second or third home—rural France (not far from Paris), the coastal ranges of California, woodsy Oregon hills between Portland and the Pacific coast, New Zealand. Less heralded places include Australia, Argentina, Germany, Chile, and Italy.  
Pinot Noir's homeland is Burgundy, where it's revered for a quality that wine lovers call transparency—its ability to reflect (in smell and taste) the particularities of the site where it's grown. In Burgundy—a 30-mile long extended ridge with a slope facing generally southeast known as the Côte d'Or ("golden slope")—Pinot bottles are differentiated by village and individual vineyard plots. Indeed, the mind-bending wine I described at the top, Chambolle-Musigny, takes its name from a famous Pinot-producing village. Not all grapes reflect such sensitivity to place, or at least not so precisely and divinely. Some of the pleasure for Burgundy junkies is in recognizing the particular shades of Pinot Noir each site reliably produces. 
Those who have planted Pinot Noir around the world are considered pioneers to some degree. Producing great Pinot Noir in unproven locations is a significant challenge, and few take it on with the expectation of getting rich. Burgundy remains the gold standard, as growers strive to capture the transparency, character, and charm of its wines. Indeed, though they ardently claim to want to produce original wines that reflect their own place, they faithfully delight when their wine is confused for Burgundy.
Nevertheless, many producers outside of France have by now made delicious and refined Pinot Noir in their own right. In California, this tends to happen in the coastal ranges up and down the state. In Oregon, Pinot Noir growers put the massive and otherwise sleepy Willamette Valley on the world wine map. Parts of New Zealand and Australia are recognized now for excellent and unique wines. And, slowly, the map grows as these pioneers look to expand where Pinot is grown. It also, by the way, does brisk business as an ingredient in sparkling wine, most famously in Champagne. 
Pinot Noir is one of the rare grapes whose origin we don't know. Having been cultivated since at least Roman times, it appears to have evolved in the wild. However, in 2007, scientists decoded its genome and found it to be more genetically complex than a human's. To Pinot Noir lovers this is anything but surprising, as the grape's complexities continue to just elude our grasp and ever hint at a spirit that understands things we have yet to discover. 
You might also be interested in: