by Nikki Goddard
Champagne is one of the most instantly recognizable names in wine: even the staunchest teetotaler knows to associate it with sparkling wine. On the other hand, few beyond the most dedicated oenophiles and wine professionals are aware of the various wines and wine-adjacent beverages made in Champagne that contain no bubbles at all. These rare styles may not carry the same level of renown as the region's most high-profile product, but they are often of similarly high quality and are coveted by in-the-know sommeliers and collectors for their uniqueness and scarcity. 
The existence of Coteaux Champenois shouldn't come as too much of a surprise—long before bubbles were fashionable in Champagne, dating back to the Roman era, all of the wines produced there were light, still, and dry. Today, still wines are the exception, not the rule, and they are designated by the Coteaux Champenois appellation, (formerly named Vin Originaire de la Champagne Viticole, changed in 1953 to Vin Nature de la Champagne, and to Coteaux Champenois in 1974) and covers the same area as Champagne itself.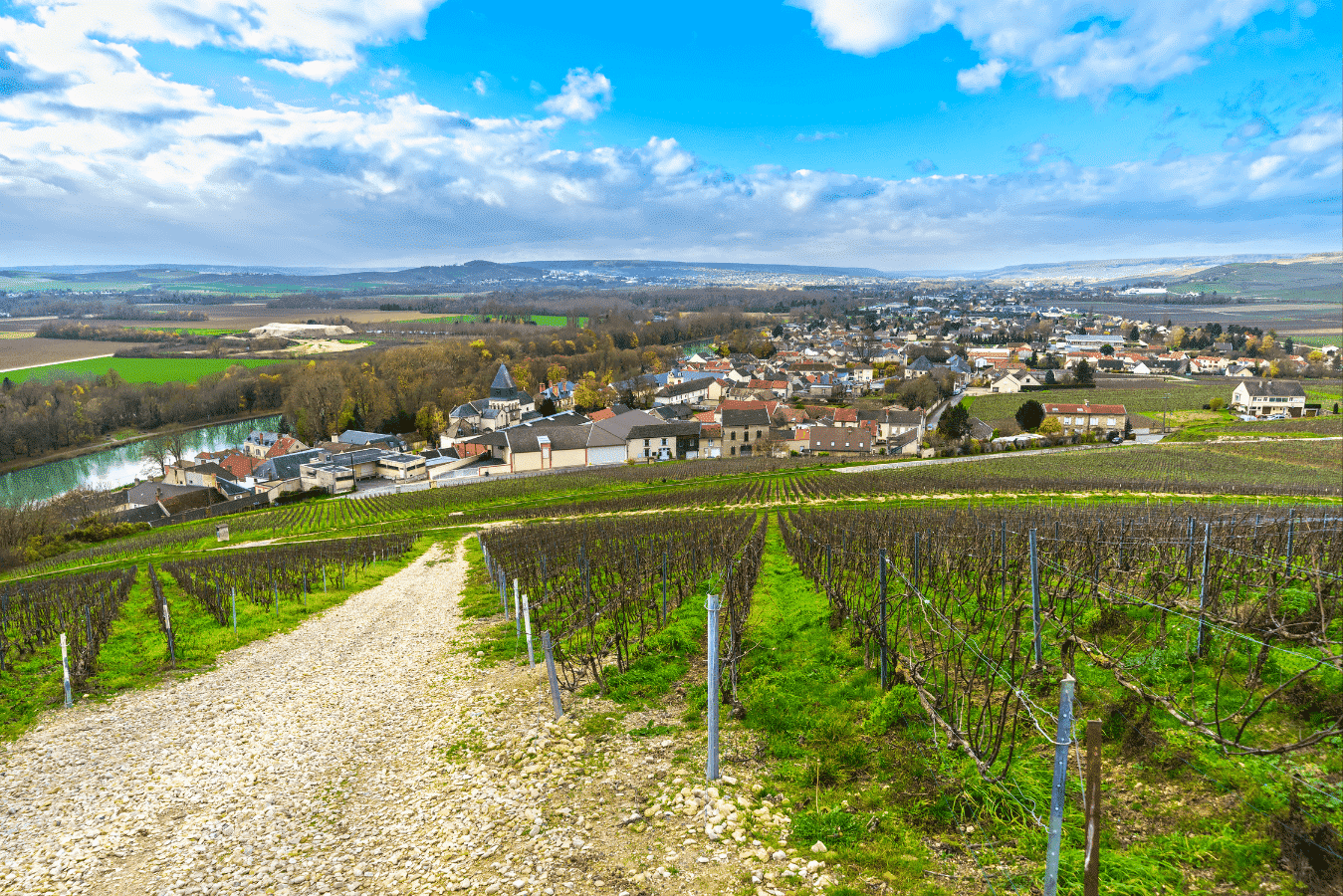 By law, these are permitted to be red, white, or rosé, but the vast majority of the wines—around 90 to 95 percent—are red, made from Pinot Noir, Pinot Meunier, or a blend of both (the other four permitted Champagne varieties can also be used, but rarely are in practice). The few whites that do exist are made from Chardonnay, and the best of them are crystalline and precise, with laser-sharp acidity and saline minerality. It can be a challenge to ripen grapes sufficiently in Champagne, where the harsh northerly climate often produces wines that are simply too lean, tart, and austere without the presence of carbon dioxide. Along with the high expense of Champagne grapes, this relegates white Coteaux Champenois to more of a novelty than a commercially viable category.
The reds aren't exactly abundant, either, though—they make up about a tenth of a percent of all wines produced in the region. Austerity is a concern here, too, and the best red Coteaux Champenois wines come from the ripest vintages. The most desirable fruit is typically found in the villages of Bouzy and Ambonnay on the Montagne de Reims, and in Aÿ and Cumières in the Vallée de la Marne. 
Coteaux Champenois is currently experiencing a bit of a renaissance among small grower-producers, who, largely inspired by their counterparts in Burgundy, often bottle the wines as single-vintage, single-variety, and single-site selections. This modern, elevated approach to the category is attracting attention and is aided by the increased warmth that climate change has brought to the vineyards of Champagne. Even some of the region's bigger names are getting into the game. ​​Bollinger and Moët & Chandon were early adopters, and more recently, Charles Heidsieck and Louis Roederer have joined their ranks.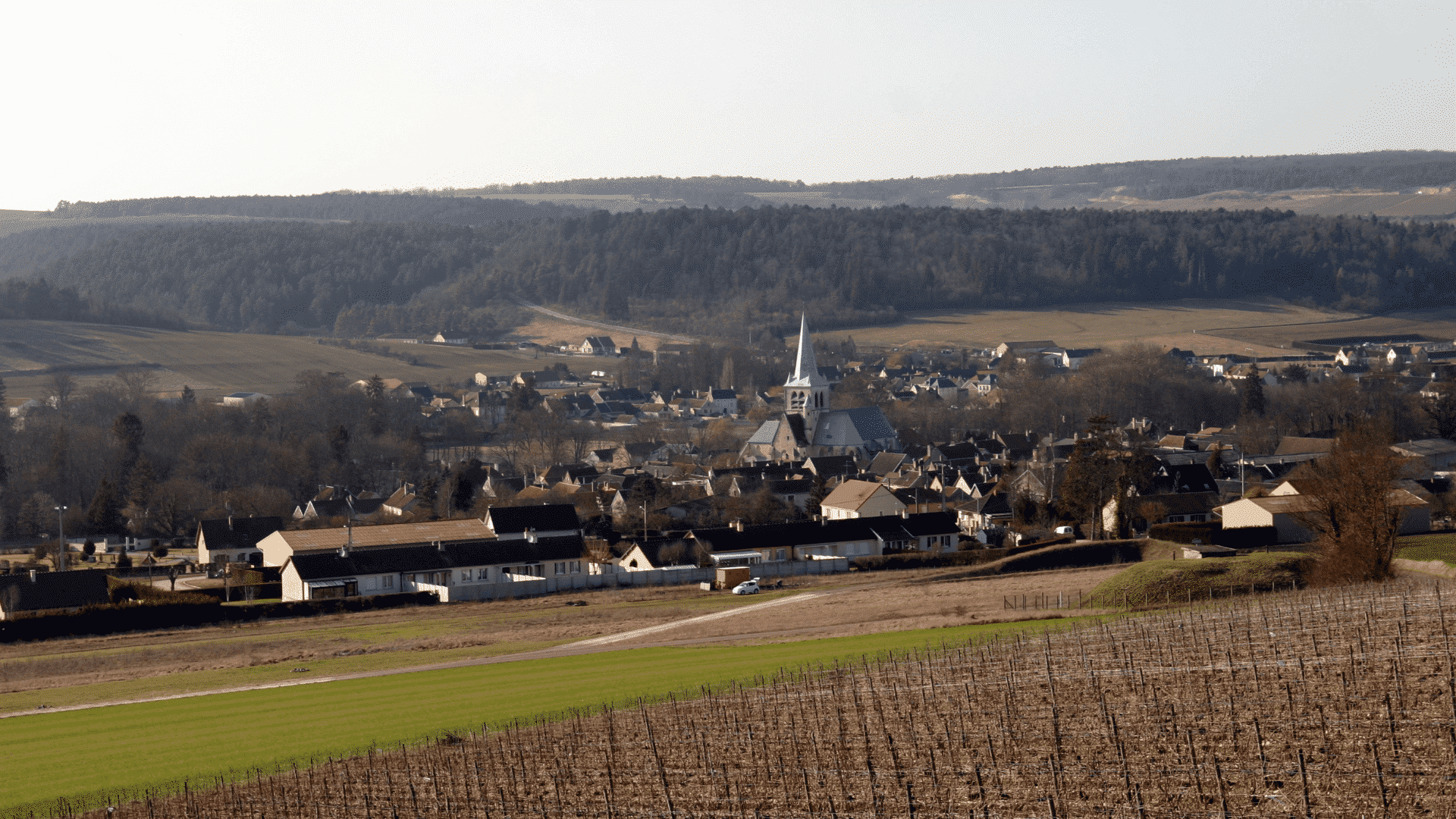 Most of the still rosé made in Champagne exists under a separate appellation, Rosé des Riceys, which, unlike Coteaux Champenois, covers a specific geographical area. The AOC covers three villages in the commune of Riceys, found in the Côte des Bar. Located nearly 90 miles southeast of Épernay, in the Aube département—Riceys is closer to Burgundy than it is to the rest of Champagne, and this is reflected in the serious, structured style of the wines. 
The history of Rosé des Riceys is murky, but it is believed to date back to the 8th century and to have been a favorite of Louis XIV. Official AOC status was granted in 1947, and the laws state that wines with this designation may be made only from Pinot Noir, which makes up approximately 92 percent of plantings there. While the use of the saignée method, which involves bleeding off juice from crushed red grapes, is not mandated, it is by far the most common winemaking technique for the appellation, and it results in richly flavored, deeply pigmented rosés with savory, herbal notes, soft textures, restrained alcohol, and an uncommon propensity for aging. While oak maturation is not common practice for most pink wines, Rosé de Riceys will often spend time in barrels to allow for even greater longevity. 
The oxidative profile, similar to that of tawny port, that develops in these wines over time is considered a desirable characteristic, and the smoky, earthy qualities of Rosé de Riceys are often summarized as the "goût des Riceys"—the taste of Riceys. Perhaps nowhere else on earth does rosé wine reach this level of sophistication and distinctiveness. 
Only a couple dozen producers currently make Rosé des Riceys, and in small quantities—the total output is about 50,000 bottles per year (fewer than 4,200 cases), and, like Coteaux Champenois, it is generally only vinified in warm, ripe vintages. These wines are rarely exported, but when they are, they are in great demand and fetch much higher prices than the average rosé wine.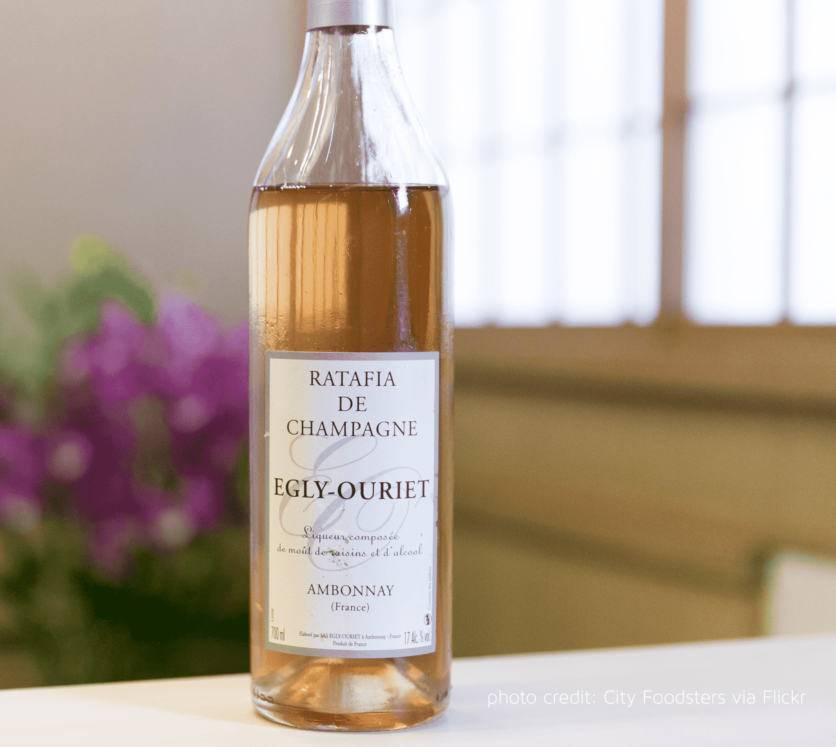 Beyond still wines, Champagne producers have a couple of other options for processing their grapes. Ratafia de Champagne, a cheerful, undeniably tasty wine-based apéritif, is made with the juice of leftover pressed grapes from Champagne production, which is fortified with grape spirit. Like ​​Pineau des Charentes and Macvin du Jura, Ratafia de Champagne (also known as Ratafia Champenois) belongs to the mistelle, or vin de liqueur category, because the fermentation is arrested by the addition of the fortifying spirit at around 18% ABV. This technique, called "mutage," leaves behind considerable residual sugar and results in a sweet, fruity flavor and an unctuous, syrupy texture. In 2015, Ratafia de Champagne was granted PGI status by the INAO, after eight centuries of production.
Champagne's other PGI beverages, both oak-aged brandies produced efficiently and economically from winemaking byproducts, are Marc Champenois and Fine Champenois (also called Marc de Champagne and Fine de Champagne). One of France's 30 appellations for Eaux-de-Vie, the Marc Champenois designation refers to a grappa-like spirit made from grape pomace within the Champagne region. Pinot Noir, Pinot Meunier, and Chardonnay are all used. The pomace—"marc," in French—which consists of leftover skins, seeds, and pips after grapes have been pressed for Champagne production, is distilled to about 40 percent ABV. 
Fine Champenois (not to be confused with Fine Champagne, a category of Cognac), is made in a similar way, but while Marc Champenois uses the solid matters left behind after pressing, Fine Champenois uses the lees that are collected at the bottom of the barrels following maturation. It has a more delicate flavor, resembling Cognac and Armagnac.
Champagne may do sparkling wine better than anywhere else on the planet, but this world-class grape-growing region has more than one trick up its sleeve. The bubble-free bottles made there have plenty to offer, far beyond simple novelty, and as more producers continue to embrace these rare categories, the quality of available offerings will only continue to improve.