By Joe Roberts 
What makes Sicily's Etna the forerunner of the "Volcanic Wine" craze.
If you've spent any time at a wine bar lately, you'll undoubtedly have come across the phrase "Volcanic Wine." Ostensibly, when wine insiders use that phrase, they're referring to wines made from grapes that grow in volcanic soils (these include, for example, the wines of Greece's Santorini island, grown on the remnants of an ancient caldera). As with any popular wine phrase, "Volcanic Wine" has come to mean much more.
It doesn't help that, when pressed about what makes volcanic wines so special, many wine aficionados (this author included!) will refer to the wines "minerality"—another equally vague and oft-used wine term. Still, vague as these terms may prove to be, volcanic wines do possess a level of freshness, precision—and minerality—that makes for a unique drinking experience.
On a recent press tour, I looked at what are arguably the most authentic "volcanic wines" on the planet: those produced on Sicily's Mount Etna. Etna wines can justifiably be considered some of the truest representations of volcanic viticulture—the grapes are literally grown on a volcano that rises to 11,013 feet (3,357 meters—at the last official measurement on August 10, 2021) above sea level; it is the highest and most active volcano in all of Europe. While Etna is a geologically young volcano, the region has played host to viticulture for over 2,000 years, making Etna one of the oldest volcanic wine regions on Earth. 
Simply put, if you're a student of the vine looking to understand what the volcanic wine craze is all about, Etna is the first and most important stop on your journey.
Etna's Explosive History: a Short Primer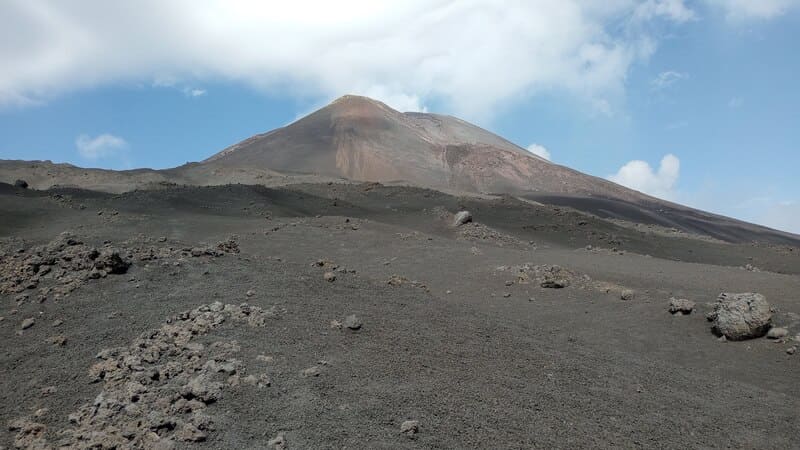 At about half a million years old, Etna is still in its infancy by volcano standards, making it one of the world's most active volcanoes. Mauro Coltelli of the National Institute of Geophysics and Volcanology has said flatly, "We are seeing it at its most active period." Major eruptions have been recorded throughout antiquity, going as far back as 396 BCE, with major events reshaping the landscape of Etna in 122 BCE,  1669, 1928, 1949, 1971, 1979, 1981, 1983, 1991, 1993, and into the 2000s. The destructive power of the mountain has captivated humans throughout history: it was considered the prison of the Greek demon Typhon, the location of the great forges of Hephaestus, the home of Roman god Vulcan, and is thought to have been the source of the rocks thrown by cyclops Polyphemus at Odysseus.
The upper reaches of Mt. Etna form a desolate, unforgiving landscape of volcanic dust and punishing winds; the kind of place that is so alien that parts of it were used for testing NASA's Mars rovers. The lower slopes, on the other hand, are a different matter entirely. There, subsequent eruptions have deposited a rich panoply of complex, fertile soils—some of which are sandy enough to stave off the vine louse phylloxera and allow ungrafted, bush-trained vines to grow to be well over 100 years old. 
Despite the ever-looming danger of the volcano, grape vines became an important aspect of agriculture in the region, especially when Roman soldiers were partially paid their wages in wine (requiring that vines be planted pretty much anywhere that the Romans could establish a settlement). According to Andrea Orlando of the Institute of Sicilian Archaeoastronomy, evidence for wine production in this area of Sicily is even older, dating back nearly 6,000 years to the Copper Age. Conditions in the region are especially favorable to grape production: hot winds from Africa blow in from the sea, meeting the cooler air on the mountain, increasing rainfall while also providing a near-constant breeze that keeps developing grape bunches healthy (provided that they don't get covered by lava flow, of course). 
The Modern Etna
Today, the Etna DOC winegrowing region forms a reverse "C" shape around the volcano's base, beginning in the north and wrapping around the mountain's eastern flank to just past its southernmost point. Roughly speaking, the DOC can be divided into regional zones, with the Northern portion supporting some of the oldest terraced viticulture. Etna's eastern slope is cooler and wetter, and the production of sparkling wines and roses is surging there; the eastern slopes are also home to the DOC's only white wine Superiore designation. The southeast slope is the most heavily influenced by the nearby sea breezes, while the southwest side, facing the city of Catania, is one of Etna's warmest areas, with vines growing on some of the DOC's oldest soils.
Within its several communes are dozens of contrade, single vineyards that are recognized as unique sites along the lines of France's crus (though their boundaries are more historical than geographical). 
Given its height, Etna viticulture isn't just a matter of volcanic soils; it's also mountain viticulture, with some vineyards along steep slopes that are prone to erosion (terraced vineyard walls are a common sight there). The elevation provides ample sunshine for ripening grapes, and the diurnal temperature shifts between day and night help maintain acidity in the developing bunches.
Etna's Most Important Grapes
Compared to the flatter plains of greater Sicily, which are known for Nero d'Avola, the mountainous terrain, wetter weather, and proximity to the sea mean that Etna is dominated by two grapes: the red Nerello Mascalese and white Carricante.
Nerello Mascalese
Grown on the volcano's foothills for at least 400 years, Nerello Mascalese is the indigenous "Pinot Noir" of Etna and historically its most widely planted variety. Its ability to handle water stress makes it feel right at home among Etna's sandier, well-draining soils (especially when trained in the ancient alberello system of free-standing bush vines). It's not uncommon to find ungrafted Nerello Mascalese vines there that have been producing grapes for well over a century. The wines evoke delicate cherry and wild strawberry fruit aromas and flavors, sport ample acidity and structure, and often carry a note of fennel or basil (thanks to the ample presence of wild mint in the vineyards).
Carricante
This variety's name developed from the Italian word for "loaded," because of its excellent vine productivity. In areas where Nerello Mascalese has more trouble ripening (especially on Etna's eastern side), Carricante thrives, creating delicious, complex, vibrant, and potentially long-lived whites that can carry notes of citrus, herb, wet stone, flint, petrol, honey, and nuts.
New Wines of Mt. Etna
You can learn much more about Etna and its wines as an NVWA website member. Membership gives you access to the New Wines of Mt. Etna presentation, led by Ben Spencer (who created Etna Wine School), and a detailed WineMasters.tv documentary on Sicily.
Recommended Producers/Wines
Tenuta di Aglaea 'Talia' Etna Rosso (Maritime Wine) 
Aglaea owner and founder Anne-Louise Mikkelsen admits that "it's a bit of a funny thing, a Dane coming here to Sicily," but she caught the wine bug while working for an importer in her home country of Denmark, and subsequently relocated her family to start up a boutique wine operation on Etna. Eschewing herbicides and pesticides in the vineyard, her Talia red (named for one of three graces of Zeus) is tangy and mineral, with an excellent, rounded mouthfeel that's full of vigor, structure, and graceful herbal nuances.
Cottanera 'Feudo di Mezzo' Etna Rosso (Indigenous Selections, Skurnik Wines)
Multi-generation family outfit Cottanera has become one of Etna's most important producers. Any of their single vineyard Nerello Mascalese reds offer fine drinking. In the case of their Feudo di Mezzo, Nerello gets a polished and clean treatment: licorice and fennel aromas lead into a pretty, balanced, and soft palate of red fruit flavors that feel almost effortless on the tongue.
Passopisciaro 'Passorosso' Etna Rosso (T. Edwards, Juliana Imports, Lestories Wines, Artevino)
This producer revitalized an 1800s-era estate that was abandoned by a previous owner who fled when a lava flow got too close for comfort. Farmed from old vine, bush-trained vines on the edge of the Etna Rosso DOC borders, this Nerello Mascalese red is floral, fruity, and fresh, with hints of mint and leather and a delicious, fruit-forward palate.
Torre Mora "Scalunera" Etna Rosato (Skurnik) 
Named "Big Stairs" after the terraced vineyards of the property (once abandoned and overgrown, they were restored after being purchased by Piccini 1882 in 2016), this 100% Nerello Mascalese pink is one of the finest rosé wines made in Sicily (if not all of Italy). It offers a complex nose of cherry, strawberry, pomegranate, dried rose petal, and clay, and a freakishly delicious and impeccably balanced palate that is equal parts refreshing and tangy. 
Terra Constantino 'Blandano' Etna Bianco (Banville)
Built on the remnants of a 3,000-year-old lava flow, this producer is within sight of the sea and prides itself on its older, alberello-trained vines. Their whites are made primarily with older vine Carricante fruit and are energetic, pithy, and long, with assertive citrus and gif flavors, and hints of honey and white flowers.
Barone di Villagrande Contrada Villagrande Etna Bianco Superiore (Omni Wine)
From a family that is now in its tenth generation of winemaking, this producer's westerly vines enjoy almost constant sea breezes. Their single vineyard Superiore white sees a bit of time in Acacia and French oak barrels, adding a sense of suppleness to counter its impressive acidity. Perfumed and elegant, this is the kind of white that can age gracefully in the bottle.
Camporè Spumante Brut (Best Beverage, Bacardi Food & Wine)
Camoporè's gorgeous estate is best known as being the former home of King Vittorio Emmanuel II (it even has its own train station, chapel, and carrier pigeon house, all formerly used by the King). They showcase the versatility of their older vine Nerello Mascalese in a bright and refined sparkling wine, brimming with strawberry and white peach aromas and flavors on a palate that is fresh and whistle-clean.
Pietradolce 'Archineri' Etna Bianco (Empson)
Pietradolce is one of the best-funded operations on Etna, and has an obsession with keeping its designer-chic winery setting sparkling clean. They also have the good fortune of discovering plenty of 80-120-year-old head-trained vines on their property. The own-rooted Carricante vines used to source this Bianco are well over 100 years old and bring a sense of concentration and depth to its fleshy, figgy palate. Intriguing notes of tropical fruits, citrus, mint, and flint all intermingle on the fine nose.
Want to learn more about Sicilian wine in person? Join us for our 2023 trip to Sicily!