Kryss Speegle MW's masterclass on Natural Wine Styles inspired this Q&A with Andrew Jones of Field Recordings. In short, Domo Arigato Mr. Ramato.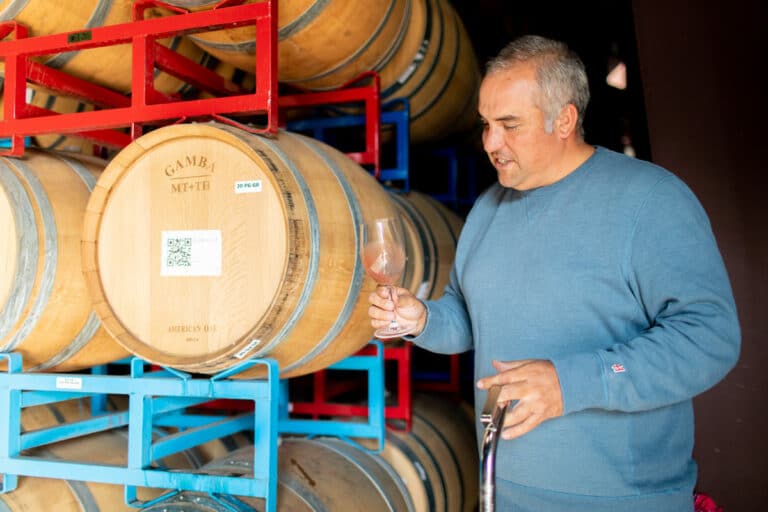 Andrew Jones of Field Recordings. Photo by Asia Croson Photography.
Napa Valley Wine Academy introduction Kryss Speegle MW's masterclass on Natural Wine Styles prompted the idea to reach out to a producer of one of the wines featured in the class, to engage in a discussion about wine-growing and identifying as a producer of Natural Wine. 
As Speegle says in her class description, "Few topics have energized the contemporary wine world as much as the natural wine movement." Indeed, few topics rarely inspire the kind of raw emotional outpouring of ideas from both consumers and people in the wine business that make heads turn and stop people dead in their tracks. 
Speaking of heads turning—that's exactly what the wines from Andrew Jones of Field Recordings have been doing for some time now. Jones, who established Field Recordings in 2007, is 16 years into his "hobby" project. I connected with Jones by email for a frank discussion about his brand, wine-growing, and natural wine. Our talk is detailed below in its entirety. 
Jonathan Cristaldi (JC): Today, you're 16 years into your hobby project, and how is it going? How many acres are you sourcing from? Give us a snapshot of the AVA focus for you.
Andrew Jones (AJ): The side project has definitely turned into something I never expected. We are currently working with 28 ranches, as far north as Arroyo Seco and as far south as Happy Canyon. We harvest more tons from Paso Robles area properties but work with more ranches in the new SLO Coast AVA, along with Santa Barbara County. I was fortunate enough to purchase Le Bon Climat from the Clendenon Family with some good friends in the industry and some investors, so you'll keep seeing more things from Santa Barbara coming down the pipeline. 
JC: Your winemaking style takes a natural approach. At least, described as this by Jenny and Francois: "The wines are all native primary ferments and see no additives save for a bit of sulfur post-malolactic fermentation and then before bottling." You note that you were trained in the art of growing grapes, not the business of making wine. So, how did you decide to go in the direction of natural winemaking? 
AJ: It was all happenstance that we ended up being pulled into the natural wine scene. My education and training was always on the viticultural side. If I feel like we are starting with great grapes, why would I add anything to it or try to manipulate it? I just wanted to make wines that were honest expressions of the places I found and people I met traveling all around the coast for my grapevine nursery work with Sunridge Nurseries. 
JC: When looking for a vineyard site to source grapes from, do you have a checklist of criteria it must meet? And if a site meets that list, are you first sampling grapes before buying or sampling wines from the site or a bit of both? 
AJ: In looking at a new vineyard site, I really just look for things that I think are unique and different.  Whether that is a random variety or a random site, or even a person that I really respect on the farming side. It really just comes down to a combination of those factors. I also like working with vineyards that have some history behind them. I currently lease the oldest Chardonnay vineyard in the Edna Valley, for example. The owner was considering tearing it out to plant lemons but the old vines still made some distinct wine for our Pet Nat program. I felt it was worth the extra effort to keep those roots in the ground.
JC: Napa Valley Wine Academy's Kryss Speegle MW is hosting a class on Natural Wine Styles and plans to feature your 2021 Field Recordings "Domo Arigato Mr. Ramato" Central Coast Pinot Gris, considered an Orange Wine. First, I would love the backstory of this wine. Next, would you comment on what's happening with Orange Wine? It was big in the early aughts and has ebbed and flowed in and out of fashion. But what inspired you to make one? I imagine it's about the texture for you and the aromatic potential.
AJ: I've been captivated by orange wine for years now. I had never had it until I started traveling to sell Field Recordings in the early years. I felt like the textures and flavors were things that both resonated with myself, but also the ever-changing American palate. I came home from that trip and contracted some small lots to start trialing a Central Coast orange wine program. That eventually led to our SKINS program. It is still a niche category, but SKINS might be the most consumed orange wine from the U.S. right now. It really keeps the lights on for us at the winery. 
Domo Arigato Mr. Ramato. Photo courtesy of Field Recordings and T Davis.
Even with all the huge growth we've seen, I still spend most of our public tastings introducing orange wine to consumers. While SKINS is a blend of 5-8 different grapes every year, I thought it would be good to bring out a single varietal orange wine to complement the larger cuvee. The best stand-alone variety for us with skin contact whites is typically Pinot Gris. We select our top 25-50 barrels of skin contact Pinot Gris and bottle it separately under the Domo Arigato label. The name came from an inside cellar joke about Mr. Ramato. The grapes ferment on the skins for 30 to 60 days before being pressed and aged for 4 months in older, neutral barrels. The current release is a blend of grapes from Green Gate Ranch in the Edna Valley and Derbyshire Farms in San Simeon. I printed the labels just prior to the new SLO coast AVA being approved. In future vintages, it will be labeled as such. 
JC: Have you thought much about the category that is Natural Wine? What I mean is, do you ponder this and write down your thoughts on it, or have you come to a conclusion about natural wine based on your personal experiences? Isn't all wine technically natural wine? Where do you fall on this sword? 
AJ: I shake my head over the whole thing. The wine world has had a tough time evolving, and I think it's good for the industry that we have something the younger generations of consumers are excited about so we don't lose them. It's tough since the category is so poorly defined. Many out there don't consider my winemaking style natural because I choose to filter my wines. I choose to filter so that the wines are stable on retail shelves across the country while allowing me to use less sulfur as part of the winemaking process. So, what is my definition of natural wine? Is a wine still natural if the winery adds fining agents made from animal products or a few buckets of Mega Purple 8000 concentrate, even if the grapes are farmed organically? 
There are so many opinions on this space — all I can do is focus on what we do. I don't worry about definitions or categories. Over the next few years, we are working hard to convert all our grape sources to certified organic vineyards. We are about halfway there so far. We ferment with native yeast, and I don't use any fining agents. Our wines are technically vegan. I pick grapes based on their natural acidity levels over sugar levels. If we don't have the natural acid, I just don't care for the wines. In the end, we just want to capture the story of people, place, and time in a bottle. 
JC: Considering a 3,000-foot view, would you agree that winemaking is about wine-growing? That the end product is a result of farming? You're big into Organic farming, but are there other methods? At the end of the day, isn't it about ensuring your soil is healthy and that the surrounding environment is teeming with wildlife? That you're being a good steward of the land and taking every step to make sure any vineyard inputs are not outputting something harmful or damaging the water tables?
AJ: 100%. It can sometimes be cliche with the winemaker just talking about it coming down to farming and those raw materials, but it is 100% true. If you start with good grapes, you'll make good wine. I've seen great grapes come in from just sustainable farming and bad grapes come in from organic ranches.  Even though we are pushing to adapt more to organic farming, just because it is organic doesn't mean it will be good. We need top viticultural practices no matter what method we choose. In 2023 though, if you aren't adapting organic, biodynamic, or regenerative practices right now, I think you will fall further behind in providing products our consumers want to consume. 
One final thought. I say the winemaker has three important choices that really define the end wine. If they navigate those three things well—they will excel. First is harvest day. If you harvest Tuesday vs. Thursday, it will be different. The second is pressing. How do you manage those tannins and the mouthfeel? Orange wine is a perfect example. If you press them too early, you will never get past the astringency in that wine. Third is bottling day. I see so many wines compromised by being unorganized on bottling day. My team prides itself on executing on bottling day.