by Shelley Cartland
Bordeaux is perhaps the most recognized wine region in the world and France's number one producer of premium wines. And while Bordeaux is known all over the world as the veritable epicenter of quality wine production, it is also one of the most intimidating and confusing wine regions, particularly for anyone who doesn't work in the wine industry, but is a wine lover. The region of Bordeaux is tucked into the southwest corner of France along the Garonne River and spans an incredible 63 miles from north to south and 78 miles from east to west—in short, it's a large wine producing region compared to say, Napa Valley, which is just 30 miles long and five miles wide. Known for its high-quality, age-worthy reds and luscious sweet whites, these wines are produced from vines planted throughout Bordeaux's varied landscape and multiple classification systems. For those of us who are not French, or did not grow up with parents who are serious Francophile wine collectors, the fact that wine labels will list only the region and not the grape, is enough to make one's head spin. The good news is this: once you understand some of the basics, your confidence will soar and before long you'll be able to wax poetically, educationally and above all, well-informed, on the Bordeaux wine in your glass—whether it is red, white, rosé, dry, sweet, still or sparkling wine.
Major Wine Regions of Bordeaux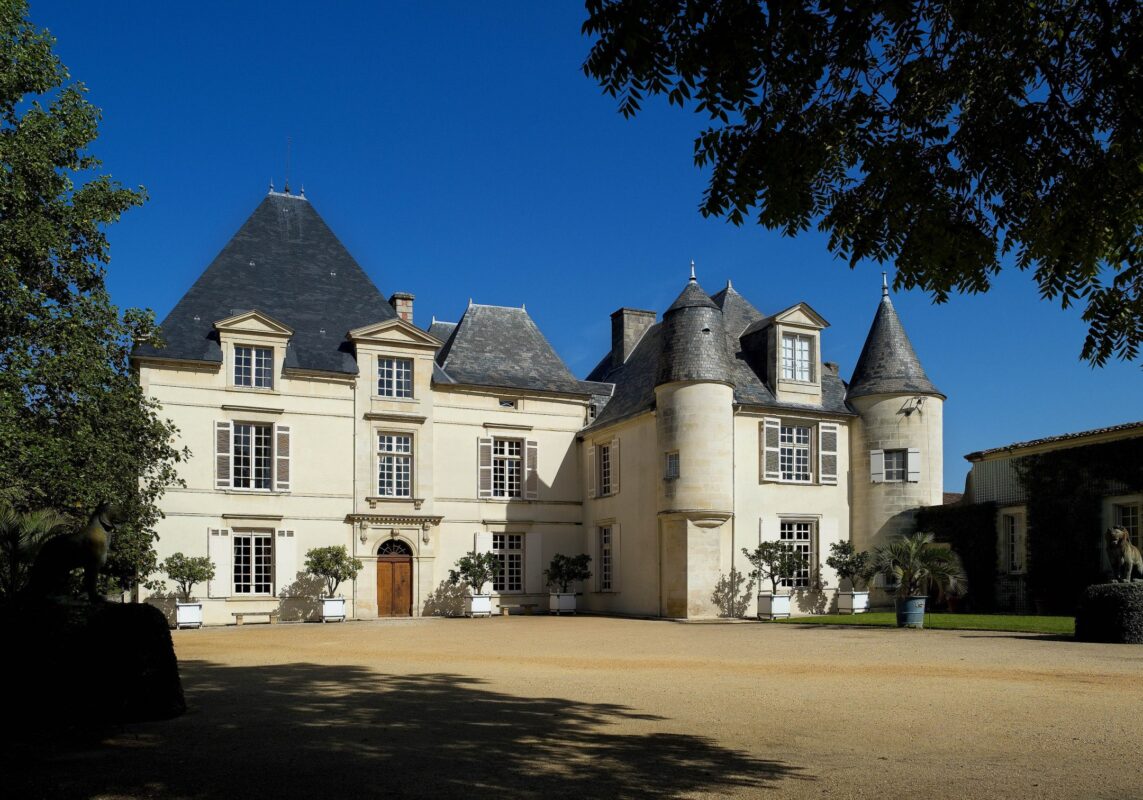 THE LEFT BANK
The Left Bank to the west of the Garonne and Gironde incorporates the areas of Médoc and Graves. Gravel and sandy soils here are dry and retain heat, which in turns helps Cabernet Sauvignon grape to ripen fully. Wines from the Left Bank typically have higher tannin levels, alcohol, and acidity. They are powerful and rich, and will age gracefully over multiple decades. There are
14 appellations
on the Left Bank (eight in the Médoc and six in Graves):
Médoc AOC and
Haut-Médoc
AOC
These AOCs cover the large gravel soil area on the Left Bank and are used for wines not labeled under one of the four smaller communes within the area.
St-Estèphe AOC
In the past, wines from St. Estèphe possessed a rigid structure with harsh tannins that required time in the bottle to mellow. Today, the area is producing wines meant to be consumed earlier, that is, softer and producer have even incorporated more Merlot into their blends.
Pauillac AOC
Pauillac delivers wines with structure and power with a distinct core of dusty tannins. Three of the five first growths of the 1855 Classification are in Pauillac: Château Mouton Rothschild, Château Lafite Rothschild, and Château Latour.
St. Julien AOC
This AOC produces wines most like the fruit-forward wines of California.
Margaux AOC
Here you will find the most elegant and feminine expressions of all of Left Bank Médoc wines
.
Château Margaux is another first growth of the 1855 Classification.
Moulis en Médoc AOC and Listrac-Médoc AOC
These AOCs produce good value wines as they lie on mixed soils, and the resulting wines express that diversity and less core strength when compared to those coming from the storied gravel soils of the other Médoc AOCs.
Graves AOC
and
Graves Supérieures AOC
Graves, the first area in Bordeaux planted to vine covers the broad swath of land south of the city. Graves AOC is used for any red or dry white wine, while Graves Supérieures AOC covering the same area is reserved for semi-sweet whites.
Pessac-Léognan AOC
This is the northernmost AOC of Graves and is situated on deep gravel soils. A typical characteristic of the red wines produced here is a finish with hints of clove. Château Haut-Brion is the only first growth in Graves.
Céron AOC, Barsac AOC, Sauternes AOC
Together, these AOCs are home to the most luscious sweet, white wines in the world. Vineyards are planted around the Ciron River and benefit from a unique micro-climate where wet, foggy mornings are followed by long, dry afternoons to promote the growth of
botrytis cinerea
(noble rot).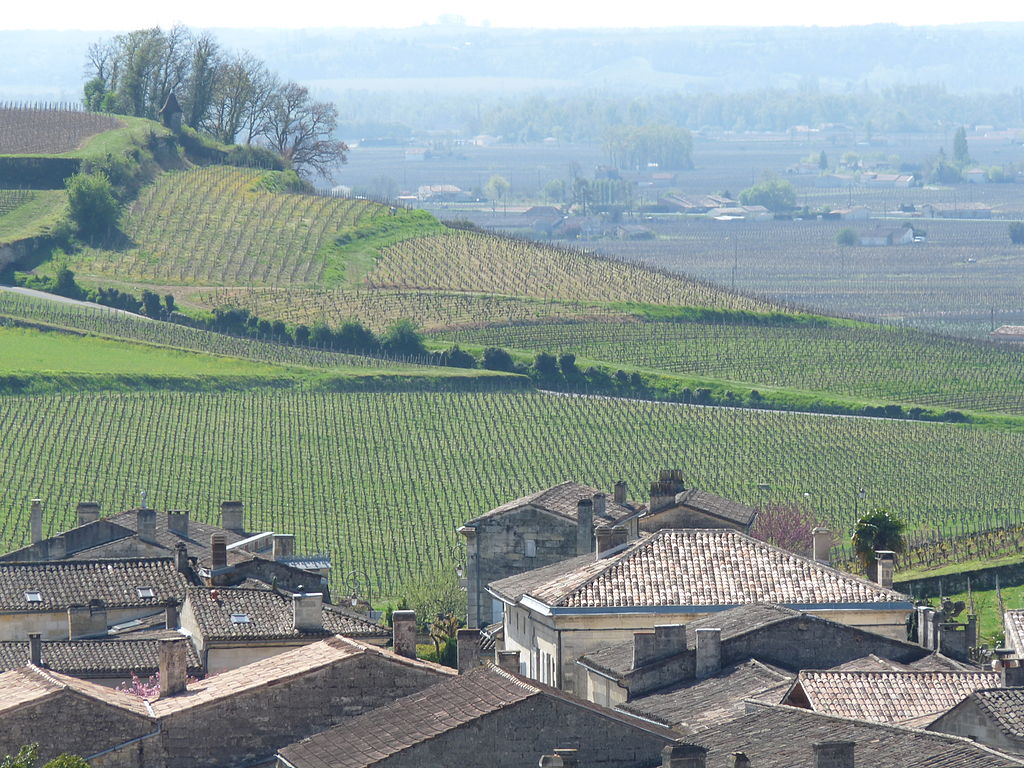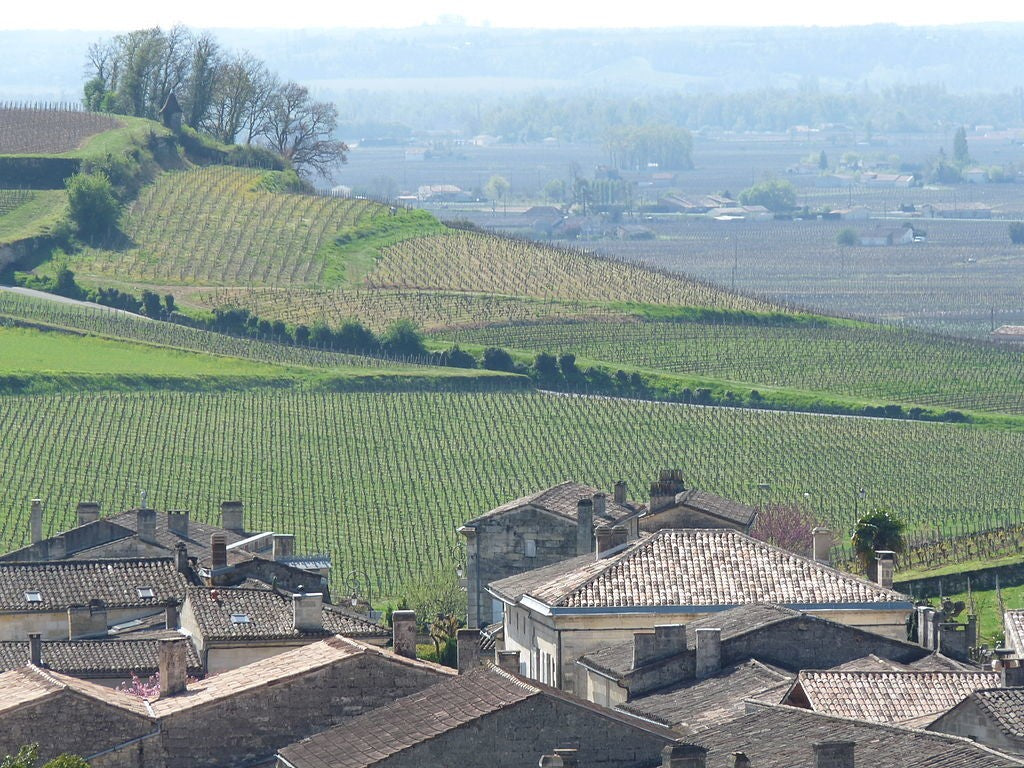 THE RIGHT BANK
The Right Bank to the east and north of the Dordogne and Gironde surrounds the city of Libourne and the wine region is often referred to as "Libournais." Libournais wines are predominantly Merlot- and Cabernet Franc-based. The clay, limestone soils retain moisture, making them cooler, which is ideal for early ripening Merlot. The best wines come from the limestone plateau around St-Émilion. Wines on the Right Bank tend to be softer, less tannic with lower alcohol and acidity when compared to those of the Right Bank. Merlot produces wines with more fruit in the mid-palate and what many would call a "juicy" style, which is extremely popular in the global market of wine. There are
10 appellations
on the Right Bank:
St-Émilion AOC and St-Émilion Grand Cru AOC
The historic city of St-Émilion was named a UNESCO World Heritage site in 1999 and it is also home to some of the most famous AOCs on the Right Bank. St-Émilion AOC is known for polished tannins and refreshing acidity. St-Émilion Grand Cru covering the same area has stricter production standards and therefore signifies better quality.
Pomerol AOC
The iron-rich soils in Pomerol give the wines from here savory aromas, and texture often characterized by walnut, truffle, and prunes. Still respected, but not commanding the higher prices of Pomerol and St-Émilion AOCs, there are values to be found in the remaining Right Bank AOCs:
Lalande-de-Pomerol AOCs
These wines will be similar to the famous wines of Pomerol, but offer less structure and aromatics.
 Fronsac AOC and Canon Fronsac AOCs
Wines here are characterized by red fruit and black pepper spice. The four St-Émilion satellites produce wines similar to those of the St-Émilion AOC, but with a more delicate structure: St-Georges-St. Émilion AOC, Lussac-St. Émilion AOC, Montagne-St. Émilion AOC, and Puisseguin-St. Émilion AOC.
ENTRE-DEUX-MERS
Entre-Deux-Mers is the less prestigious sub-region between the Dordogne and Garonne rivers. It produces three-quarters of the red wine sold as "Bordeaux" and "Bordeaux Supérieures," but it is known for its dry white wines made mostly from Sauvignon Blanc. It is a great value region to look for while seeking out easy to drink Bordeaux wines to try.
History of Bordeaux 
In the 12
th
century, the famous marriage of Eleanor of Aquitaine to Henry Plantagenet, who later became King Henry II placed Bordeaux under English rule where it became the major supplier of wine to England and secured its position as a fine wine region. Unsurprisingly, during the Middle Ages, red wine reigned supreme. Once Bordeaux returned to French rule after the Hundred Years War, Dutch influence shaped the wines coming out of Bordeaux. The modern-day Left-Bank Médoc peninsula, for instance, was nothing but marshland during this era until the 17
th
century when Dutch engineers drained it, exposing gravel beds and making the peninsula viable land for planting vines, which would eventually become some of the best sites for Cabernet Sauvignon in the world. The Dutch also preferred to drink white wine, and during this era, the production of white wines begins its ascent. At the end of the 18
th
century, the French Revolution and Napoleonic Code fragmented the vineyard holdings in Burgundy, but Bordeaux remained intact by incorporating châteaux (producers) as businesses rather than split them up as land. Trade suffered during this time, as trade partners avoided the port city, but in the 1800s the railroad system helped revive wine trade by linking Bordeaux to interior France and its metropolitan areas. Still, the wine producers from Bordeaux have overcome what might seem insurmountable traumas to most: the Phylloxera louse, a tiny yellow aphid, destroyed 2.5 million hectares (6.2 million acres) of vineyards in the 1860s, and two World Wars and the Great Depression devasted the industry. But what most shaped the wines coming out of Bordeaux in modern times was the deep freeze of 1956 that killed a quarter of the vines in Bordeaux that instigated a re-planting to mostly red grape varieties. Naturally, at present, the red grape varieties of Bordeaux outnumber whites by nearly ten to one in plantings.
Climate, Soils, and Weather of Bordeaux
Location, as always, is a major factor in making Bordeaux a world-class wine region. Vineyards are planted on the outskirts of the port city of Bordeaux, which was
named a UNESCO World Heritage Site
in 2007. Two main rivers, the Garonne and the Dordogne, meet to form the Gironde estuary that flows into the Atlantic Ocean. The waterways divide the area into three distinct sections: the Left Bank (west of the Garonne and Gironde), the Right Bank (east and north of the Dordogne and Gironde), and Entre-Deux-Mers region (between the two rivers). The city of Bordeaux sits on the Left Bank and splits the bank into north and south. The region's proximity to the Atlantic Ocean produces a cold and wet Maritime climate, tempered by the protective barrier of the Landes Forest to the west, and by moderating effects from the Garonne and Dordogne rivers. Ripening grapes can be a challenge, which is why it's important to understand the concept of vintage variation in Bordeaux—most New World wine regions, like Napa Valley, experience little to no trouble with grapes reaching full ripeness. The famous wine critic and prolific author, Jancis Robinson offers some of the most reliable sources for information on Bordeaux's vintages. And take note that the best vintages for reds and whites are not always the same. Where 2011 was a challenging year for reds, the sweet wines of Bordeaux excelled.
Bookmark this site for information on Bordeaux's best red wine vintages and this one for whites.
The soils in Bordeaux dictate which grape variety is grown in each sub-region, so, when faced with a bottle of wine, if you know which grapes are permitted to grow in which region, you'll have a better clue as to what is in your glass. Simplified: the
Left Bank
is predominantly gravel and sand (a "warm" soil) where Cabernet Sauvignon performs best, as it needs a good amount of heat to ripen fully. The
Right Bank
is mostly clay and limestone (a "cold" soil) and is best suited for plantings of Merlot and Cabernet Franc. The sub-region of Entre-Deux-Mers boasts an array of soil types and is more fertile as compared to either the Left or Right banks, which in turn produces wines of less complexity and concentration. You might assume the opposite effect, but the fact is, great wine is made in high-stress environments, and an abundance of nutrients creates a "lazy" vine that doesn't need to work hard to produce fruit, and that fruit isn't so complex.
Primary Grape Varieties and Flavor Characteristics
Merlot is the most widely planted red wine variety in Bordeaux–not Cabernet Sauvignon. Many everyday drinking Bordeaux wines are Merlot-dominant and come from the Right Bank and Entre-Deux-Mers. Cabernet Sauvignon that has a more difficult time ripening is concentrated on the Left Bank, while the third most-planted red variety is Cabernet Franc. Malbec, Petit Verdot, and Carmenere are also permitted varieties, but planted on a much smaller scale – think of them as the "spices" in the spice rack for Bordeaux blends.
Merlot (Old World vs. New World)
Common characteristics found in
Old World Merlot:
Red fruit such as cherry, strawberry, red plum
Herbal notes such as mint
Oak adds spice and vanilla
Cedar and tobacco notes as they age
Typically medium to full-bodied and dry
Medium acid and smooth tannins
Common characteristics found in
New World Merlot
:
Black fruit such as black cherry, blackberry, and black plum
Chocolate notes
Oak adds spice and vanilla
Higher alcohol and lower acidity
Bigger mouthfeel and smooth
Cabernet Sauvignon (Old World vs. New World)
Common characteristics found in
Old World Cabernet Sauvignon
:
Black fruit such as blackcurrant and black cherry
Herbaceous such as bell pepper
Typically, medium-bodied and dry
The acid and tannin range from medium to high
Can be austere in youth, needing time to develop
Common characteristics found in
New World Cabernet Sauvignon
:
Black fruit such as blackcurrant, black cherry, blackberry
Oak aging for toast, vanilla, coffee
Higher alcohol and lower acidity
Ready to drink younger
Cabernet Franc (Old World vs. New World)
Common characteristics found in
Old World Cabernet Franc:
Red fruit such as cherry, raspberry
Herbaceous such as green pepper
Floral such as violet
Graphite and pencil shaving aromas
Soft tannins
Oak aging adds spice, vanilla, and tobacco
Typically medium-bodied and dry
Common characteristics found in
New World Cabernet Franc:
Darker fruit such as blueberry, plum
Ripe red fruit
Floral such as violet
Oak aging adds spice, vanilla tobacco
Fuller bodied with lower acidity
As for the whites
, Sauvignon Blanc and Semillon make both sweet and dry wines almost exclusively on the Left Bank south of Bordeaux city and in Entre-Deux-Mers. You will find more Sauvignon Blanc in dry wines, while Semillon is dominant in the sweet wines. Muscadelle is also planted in small amounts, along with a handful of other white varieties of minor importance.
Sauvignon Blanc (Old World vs. New World)
Common characteristics found in Old World Sauvignon Blanc:
Citrus fruit such as lemon, lime
Floral such as elderflower
Vegetal such as green pepper, asparagus
Minerality and high acidity
Common characteristics found in New World Sauvignon Blanc:
Stone fruit such as peach, apricot
Tropical fruit such as mango and pineapple
Sometimes oak aging
Maintains acidity even as it ripens
Semillon (Old World vs. New World)
Common characteristics found in
Old World Semillon
:
Citrus fruit such as lemon, lime zest, and grapefruit
Subtle floral such as white flowers
Typically, not oak aged
Medium to full-bodied and dry or sweet
The acid ranges from medium to high
Common characteristics found in
New World Semillon:
Stone fruit such as yellow peach
Tropical fruit such as mango and papaya
Moderate oak-aging
Higher alcohol and lower acidity
The Bordeaux Classification Systems
There are a few classifications to help consumers identify top producers, but it is important to keep in mind that there is not one single classification to cover the entire region as a whole.
LEFT BANK CLASSIFICATIONS
The most famous are the 1855 Classification of Médoc and Graves classifying 61 red wines and 27 sweet white wines from top châteaux on the Left Bank placing them in first through fifth growths. Originally, the 1855 Classification was meant as a "working list" of pricing, but little has changed since 1855, and it continues to set market prices today. The Left Bank also has three additional classifications to signify quality production: Médoc Crus Bourgeois (444 properties abiding by stricter production vs. AOC laws), Médoc Crus Artisan (44 small-production "boutique" wineries of quality), and Graves Crus Classés (16 situated in the Pessac-Léognan AOC).
RIGHT BANK CLASSIFICATIONS
The only classification on the Right Bank takes into account the region of St-Émilion and originally dates back to 1955. The ranking was intended to be re-visited every decade or so, but in true French fashion, protests of the ranking have ensued and the classification currently uses a 2012 list of 82 red wines with the top châteaux in groups A and B. Look for the word "classé" to know that the bottle you are drinking is part of the classification, rather than the simple "Grand Cru" designation, which is for the general St-Émilion AOC.
We're a fan of the Berry Bros & Rudd site on these classifications and you can read at length about them here and the definitive resource at crus-classes.com.
VALUES
The premium "Grand Cru" wines of Bordeaux comprise a small slice of the market—a mere three to five percent. Over 60 million cases of wine are produced, and knowing how to read a label will help lead you to many bottles that over deliver, but are in lesser valued appellations. Look for some excellent value wines labeled "
Cru Bourgeois
," on the Left Bank, which abides by stricter production guidelines, but cannot command the top dollar as the top growths of the 1855 classification. The aging requirement is less, but if you love bubbles, and don't want to pay Champagne prices, sparkling wine labeled "
Crémant de Bordeaux AOC
" is made in the traditional method, similar to those of Champagne. The sweet wines of Entre-Deux-Mers found in
Cadillac AOC
,
Loupiac AOC
, and
Sainte-Croix-du-Mont
shares the same climate as
Sauternes
,
Barsac
, and
Cérons
, but to a lesser extent. Look to pay less than what you would for a bottle from their famous sweet wine neighbors across the river.
Shelley Cartland, FWS, WSET-Advanced (with distinction) is originally from Los Angeles, but now lives in Yountville, California. She created Passaporto Vino to share her wine journey online and across social channels, particularly Facebook and Instagram.