No doubt, many of you reading this having attempted to saber a bottle of Champagne before and we believe you when you tell us that it went off without a hitch (insert winking smiley face here). The Noble Art of Sabrage is truly an art form, and executing a seamless and show-stopping display of sabering bravado requires a bit more preparation than you might expect.
That's why we created this infographic (pictured below) and sought advice from two NYC-based sabering-pros (their insights are further below).
The practice of sabering is thought to have originated in France during the time of Louis XIV and made popular by the light cavalry men (Hussars) of Napoleon's army. Granted, when celebrating victory (or drowning themselves in defeat) it's a good guess that the bottles of bubbly these men sabered were anything but chilled, however, chilling a bottle is an important step and one that many videos and articles around the web fail to mention. The difference between a successful outcome and one that isn't so glorious, could be the difference between chilling the bottle and neck, just prior to sabering (we recommend a minimum of 45 degrees Fahrenheit).
---
Jennifer Simonetti-Bryan, Master of Wine and partner in Wine Ring app, has done a lot of sabering on camera. In this video she guides Anderson Cooper and Kathy Griffin on how to pop the top. She's even used a lightsaber–no wonder she's a @JediWineMaster. (Spoiler alert: no real lightsabers were used in the sabering of the bottle pictured below).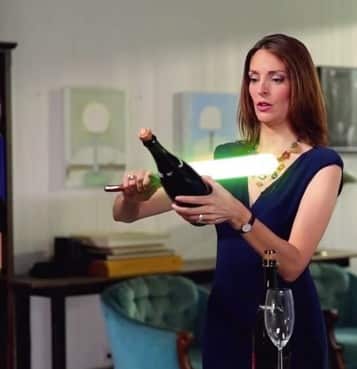 "Sabering is as about as bad@$$ as it gets with wine," says Simonetti-Bryan, and we're with her on the "bad@$$" part. "The thing is," she cautions, "is that it's also dangerous, so make sure the bottle is cold, then find vertical seam that goes around the bottle. Next, remove all the foil and the wire cage and tilt the bottle at a 45-degree angle (reason? so it doesn't spill) and have your saber at about 30 degrees from the flat surface of the bottle. Then, glide your sword perpendicular to the vertical seam until it meets the glass lip. Pretend like the lip isn't there and follow through and use enough force (but not too much) so that the cork comes flying off."
Additionally, Jennifer reminds us to ensure the bottle is cold and not dropped or shaken as "this makes the bottle more combustable and more unpredictable." And one detail you definitely don't want to overlook: "Make sure the bottle is not etched in any way such as vintage or anniversary or anything (this causes the bottle in it's "weakest link" to shift from where the seam meets the lip to where the bottle is etched…which means glass shards go flying dangerously." So, yeah: those fancy etched bottles should be opened the old fashioned way.
Then there's Mr. Patrick Cappiello (@patrickwine), who many of you might know from Delectable, since he curated a guide to sabering (#saberit) over the holidays for the app. Cappiello is the wine director and partner of Pearl & Ash in New York City where sabering is often a nightly past-time. The P&A team is opening a new restaurant called Rebelle this spring with a French Chef and we hope sabering carries over with the finest French Champagne. Cappiello also hosts Playboy's weekly wine series called Tasting Notes.
Patrick has five Cappiello-approved rules for sabering:
Use a cold bottle, warm ones have higher psi and more likely to explode.
Once you remove the cage on the cork, don't point it at anyone (unless you don't like them). The cork can pop out at any point, it's kinda like a loaded gun.
Slide the blade down the neck at a moderate speed. You're not knocking the head off, just trying to crack the glass at the top of the bottle.
Never Saber a bottle of rosé bubbles over a white couch (I'm speaking from experience).
Never saber drunk, better to get drunk after sabering.
We feel confident that with all this expert advice, your sabering adventures will go smoothly. May the force be with you!
---
You acknowledge that Sabrage is a hazardous recreation activity with risk of damage or personal injury.  By following these instructions you accept full responsibility for your own safety, the safety of others and expressly assume all risks of harm, whether foreseen or unforeseen.