FRANCIACORTA "SATÈN"  
A METODO CLASSICO OF SILK & ELEGANCE
by Master Taster and Food and Wine Educator Giammario Villa – Franciacorta  California Brand Ambassador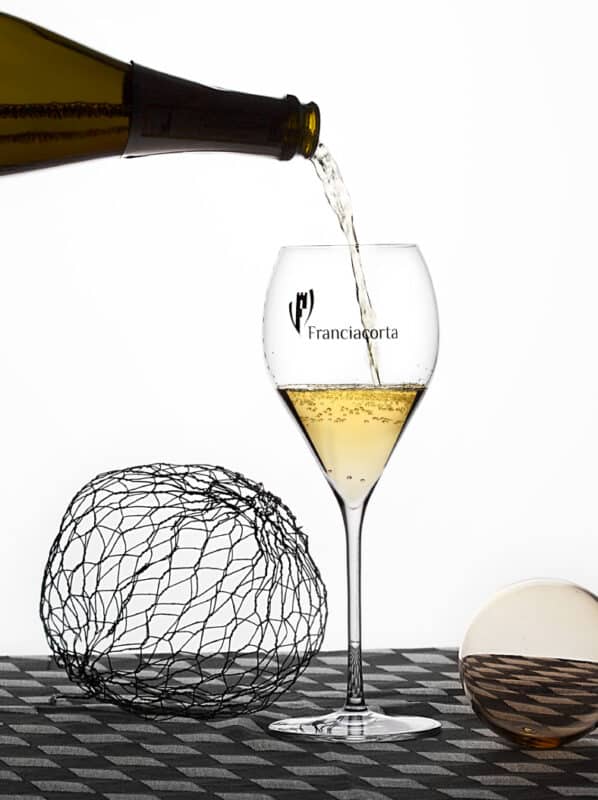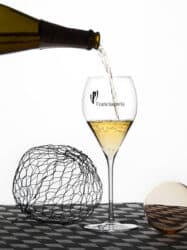 Franciacorta DOCG is a high quality sparkling wine made in the Classic Method  (Metodo Classico), and from grapes grown in the historical wine district by the Alpine  Iseo lake of the Lombardia region of Italy. Approved varieties for these sparkling wines are Chardonnay, Pinot Noir, Pinot Bianco and Erbamat. Styles produced are Satèn  (Blanc de Blancs), Rosé, non-vintage, vintage and Riserva. 
In the early 1980s, a group of professional tasters, wine experts and journalists expressed great excitement about a Franciacorta style characterized by an innovative slow bottle fermentation, produced exclusively from white grapes and with significant lower bottle pressure. This wine, called Satèn, would be characterized specifically by palate qualities, a first for the region and for the wine world. 
In the mid-1990s, the region conducted important viticulture research, selection massale in the vineyards, and an enology zone study of the whole district. A panel of enologists and winemakers tasted 184 different wines in order to identify the true expression of a Franciacorta Satèn and decode the chemical,  physical and organoleptic characteristics of this new style of Metodo Classico. The idea behind the choice of the name Satèn, was to connect a simple concept like "silky taste" with a musical way of saying it. Satèn from the evocative Italian word  "Satinato" ("frosted"), together with the word "Seta" (Italian for "silk") and the idea of a soft texture and smooth feeling.  
In 1995, the same year the region was granted DOCG status, the Franciacorta Consorzio registered the brand Satèn, and coded its production in a  strict DOCG legislation system together with the wine characteristics; from the agricultural elements to the winemaking processes, the wine style,  the preservation of the wine identity, to the physical, chemical and organoleptic characteristics.
As of 1995, producers that were part of the Consorzio were allowed to use this unique brand name to identify the new production style; in 2008, all producers in the region were allowed to produce Satèn wines.  
FRANCIACORTA SATÈN DOCG  
Style: Blanc de Blancs, Brut, low atmosphere bottle pressure
Grapes: Chardonnay and Pinot Bianco (up to a maximum of 50%)
Pressure: Maximum bottle pressure of 5 Atmospheres for a softer and creamier product (versus Franciacorta Brut, which is between 5 and 6.5 atm). 
Sugar level: Up to 12 grams/liter, which means Satèn can be produced only as "Brut"  offering wide opportunities in food and wine pairings.  
Aging requirements: Franciacorta Satèn 24 months minimum aging. Franciacorta Satèn Millesimato (vintage) 30 months minimum aging  Franciacorta Satèn Riserva 60 months minimum aging.
Tasting notes: In the visual examination the perlàge is particularly fine, small and persistent, almost creamy at sight (this last characteristic is a key point to identify a  Satèn). Color is typically intense straw yellow with golden hues (the presence or not of greenish hues depends on the age of the wine). The olfactory examination reveals a  bouquet characterized by white and yellow flowers, nutty and toasted notes such as almonds, macadamia and hazelnuts. At taste Satèn is crisp yet smooth, balanced by a  fine mineral sapidity and a persistent long finish. 
Food pairing ideas: Due to its Brut typology a Franciacorta Satèn is playful and fun to pair with a diversity of foods. A simple pairing of Prosciutto Lombardo di Sauris Crudo (or Italian DOP Prosciutto like San Daniele or Parma) or medium-aged cheeses, to baked oven pastas, vegetarian risotto (a staple in the Lombardia culinary tradition),  salmon, trout, sturgeon, or fatty fish in general like blue fish. Thanks to a valuable freshness and elegant softness, a Satèn can be paired with many "important" and complex main courses or even just appreciated by the glass, while having a delightful conversation with your friends or family. Salute!