Each article in this 52-week series will feature one new cocktail and one new alcoholic addition so that, bit by bit, you'll build out a stellar home bar.
Cocktails are delicious and all, but where does one start? How does one learn to craft the perfect, balanced drink without dropping an entire paycheck on making that delicious cocktail? This is the cocktail conundrum.
And this is the Napa Valley Wine Academy solution. I'm going to ease you into mixology slowly. We will start simple, work to piece together our bar, and learn as we go. Each article in this series—Building Your Home Bar—will feature one new cocktail and one new alcoholic addition. 
Along the way, you'll slowly pick up mixology techniques, equipment and principles. By the end of the series (will it ever end?!) you'll have a slew of cocktails to make and riff off, the knowledge to design your own unique cocktails—plus a full bar.
Our approach to keeping this simple means adhering to some simple rules:

A maximum of

one

new alcoholic ingredient per article.

Classic cocktails only. We know "classics" are inherently subjective, but we've chosen well. 

For each article, we'll include a new, classic recipe, your weekly purchases, preparation instructions, and any new techniques.

We'll keep writing until we're tired or we hit 52 cocktails (one new cocktail per week for a year).
Our cocktail this week brings brandy into our collection of spirits. The Sidecar was reportedly created during World War I (Regan, 2018) and first made an appearance in text in the 1920s (Wondrich & Rothbaum, 2022). Brandy is the hero here, adding bright fruity characteristics and barrel maturation notes. This cocktail has a very famous ratio of ingredients which you will see a lot moving forward: 3:2:1
3 parts spirit

2 parts orange liqueur

1 part citrus juice
This ratio helped inspire the Margarita, the Kamikaze and the Cosmopolitan. 
As with other cocktails which find a balance between sweet (orange liqueur) and sour (citrus), you can certainly experiment here to find your own balance. 
In our last article, we promised more discussion on the New Orleans Sour Family. The New Orleans Sour family takes its cues from the Brandy Crusta (Regan, 2018), created in the mid 1800s. This family is characterized by a base spirit, an orange-flavored spirit and citrus juice. 
As you'll discover in this series, a lot of classic cocktails are a part of the New Orleans Sour family. These cocktails are a lot like a four-chord song: rarely overwhelming, inoffensive, easy to riff off and a real crowd-pleaser. Let's check it out.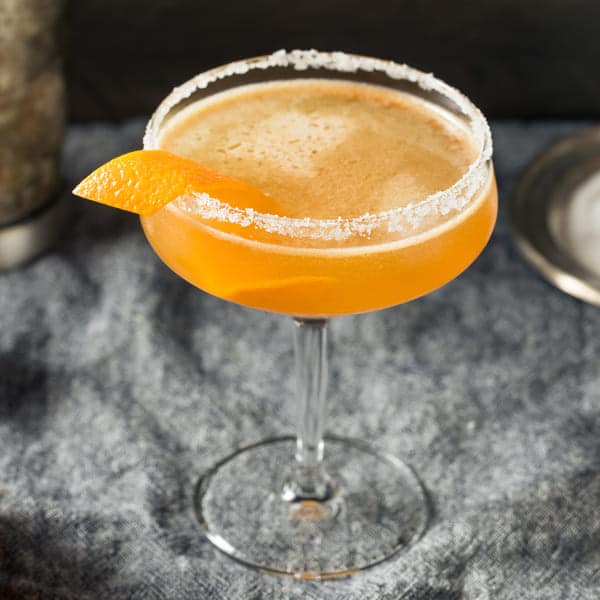 Recipe:
1½ oz Brandy (*new* – ideally Cognac, Armagnac or a good quality Brandy)
1 oz Orange Liqueur (see Week 4)
½ oz fresh lemon juice
Sugar Rim (for glass – optional)
Lemon twist (garnish)
Method: Shake the liquid ingredients with ice. Strain into an optionally sugar-rimmed glass, add garnish and enjoy. 
 Brandy – the grape spirit
Brandy is produced by fermenting grape juice, distilling it to create a flavorsome spirit, then aging that spirit in oak barrels. Brandy aged for less time will have more grapey, fruit-driven aromatics, while longer-aged expressions will have maturation characteristics like dried fruits, toffee, tobacco, and chocolate. 
Quality brandy is produced all over the world. However, the most famous styles of brandy are Cognac and Armagnac, which are produced in southwest France (both near Bordeaux). 
Cognac and Armagnac are usually quality products, so they should be a good bet for this recipe. Avoid really cheap brandy as the fruit flavor is likely to be one-dimensional and diluted, while the 'maturation' character probably comes courtesy of additives rather than the oak aging of quality brandies. 
If you have an ice machine in your fridge, then you're golden!
If not, some ice trays that you fill the day before will do the trick. Alternatively, if you're holding a party or festival, consider purchasing pre-made ice from your favorite ice vendor.
Many view garnishes as optional, but they will add flair, pizazz, fun and a little flavor to your cocktail. For this week's cocktail, you will need 
Technique to Learn: Shaking & Straining
Unlike crawling and walking, it is possible to shake before you stir. 
Shaking serves several purposes. Firstly, it chills the liquid, melting the ice and bringing the cocktail down to freezing temperature. Second, the aforementioned melting of the ice, a dilution of sorts, is an important ingredient of most cocktails – recipes are designed to factor in this dilution – it's important! Finally, the shaking will help to blend the ingredients together. 
Now, stirring will do all of this, but not as quickly and not as forcefully. In fact, the forcefulness will come to the forefront in future recipes where emulsification is necessary. In addition, shaking will introduce bubbles which will impact the texture. 
It will take 10 – 15 seconds of vigorous shaking to bring the cocktail to temperature. So, fill your shaker ⅔ full with ice, add ingredients in the order provided, then shake. 
There are various techniques that mixologists use to shake drinks. However, we like to keep it simple, so whatever feels comfortable for you should be the technique you start with. Remember, you will want to ensure you have a watertight seal and that the shaker opening is not pointed at anyone (no one wants a cocktail in the face).
Staining simply separates the liquid from any solid ingredients, typically ice. 
Your straining technique will depend on the type of cocktail shaker you are using. 
If using the Cobbler Shaker (three-piece shaker), your straining device is already built in! Simply shake your cocktail, remove the small lid, and invert to drain your cocktail into a glass. 
If using the Boston Shaker (two-part shaker), also leverage a 'Hawthorne' strainer. These strainers will fit atop your cocktail shaker. Simply hold it in place when you invert your shaker and the drink will strain through the strainer.
Want to continue learning about classic cocktails? The next articles in this series will be NVWA Membership exclusives, so sign up so you won't miss them!
Cocktails thus far: 
Week 1: Whisky Sour

Week 2: Old Fashioned

Week 3: Gimlet

Week 4: Pegu Club

Week 5: Sidecar
Reference List:
Understanding spirits: Explaining style and quality. WSET Level 3 Award in Spirits Textbook

The Joy of Mixology (2018) by Gary Regan

The New Craft of the Cocktail (2020) by Dale DeGroff

The Oxford Companion to Spirits & Cocktail (2022) edited by David Wondrich & Noah Rothbaum