In 2013, Carlton McCoy became the 10th Master Sommelier to earn the credential from a post at The Little Nell's "Element 47" restaurant in Aspen, Colorado. If there's anyplace in the U.S. with a bit of MS-pixie dust floating in the air, it surely is there, but don't confuse it for some magical transformation from Somm to Master Somm overnight, or for some fast-track to earning the title–it comes with determination and hard, hard work; a lot of work, put in after a long day of even harder work.
The Masters who have come through The Little Nell's doors since Jay Fletcher, MS, have also attributed much of their success to the countless hours Fletcher and others have given to coaching them.
Before landing at Element 47, McCoy had worked at Thomas Keller's Per Se, Marcus Samuellson's Aquavit, Tom Colicchio's Craft Steak in New York and Eric Zeibold's CityZen at The Mandarin Oriental in Washington, DC. Originally from Fairfax Village in S.E. Washington, he attended Anacostia High School, and in 2002, he won a citywide cooking contest and earned a full scholarship to the Culinary Institute of America in Hyde Park, N.Y.
NVWA: When did you realize that a career in food and beverage was right for you?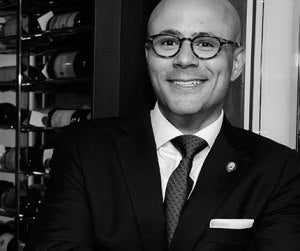 Carlton McCoy, MS: I was lucky to be raised in a family where I learned to cook early on–and not just simple cookery. We catered large banquets and I loved the energy of the kitchen, the social aspect, and I was sort of a natural at it–I took well to it at an early age.
Q: Was there anyone in your family who inspired your thirst for wine?

No one in my family drinks wine–even to this day. They have no clue how impressive it is that I have the MS credential. All they care about is that I'm happy.
Q: Before enrolling in the program with the Court, did you seek any other certifications first?

I didn't do any other courses. My focus wasn't even wine at first. I was working in dining rooms and it wasn't a question of can I talk about the climate of Côte Rôtie? It was: can I properly put silverware on a table? I worked every single position in the dining room–food runner, to back server to captain–I saw every position and looking back, I can see what a great opportunity that was, because I understand every position.
Q: As you worked your way through the your exams, you must have settled into a routine of self-study? What did that look like?

I study better in the morning. And in any situation you want to retain info, you have to be self-aware. I knew I couldn't study at night. So, I'd wake up, run, hit the library (I always study at the library) for as few as two, or as many as six hours. I was doing that at age 28. I would take one day off–depending on how big of a hangover I might have.
Q: Who would you say were your top two or three mentors?
Andy Meyers, MS is one and we met at CityZen in D.C. Andy was a drummer in a death metal band. I wanted to learn whatever I could from an early age. At 23, I started attending these blind tastings at the restaurant. I thought it was a hoax! I was really cynical and kind of a jackass and he [Meyers] pulled me in, and I began to put some effort in, and he did too, seeing that I was eager and seeing that I was getting better and better. With the new generation of sommeliers, there's less a willingness to grind, but if you are willing to give the time, you'll get it in return. And Meyers would take two hours after service to blind taste me on wines–time he didn't have to spend with me, but I was grateful and I would do whatever he asked of me. I lived to work.
I tend to gravitate to people who don't have an ego, those who don't allow success to change them. I value that in people. And someone who has done that is Jay Fletcher. We live 10 blocks from each other [in Aspen] and we go to dinner all the time. It goes beyond industry stuff and that's valuable to have. People can lose their foundation of success. Some of these old guys who are humble and normal and have been in it a long time–that's who I look forward to being like one day.
And Rajat Parr has become such great mentor–his personality is infectious.
Q: Is there any particular wine region that you are most excited about right now?
As a young somm, your natural inclination is to be a Francophile. The U.S., however, is changing. We haven't put has much emphasis in the past and there's so much potential and we haven't given enough credit to those who have been working their asses off for a long time–like Stony Hill in Napa. Recently, I had the chance to taste eight vintages back and the wines are stunning. Making wines that are low in alcohol, no malo, it's such a hip thing now, but they've been doing that for decades. And when you look at what Rajat Parr, and Sashi Moorman are doing in Santa Rita Hills–gorgeous and exciting wines–and there's so much to explore here in our own backyard, like Willamette Valley in Oregon and up and down California's Central Coast and Santa Barbara. Producers are just starting to market those wines in ways they should have for years.