If you're unfamiliar with all that is happening in the world of wine in this pillar of the Pacific Northwest, now is the time to get educated.
If you take only one thing away from reading this mini ode to Washington State wine, it should be this: Napa Valley Wine Academy has an upcoming masterclass on Washington Wine, and you will want to be on the attendee list.
Why? Because Washington wine hasn't just arrived—it's arguably now at its historical zenith.
For what seems like decades, those of us in the wine business have intermittently, but frequently, heard that Washington State wine was "on the rise," or was fast becoming "the next big thing" on the American wine scene, or was "destined for greatness." 
News flash: Washington State has been one of the big things in U.S. wine for the better part of twenty years, and is officially great already by a number of measurable touchpoints—whether that be critic scores and vintage reports, auctions, or simply the ability of vintners to churn out high-quality fine wines that satisfy diverse tastes from every day sippers to the pinnacle of cellar centerpiece treasures. As Wine Spectator recently put it, "Washington winemakers are setting new standards."
In other words, Washington fine wine isn't the future, it's the Now.
A wine grape's dream spot
Before we get into the impressive accomplishments that underscore Washington's place among the U.S. wine regions' elite, it's important to understand why Washington was thought for so long to be the next great American wine spot. Simply put, most of Washington State presents an ideal place to grow a wide range of fine wine grape varieties, almost all at sky-high quality levels. 
The reason? The soil.
Washington has one of the most diverse and well-draining soil makeups in the country, thanks to the diversity of sand and silt, and rock material deposited by the Missoula Floods over some 20,000 years during the Ice Age.
Washington state also shares the same 46°N latitude as some of the world's best wine regions, like Bordeau and Burgundy, the significance of which is sunlight—longer sunlight hours throughout the growing season. Combining the rich soil and long sunlight hours with Washington's geographical features—mountain ranges that protect its eastern vineyards with a natural rain shadow—Washington enjoys some of the sunniest growing conditions on the planet. 
The state's long growing season also has some of the world's most dramatic diurnal temperature shifts allowing fruit and tannins to ripen fully. At the same time, the cool nights mean vines shut down, retaining high natural acidities and freshness, resulting in wines that encapsulate a panoply of aromas and flavors of the surrounding conifer and woodlands, which might otherwise be overwhelmed by overly ripe grapes—of course, pick-dates are critical on that front. 
Nevertheless, it also helped that the state's modern fine wine business had the help of legendary consultant André Tchelistcheff, who, in the 1960s, worked to set its viticulture and winemaking standards with Washington's American Wine Growers (later known as Ste. Michelle Wine Estates). Critic James Suckling summarized the scene as such: "The state is large, with a varied climate and enough soil types to easily accommodate the fanciest of winemakers."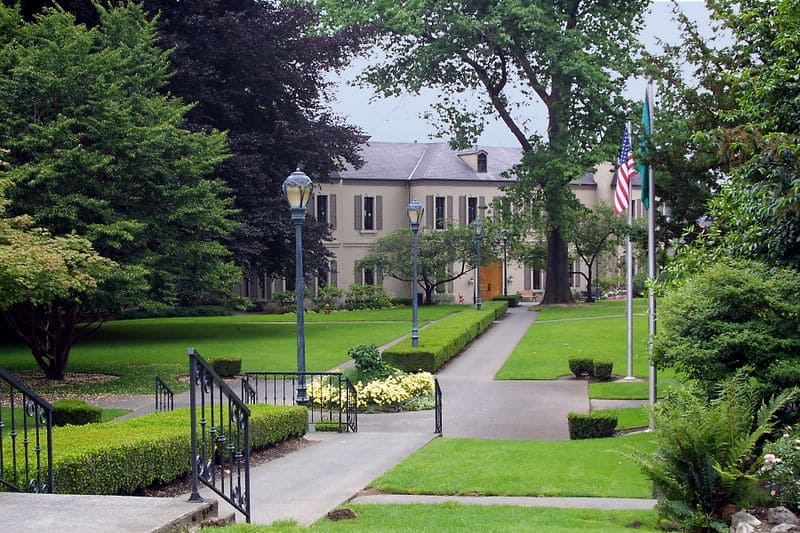 Success, by the numbers
While California's premier wine regions were busy taking all of the air out of the room with respect to media coverage, Washington State amassed a serious resume of wine success stories. Washington Wine's growth has been astonishing: the state now boasts 20 AVAs, over 400 growers, and 1000+ ** wineries (the vast majority of which are boutique, producing fewer than 5,000 cases annually). Since the 1990s, wine grape plantings have grown from just over 11,000 acres to 60,000, *** which is unlikely to occur unless the local economy is a benefactor of real success stories and capital growth. The 17 million cases of wine produced in the state annually contribute more than $8 billion in state economic impact every year.
Lower land costs than regions like Napa or Sonoma make Washington wines an excellent value play, but the state's most impressive muscle-flexing can be found at the top of the quality ladder. The critics at Vinous, for example, found dozens of 2019s that earned 96 points and above. In October of 2021, Wine Spectator awarded a 90 or higher score to more than 25 Washington wines, over 20 of which were above 93 points. James Suckling was similarly wowed, writing, "In our excitement over Washington's current releases of wine, we took our ratings game to another level and uncorked 600 bottles to get the full flush of what the state has to offer," and exclaimed that the state offered "the best grenache bottlings in America." Nearly 50 wines from the 2019 vintage earned 95 points or above from Suckling, including a handful of 99s and a perfect 100-point score for Hors Categorie Syrah from Walla Walla Valley. Whether you subscribe to points or not, it helps illustrate the point that Washington Wines are forces to be reckoned with—especially when the world's top critics feel that they owe it to themselves, and their readers, to taste through over 600 wines! 
Another sign that Washington state wine has officially arrived is revealed in the auction market, where the most exclusive lots are seriously hot. Since kicking off in the late 1980s, the Auction of Washington Wines has raised nearly $60 million, which supports growth opportunities for Washington Wines, much like how the Napa Valley Vintners supports the community of Napa and its grower members, in the form of marketing, while also setting aside money to support local charities. In 2019, their Private Barrel Auction raised a record $300,000, and in 2022 auction activities garnered in excess of $4.2 million.
The future looks bright… and sustainable
What might be most exciting about the Washington State wine scene is that it doesn't show any signs of letting off the gas pedal. When tasting Washington's 2019 releases, Vinous remarked that "Winemakers in Washington State are full of energy and enthusiasm. Very rarely do I witness so much positive attitude visit after visit, or a willingness to experiment tirelessly, to think outside the box, or reinvent the box altogether." 
The experimentation Vinous referred to is evident in the grape growers who are exploring all lanes of vine training to mitigate the hot climate—like bush-training, to maximize canopy cover, and ultimately to coax out even higher quality levels from their grapes. 
Master Sommelier Nate Ready at Hiyu Wine Farm and Morgan Lee, the winemaker for Two Vintners in Woodinville, are now pioneering orange wine production. Sustainable WA, the first statewide certified sustainability program, was recently launched, an endeavor built by and for the state's wine industry and specifically targeted at Washington vineyards.
The bottom line: Washington State may be the home of Chateau Ste. Michelle and is the spot that attracted personalities-turned-vintners like actor Kyle MacLachlan, NFL great Drew Bledsoe, and rock stars Geoff Tate and Brandi Carlile—but it is also so much more. Washington is now home to incredible value plays and terroir-driven, world-class wine offerings. If you aren't familiar with the Washington wine scene, now is the time to get acquainted.