by Noelle Hale, DipWSET, Diploma Manager, WSET Certified Educator
Whether you're enjoying the breeze in your hair while strolling through a vineyard, tasting a new vintage straight from the barrel with the winemaker, or savoring a leisurely lunch on a sun-soaked winery patio, it's easy to fall in love with the romance of wine. So easy that, sometimes, we forget that grapes are actually an agricultural crop. But as any grape grower will tell you, their struggles are the same as any other year-round farmer's: scarce labor availability, potential health risks, achieving target yields and quality levels, and ever-escalating costs. To combat this, much of American crop production increasingly relies on high-tech precision agriculture to boost yields and quality while decreasing costs. Many technologies now used in vineyards started out in the production of other crops, such as corn or wheat. While many students of wine are familiar with mechanized harvesting or mechanical pruning, other beneficial technologies are newer and less well-known to consumers. 
In a new series of articles, we'll explore some of these newer ways viticulturists are using technology to increase safety and grow better grapes with less work. We'll be focusing on land, air, and water, each in turn, considering how new technologies work, what they are replacing, and how they are helpful. 
First up: land. 
Resistivity mapping: understanding vineyard soils
Working from the ground up, soil is a natural place to start. Understanding a vineyard's soil is critical because it affects nearly every aspect of viticulture, from the layout of vineyard blocks and rootstock choices in a new vineyard, to irrigation decisions and harvest timing in an existing vineyard. For many years, viticulturists had to dig large soil pits with a bulldozer to see the soil layers and possibly send out samples for lab testing. But this is expensive, time-consuming and gives a limited set of data. Determining where to put the pits isn't an exact science, and according to Nate Weis, Vice President of Winegrowing at Silver Oak Cellars in Napa Valley, "you can only dig so many, and you have to guess about what's in between."
What happens in the rootzone is what makes your vineyard.
The team at Silver Oak now works with Coastal Viticultural Consultants to evaluate their vineyard soils using resistivity mapping. Weis explains, "there's a device you drag behind an ATV that sends a signal into the soil, kind of like sonar. You look for how long the signal takes to come back, and that tells you how much water-holding capacity there is, which tells you about soil texture. The more resistant the soil is to that impulse, the drier it is and the less water-holding capacity it has. It gives us a continuous set of data that tells us where soils start to change." The team has used the data from resistivity mapping to draw the outlines of new vineyard blocks when replanting. With improved data about their soil types and where soil chemistry changes, the new blocks are more uniform, which helps ensure the grapes in a block ripen evenly. 
Because the resistivity measuring device is small enough to fit behind a tractor, data can also be collected in existing vineyards by being pulled between vineyard rows. Bryan Rahn, President of Coastal Viticultural Consultants, says his company does a lot of this. "You'd be surprised how many people don't know much about their soil type and where the breaks are," he says. "People want to evaluate their existing vineyards. ​​If you look at a block and you've got some variability, you want to figure out what you might do differently in those rows." Rahn adds, "the top of a vine is a mirror of what the rootzone does. What happens in the rootzone is what makes your vineyard."
Physiocap: measuring vine growth
Vines live longest when their crop load is optimally balanced against the size of the vine. Finding that balance depends on many factors, such as vine age, soil fertility, rootstock species, and the trellis system, among others. 
But a vine with too much fruit can lack enough leaves to perform enough photosynthesis to ripen the crop, leading to grapes that are unable to ripen before the growing season ends. And a vine without enough fruit, needing somewhere to put its energy, can develop out-of-control shoot and leaf growth. This can cause shading of the grape clusters and also lead to problems ripening. 
A common way to assess vine balance in the past was to weigh the amount of fruit at harvest from a given set of vines and then compare that to the weight of the wood pruned off the same vines in winter. However, this time-consuming approach provides only a limited assessment of any real issue in the vineyard. 
Below: more photos of the Physiocap in use. Photos courtesy of Silver Oak.
Silver Oak recently started using a tractor attachment called a Physiocap. Pulled behind a tractor before winter pruning, it uses a laser to scan vines before pruning and create a map of last year's shoots. This data can be used to tell which areas of the vineyard are well-balanced and which need some extra help.
"Instead of taking pruning weights on two vines in a three-acre block, you're going down and measuring each vine and getting spatially how much biomass the plant produces each year," Weis says.
The team has also been able to use the Physiocap data when replanting vineyards and making decisions about how to design new vineyard blocks. As Nick Filice, Silver Oak's Grape Supply Manager, explains, "we were able to match up how to plant a vineyard based off the previous year's information and decide where we were going to break it. You can rely on those management zones to give you a place to start when you're thinking about things like aspect and soil."  
 Self-propelled machinery: reducing labor costs and health risks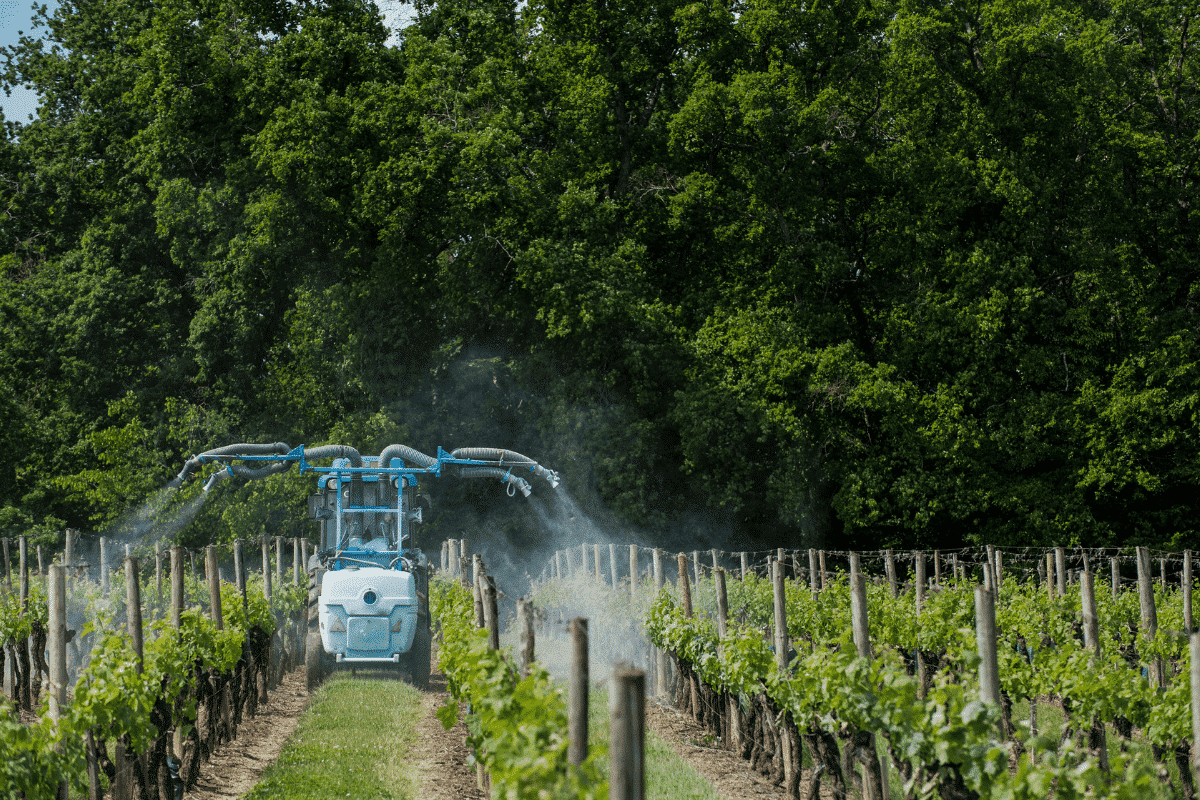 A self-driving tractor may sound like something out of a sci-fi novel, but in recent years, tractor technology has evolved to the point of full automation, and now, cutting-edge autonomous tractors can perform tasks without a driver in the cab. Two companies building autonomous machinery that can be used in vineyards are Monarch, which has developed a self-driving tractor, and GUSS (Global Unmanned Spray System), which produces a self-driving sprayer. 
Since the first gasoline-powered tractor was invented in the late 1800s, tractors have enabled farmers to complete an ever-increasing array of tasks, including plowing, spraying, harvesting and processing crops. John Deere pioneered the first GPS-enabled tractor in the 1990s, allowing farmers to map out specific areas of a field, creating the foundation for modern precision agriculture. Map data can assist with planting, installing irrigation, field measurements, treating pests and diseases, and more. 
While neither of these machines are yet ubiquitous in viticulture, Craig Winn, Director of Viticulture and Technology at Scheid Family Wines, believes the concept shows promise. "One person can operate multiple tractors and do the job of four to six people. It reduces risk because people aren't being exposed to chemicals," he says.
The Monarch and GUSS have similarities, but vineyard managers also have differences to weigh when deciding what might work for their operations. The Monarch tractor's compact size can make it a good fit for "smaller vineyards with VSP training and narrow plantings," Winn says. It starts around $60,000 and runs on a fully electric battery pack, giving it a much smaller carbon footprint than standard tractors. One charge lasts for roughly 10 hours, and it takes 4-5 hours to charge a battery. Extra batteries can extend the run time and can be swapped out in-field. 
The GUSS runs on diesel, giving it more power for its larger size and making it suitable for vineyard operations with more acreage, but it is significantly more expensive, starting at close to $300,000. Last fall, GUSS debuted a similarly-priced, smaller version of its sprayer, called the GUSS Mini, that the company hopes will be successful in fields and vineyards with tighter spacing. GUSS machines can run for around 12 hours on one tank of gas.
Conclusion
Many grape growers face increasing pressure from all directions: a changing climate, increasing costs, and fewer workers interested in farm labor, all while trying to meet quality and yield targets. Growers only get one chance per year to harvest grapes, so meeting these challenges requires an increasing level of savvy. The volume of information created by new mapping and precision viticulture technologies can be vast, but it can also be a solution to these issues. While this may be jarring when considered alongside the ideas many consumers have about the romance of growing grapes and making wine, all the computer data in the world can't replace getting out into the vines. As Weis says, "there aren't a lot of disadvantages to having more information, but you still can't farm from your desk."
You might also be interested in: