1ST OF 4 PART SERIES ON THE WINE INDUSTRY SUPPLY CHAIN
PASSION TO PROFIT: HOW TO MAKE MONEY IN WINE
By Tim Hanni, MW
co-authored & edited by NVWA staff 
They say the way to make a small fortune in the wine industry is to start with a large one. It's a cliche that rings true according to Tim Hanni, who has been educating people on the business of wine for more than 30 years. And the key to a successful wine business or career is to understand the complexities and financial underpinnings of the wine industry.
"When it comes to wine education, there's traditionally a large focus on the quality and characteristics of wine," he says. "That's of course important, but when it comes to having a successful career in wine, it's imperative to understand the business aspect."
His Business of Wine course offers a deeper understanding of the entire supply chain and value chain, from grapes to glass. Through lectures, workbooks and six proprietary financial calculators, Hanni reveals in granular detail the key decisions and factors that create profitable and sustainable wine businesses. 
The concepts often contradict what most wine students learn, like how low-yield vineyards produce the highest quality wine. While that may be true, it can double the price of grapes, thereby affecting profitability. Business of Wine forces students to weigh quality decisions against business decisions — an unfortunately foreign concept for most.
"No one else is teaching this within the highest wine certification programs," says Hanni. "The only option is to sign up for a 2- or 4-year formal college or university program. And this exact course is being used by more and more of these universities around the world."
While it's popular for people wanting to pivot into a new wine career, industry professionals who take the course are often shocked at just how little they understand about their own production costs. His course has saved numerous wineries, and helped launch approximately 20 wineries and wine-related businesses. 
"Had I not taken this course, I would have naively taken out a monster loan to start a winery, or bought land to plant vines and build a tasting room," explains former student Judith Morrison. "It could have been a disaster! Now I can start and build my business at a pace that's comfortable and satisfying with a much higher chance of success." 
Business of Wine also teaches people to think critically about cause and effect, even on a global scale. For example, China recently imposed devastating new tariffs on Australian wine ranging from 116 to 218%, making it impossible for them to compete in their most profitable market. A wine that has a $10.00 value hits the distribution system in China at $21.80 before additional taxes and duties, then distribution and retail markups are applied.
This might directly affect competition and wine prices in the U.S. as Australia seeks to redirect marketing efforts and apply discount pricing. America is an ideal target market as the #1 consumer of wine in the world. U.S. winemakers don't generally focus on exporting, and may be unaware of the threat this poses for U.S. wine sales and profits in their own market. 
The Business of Wine course isn't just for winemakers, career seekers, or entrepreneurs. Hanni's wine business education curriculum has helped over a dozen people around the world pass their Master of Wine credential…an impressive statistic considering there are currently only 45 Masters of Wine in the United States.
"When you combine industry business acumen with wine product knowledge, you become unstoppable," he says.
Sales representatives or wine buyers who understand the true cost of goods sold (COGS) for a bottle of wine can negotiate prices better. Lawyers, CPAs or real estate professionals wanting to cater to the wine industry benefit from truly understanding how the business works from beginning to end.
Hanni recalls one student who wanted to get a job in a tasting room. After months of unanswered calls, he encouraged the student to do a case study on the winery he wanted to work for. Using the tasting room profitability calculator included in the course, he ran a profit and loss analysis based on estimated projections and sent it along with his resume. He was hired within a week.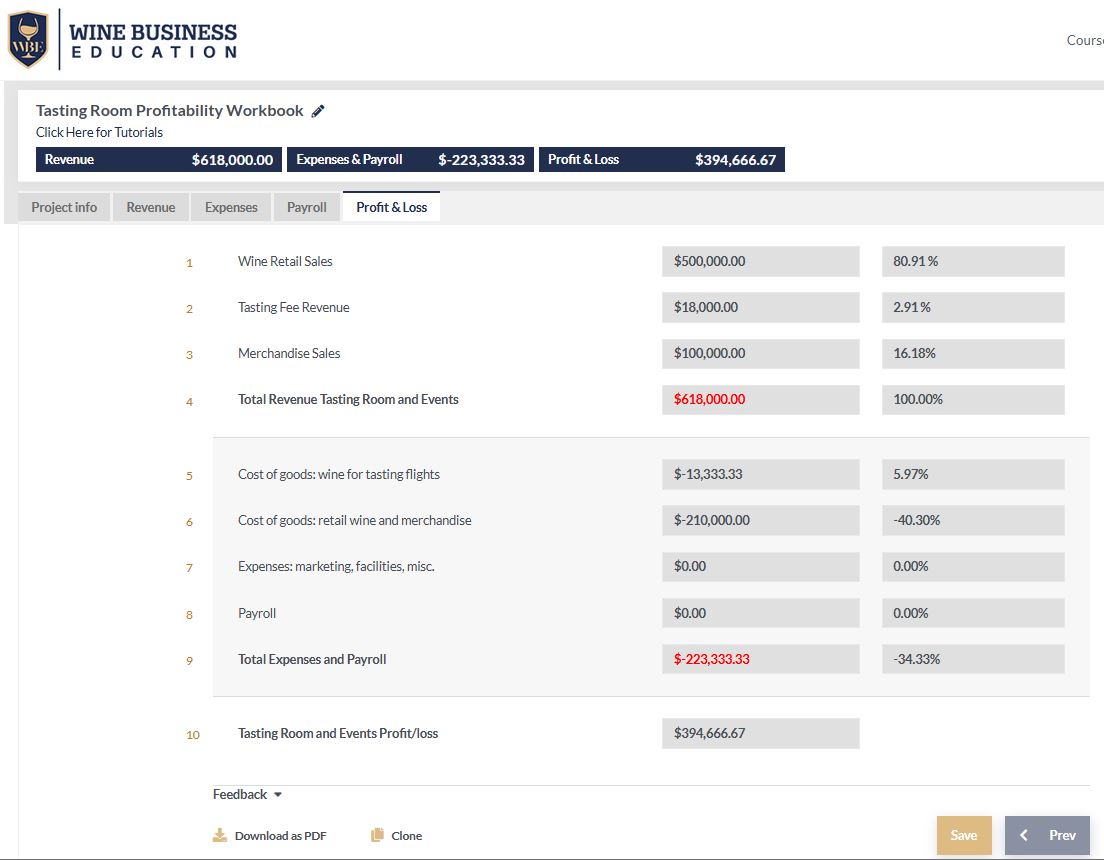 "People who earn this Wine Business certificate often understand the business more than most industry veterans, and that makes them highly desirable in the market," says Hanni. 
Wanting to work in the wine industry since age 14, Hanni has experience in virtually every aspect of the industry, from retail sales to international consultant. He was even a professional chef at Bern's Steakhouse, which boasts one of the world's largest wine cellars. While working for Berringer in the late '80s, he sat for his first Master of Wine exam…and "failed epically." 
His interest in business happened by accident, literally. A scheduling mishap sent Hanni to a critical thinking and disruptive innovation course targeted to electrical engineers. (He thought he was going to a creative writing class but decided to stay). The fortuitous introduction to critical thinking changed the entire trajectory of his career.
He credits that one class in providing the tools he needed to frame arguments for the Master of Wine exam, which he passed in 1990 as the first American. 
Since then, Hanni has developed business wine curricula for more than a dozen universities and institutions, including Napa Valley Wine Academy. He began teaching a live class at the Napa headquarters in 2014. Realizing a hole in the market, NVWA CEO Christian Oggenfuss approached him with the idea of taking it online. The two designed the course and launched it two years later.
"We quickly realized the demand," recalls Oggenfuss. "We teach a lot about wine theory or how to taste wine, but the business side was left unaddressed. That was a main driver in developing this course."
In addition to 8 video lessons, the Business of Wine course offers proprietary financial calculators that break down the costs associated with vineyard operations, cost of grapes, production, packaging, distribution, sales, marketing, and running a tasting room or retail operation. 
They are exceptionally detailed, such as calculating the costs associated with the evaporation rate in wine barrels. Cellaring wine in the wrong conditions can lead to evaporation costs that exceed the cost of your barrels. 
Students, startups, and wine professionals can use the workbooks as educational tools or to run actual financials, budgeting, or forecasting. Other tools include a business plan template and career plan template, allowing them to tailor the course to their individual needs. The course basically offers a blueprint for success in the wine industry, says Oggenfuss.
"Finding success in the wine industry is really about finding opportunities, mitigating risk, creating a strategic plan and then executing and editing the plan as you go along," says Hanni. "The Business of Wine course walks you through the entire industry step-by-step to provide an essential understanding of how this confusing and complex industry works."
Learn More About the Business of Wine Online Course