Often blended with Merlot and Cabernet Sauvignon, Cabernet Franc makes excellent single-varietal wine. Climate change is pushing the boundaries on where it is cultivated.
If you've ever enjoyed a glass of wine made with Cabernet Franc, it was likely blended with other red grape varieties. Cabernet Franc is native to the Basque region, which straddles the border between France and Spain. However, some records point it to the Libournais region of Bordeaux, where it is called Bouchet, while others suggest it originated in the Loire Valley. 
Cabernet Franc has come to be known worldwide for its inclusion in some of the most-prized Bordeaux wines, like the Right Bank's Château Cheval Blanc. Often blended with Merlot and Cabernet Sauvignon, Cabernet Franc makes excellent single-varietal wine. 
Without Cabernet Franc, the world wouldn't have Cabernet Sauvignon. The latter results from an accidental crossbreeding of Cabernet Franc and Sauvignon Blanc in 17th century France. 
Today, Cabernet Sauvignon is the most-planted red grape in the world. And while Sauvignon Blanc also appreciates wide adoration from wine drinkers, Cabernet Franc has almost been relegated to second-tier status, despite its ability to provide heightened aromatics and soften highly tannic varieties. But as climate change continues to remake global wine regions, it's high time for the spotlight to shine on Cab Franc.
This thin-skinned, hardy grape that often produces a lighter-hued wine has its strongest ties to France's Loire Valley, in the Chinon and Bourgueil sub-regions. As well as in Bordeaux, where it is often planted to blend with Merlot, but also as a hedge against Cabernet Sauvignon not ripening, according to Tyler Elwell, owner and winemaker of Halcyon Wines in Napa, which focuses on producing top-quality Cab Franc. 
"There were many years Cabernet Sauvignon didn't ripen," Elwell said, "and Cab Franc is a fitting replacement for it."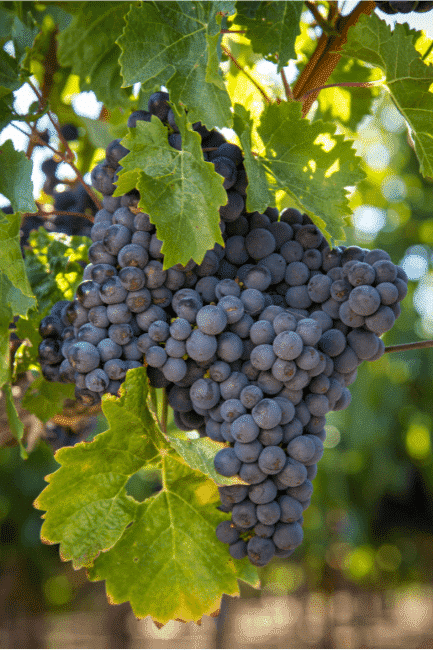 Why? Both grapes can produce full-bodied, tannic wines with pronounced herbaceous and green pepper notes due to the presence of pyrazines, compounds naturally occurring in the vines that ward off pests. But what separates the two, and why Cab Franc is sought after for blends, is the presence of higher acidity (typically from vines planted in limestone soils, but also clay and gravel) and red fruit and floral characteristics—think raspberries, violet, cherries, currants—alongside more savory notes like tobacco, anise, pepper, and tarragon. Cab Franc helps to brighten up Cabernet Sauvignon and Merlot, and where those wines often require aging, Cab Franc as a single-varietal wine can be enjoyed in its youth—but has ample aging potential. 
Because it's a hardy grape that grows in small- to medium-sized tight clusters, Cab Franc thrives in varying climates and soils. It is regularly grown in California's Napa and Sonoma valleys and Italy's Tuscany region—often blended with other Bordeaux varieties in each locale, including Petit Verdot and Malbec. 
As a single-varietal wine, Cab Franc is found in regions around the world, such as the Loire Valley and Italy's Friuli-Venezia Giulia, and is increasingly gaining popularity across U.S. wine regions like California's Sierra Foothills, Washington's Columbia Valley, Virginia, northern Michigan's Leelanau and Old Mission peninsulas, and New York's Finger Lakes. You'll also find many wines from Chile (where another Cab Franc offspring, Carménère, flourishes), Hungary, and South Africa, pointing to Cab Franc's adaptability and versatility. 
"The Loire Valley remains the major place for Cab Franc," said Xavier Amirault, sixth-generation owner, and winemaker of Domaine Amirault's Clos des Quarterons. "This variety likes a temperate climate to stay fresh, but today the climate is changing everywhere in the world," and, as Amirault suggests, growers are finding "new" regions where it is well-suited for cultivation. 
There's a large spectrum of how this grape can be made…If you like a full-bodied Cab Sauv, maybe [try] a Cab Franc more in line with that. Or if you like Pinot Noir, introduce a lighter style, maybe from the Loire.
That means people are growing and producing a diverse range of Cab Franc worldwide, giving wine drinkers more of an opportunity to experience all that it can offer. 
"Cabernet Franc offers very distinctive varietal expression with viticultural success in a range of climates and thus a wide variety of body and fruit expressions," said Aileen Sevier, VP of strategy and marketing at Early Mountain Vineyards in Virginia, which bottled five different Cab Francs in 2019. "This diversity of expressions can also be why it isn't as easily popular though as it takes more understanding and exploration to understand."
Halcyon's Elwell, who fell in love with Loire Valley Cab Franc due to its expressive nose, lower alcohol, and easy pairing with a variety of foods, has one message for people who may snub their nose at Cab Franc over more commonly found Cabernet Sauvignon: How do you know if you don't like it if you don't try it? 
"There's a large spectrum of how this grape can be made," Elwell said. "If you like a full-bodied Cab Sauv, maybe [try] a Cab Franc more in line with that. Or if you like Pinot Noir, introduce a lighter style, maybe from the Loire."
And with climate change and changing palates, wine lovers are always looking for something new to try. Because of its diversity, Cab Franc also goes with a range of food (not unlike Gamay or Barbera), so enthusiasts and students of wine can have fun experimenting with pairings.
"The younger generation is more flexible and experimental," said John Skupny, owner and winemaker of Napa's Lang & Reed, heralded as one of California's premiere Cab Franc producers for nearly 30 years. "I've tried to keep a youthful approach to what we're doing based on that." 
While evidence shows Cab Franc has been planted in the Loire for 1,000 years, according to Amirault, it's just starting to come into its own. 
"Wine drinkers are changing, and perhaps they are getting more educated about wine, more curious and more open to the style of this variety," Amirault said. "Perhaps wineries are also noticing this and want to grab the opportunity with consumers."
It sounds like Cab Franc is ripe for the drinking.