Virginie Boone, writer, reviewer, and longtime contributor to Wine Enthusiast, offers a short crash course in the wines of Alsace and some wines to seek out. 
Alsace is the heart of France's aromatic white wine universe, a small region in the northeastern corner of the country bordering Germany and Switzerland. The biggest towns from north to south include Strasbourg, Colmar, Mulhouse, and Besançon; Burgundy lies to the south and west.
Critics like Robert Parker have called Alsace "perhaps the most underrated and underutilized source of great white wines in the world." He is not alone in this assessment.
While Alsace shares more wine varieties with its neighbor Germany than with Burgundy—most importantly, Riesling—"Alsace makes Germanic wine in the French way," writes Jancis Robinson in the World Atlas of Wine, 7th edition. This is a region with its own imprint and style, developed and codified over the ages, with roots going back to the Roman Empire.
Part of the region's signature style today is tied explicitly to the traditional way winemakers in Alsace have sought to make bone-dry, full-bodied wines, fermenting every ounce of sugar out of the grapes in stainless steel tanks or large, used oak barrels forgoing malolactic fermentation. Purity of fruit is the goal.
There are three AOC designations within the region: AOC Alsace simply, for most of the wines; AOC Crémant d'Alsace, for sparkling wines made in the traditional method; and AOC Alsace Grand Cru, which today includes 51 classified terroirs, or lieux-dits, and is a system that restricts yields and increases ripeness, though the term can only be applied to wines made from Riesling, Pinot Gris, Gewürztraminer or Muscat with minor AOC-approved deviations (a full breakdown can be viewed here). 
While the aforementioned four grapes are considered the region's noble varieties, in Alsace, Riesling is definitely king, where it ages well but can also serve as a worthy aperitif. There are also sizable plantings of Pinot Blanc, Sylvaner, Chasselas, Auxerrois (a common base wine for crémant), and Pinot Noir. 
Edelzwicker is a term used when there is a blend of white AOC varieties, often consisting of some amount of Pinot Blanc, Sylvaner, and Chasselas, though percentages are not indicated, varieties can be vinified separately or together and producers are not required to put the vintage on the label. A separate label indication, Gentil, is reserved for superior blends that include at least 50% of the noble grapes Riesling, Muscat, Pinot Gris, or Gewürztraminer.
Alsace is generally split in two departments: Haut-Rhin (Upper Rhine) and the Bas-Rhin (Lower Rhine), with the Vosges Mountains along the western border sheltering vineyards from excessive rainfall. Here, vines do best on east-facing hillsides where they get the most sun. The Haut-Rhin, set north and south of Colmar, offers a protected climate where the elevation of the mountains keeps temperatures relatively higher, too. Most of the classic Rieslings of Alsace come from here.
Some in Alsace list their Grand Cru status; others do not. Unlike many of their counterparts in other parts of France, whether AOC Alsace or AOC Alsace Grand Cru, producers almost always list the name of the grape variety on the label.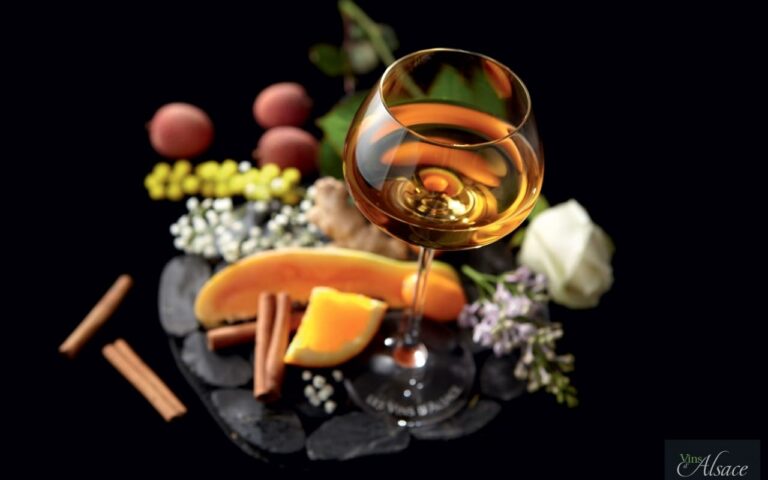 Image Source: https://www.vinsalsace.com/en/fonds-decrans/
When a wine is sweet, like a Vendange Tardive, which translates as Late Harvest, nothing about the sweetness level will be listed on the label. A Sélection des Grains Nobles is made from even riper, botrytized grapes, but it will also not be clear about the sweetness level.
AOC Crémant d'Alsace is the region's dry sparkling wine, made in a traditional Methode Champenoise style. Alsace is also known for its delightful eaux-de-vie.
Some of the best-known producers in Alsace include Domaine Weinbach, established by the monks of Capuchin in 1612; Domaine Zind-Humbrecht, established in 1959; Justin Boxler, since 1672; and Maison Trimbach, one of the oldest in France, dating back to 1626. 
The noble grapes of Alsace
Riesling – makes dry, steely wines that can be long-lived and crisp in acidity, with notes of lemon, grapefruit peel, lemongrass and Kaffir lime.
Gewürztraminer – a pink-skinned grape that makes full-bodied, flowery, lychee-fruited wines and is often the best introduction to Alsace's aromatic whites. Very little oak is used in most of these wines, which also work well as late-harvest versions.
Pinot Gris – pink-skinned version of Pinot Noir whose grapes make deep-colored, full-bodied, soft and gently aromatic white wines. Italians call it Pinot Grigio. In Alsace, Pinot Gris is more revered than Pinot Blanc.
Muscat d'Alsace – makes a dry table wine that is typically a blend of Muscat Ottonel and Muscat Blanc a Petits Grains, is delicate and smells sweet.
The Others:
Auxerrois – a fuller-bodied, lower-acid version of Pinot Blanc, with which it is often blended.
Chasselas – a table grape often in blends.
Pinot Blanc – the region's workhorse, this is a white-berried mutation of Pinot Gris related to Pinot Noir that makes a broad-flavored, full-bodied dry white wine. Blended with Auxerrois it is sometimes called Clevner.
Pinot Noir – the region's notable red wine, these tend to be fairly light in color and body.
Sylvaner – high in acidity, racy and sleek, this grape is mostly blended to make Edelzwicker.
Wines to seek out
Albert Boxler 2020 Chasselas Vin d'Alsace (Kermit Lynch)
Albert Boxler 2020 Edelzwicker Reserve Vin d'Alsace (Kermit Lynch)
Domaine Ostertag 2020 Vieilles Vignes Sylvaner Alsace (biodynamic; Kermit Lynch)
Justin Boxler 2021 Pinot Auxerrois Alsace (Artisanal Cellars)
Maison Trimbach 2014 Cuvee Frederic Emile Riesling (Millesima-USA)
Meyer-Fonné 2021 Pinot Blanc Vieilles Vignes Vin d'Alsace (Kermit Lynch)