by Patrick Comiskey
It's useful to think of Costières de Nîmes as a 'betweener.' This appellation in the south of France, situated in the Gard département, borders the Rhône River and delta on its southern flank, and its proximity to Avignon and southern Rhône appellations makes it spiritually "Rhône," as do its wines, which are often made and composed like southern Rhône blends. 
But in the end, you have to take in the sea: at the coast, the Rhône forms a delta, a drainage for the valley and Provence, forming a unique ecosystem on its way to the Mediterranean called the Camargue. This is the wild and remarkable marshland that forms part of France's southern coastline, home to rice fields and salt flats, a sanctuary for birds and other wildlife, a place where feral indigenous horses roam and flamingoes flutter in the wetlands. Costières de Nîmes sits on a terrace overlooking the delta. 
The wines produced are Rhône-like but with their own special  maritime character—the product of the wild, untamed, sea-inflected Camargue, kissed by the coast the way few Rhône wines are.
Notes on Nîmes
To tour the Costières de Nîmes, you could do worse than starting at Nîmes, an ancient city southwest of Avignon with a comparable sense of antiquity and history in its vieilles rues. But where Avignon (and Châteauneuf-du-Pape) are papal enclaves, Nîmes is decidedly Roman: once a regional Roman capital, there are grand architectural remnants, including the breathtaking Maison Carrée temple, a spectacular amphitheater roughly contemporary with the Coliseum in Rome. (It is the staging ground for the region's foremost music festival and is still used for that other great southern French tradition, féria, or bullfights.) Many parts of the city, and a few nearby wineries, employ a version of the city's colorful symbol, a crocodile chained to a palm tree, which traces back to Roman times.
The surrounding countryside is thought to be the oldest wine region in the Gard, with a viticultural history going back to the Greeks and flourishing in Roman times, when elaborate irrigation systems supplied water to urban and agricultural locales. The most spectacular of these is one of the great archeological marvels of France, the Pont du Gard aqueduct, 15.5 miles (25 km) northeast of Nîmes.
Notes on Climate
But to get a complete picture, you must head south, toward the sea. The southern edge of the Costières de Nîmes is less than 24 miles (40 km) from the shores of the Mediterranean, though the marshy ponds and wetlands of the Camargue separate Costières de Nîmes from the sea itself. The better vineyards of the AOC lie south and east of Nîmes, the better to receive coastal breezes. Despite being the Rhône's southernmost appellation, it is notably cooler than regions north of it, including Tavel, Lirac, and Châteauneuf-du-Pape. In fact, where Grenache is the most common red grape in these AOCs, in Costières de Nîmes, Mourvèdre and Syrah play more of a role, the sea breezes allowing for lighter, livelier iterations of both varieties. Indeed 'charm' is a word often used to describe the wines here, a Rhône-inflected flavor palette for reds, whites, and rosés, but one with a sea-fresh lift.
Notes on Soils
Costières de Nîmes lies south of what is known as the Nîmes Fault, a rupture that separates the AOC from the Jurassic limestones and Dolomites that inform so much of central and southern French terrain. Ancient braids of the Rhône and Durance rivers have left large deposits of river cobble, fist-sized stones similar to those found in Châteauneuf-du-Pape, assembled terraces, and raised banks of cobble, clay, and gravelly sand. 
Its Reputation, in Print and in the Glass
World-famous wine critic Robert M. Parker Jr. made mention of Costières de Nîmes in later editions of his "Wines of the Rhône Valley" book, calling it "unquestionably an up and coming appellation" in 1997.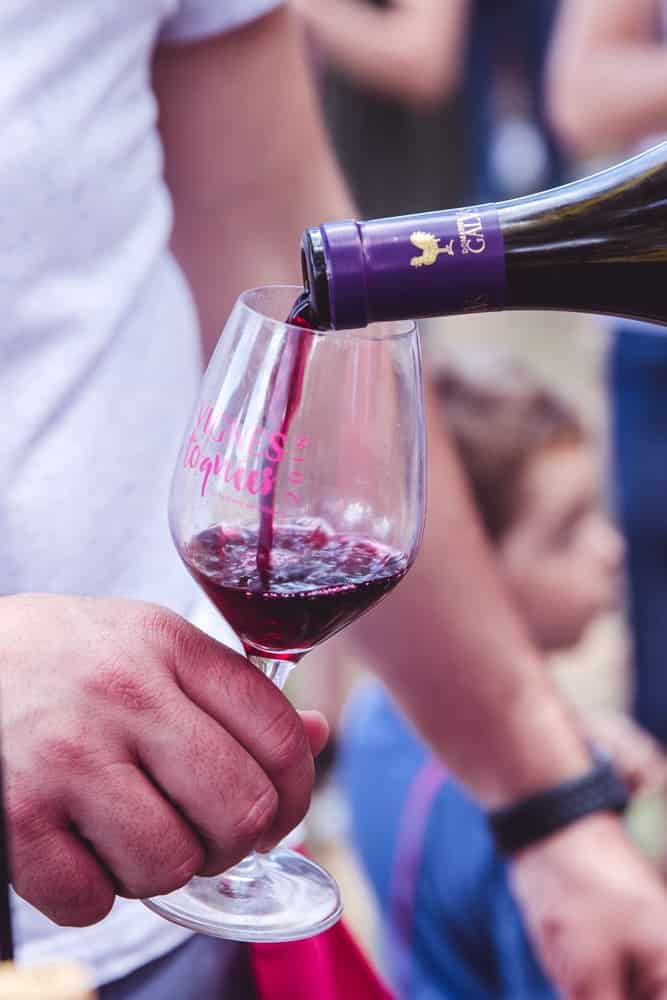 Grape varieties in the region's vineyards fall squarely within the southern Rhône pantheon. Syrah, and Mourvèdre are well-represented, but there is plenty of Grenache, as well as Carignan and Cinsault. The whites are blended from Grenache Blanc, Clairette, Roussanne, Marsanne, Bourboulenc, Viognier, Macabeu and Vermentino (Rolle). All AOC wines are blended, requiring at least two varieties.
I mentioned charm earlier; these are exceedingly charming wines with a freshness that stands apart from the warmer appellations of the Rhône. I tasted a number of typical wines recently: Domaine Gassier makes several reds and a few whites that are textbook with scents of licorice root and garrigue herbs, a meaty dark plum flavor with brisk acidity and a hint of saline minerality that focuses the flavors and freshens the palate. The whites I tasted (fewer of them) led with Grenache Blanc and were simple and brisk, with lemon and peach flavors lent some lift and brightness from Clairette. 
As a region, it's become an export leader (owing, again, to its in-between status) with a reputation for overperforming for its price.
Wineries Whose Wines Exhibit Great Typicity
Domaine Gassier, Château Mas Carlot, Château Mourgues de Grès, Château l'Ermite d'Auzan, Mas des Bressades, and Château d'Or et de Gueules; I also found a youthful Costières de Nîmes Grenache-dominant red by the multi-appellation broker Mary Taylor which was modern and delightful.