Story by Joe Roberts / Images provided by Roberts and VIGNO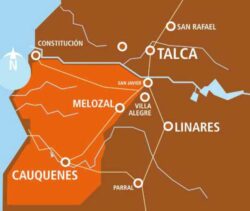 Chile is probably best known for big volumes of excellent bargain wine finds, led by a small number of wine producers whose sizes rank them among the largest in the world. This makes Chile's most recent fine wine renaissance all the more improbable since it involves a cadre of smaller producers focusing on what just might be Chile's least-known red wine grape: Carignan.
Carignan is of Spanish origin, and is probably best known as a major wine grape in France's Languedoc-Roussillon region. It's often cited that Carignan arrived in Chile in the 1930s, but its arrival likely predates that, with small amounts of vines having been planted in the area surrounding the Maile Valley, to provide the acidic backbone to wines made from the more ubiquitous Pais (Mission) variety. Carignan saw a rebirth of sorts in the 1960s, via an investment by the Chilean government, in an effort to improve and reinvigorate vine plantings and wine quality after the country suffered one of its largest earthquakes of modern times (the 1960 Valdivia quake.)
Chile's focus on Carignan was short-lived, however. Long the underdog, it wasn't until the 1990s that Carignan even made the official list of fine wine grapes in Chile. Chile's wine industry retooled itself for an evolving global market, focusing on more popular international varieties like Cabernet Sauvignon and Chardonnay (and staking a claim as the spiritual home of Carménère). No one quite knew what to do with the tiny, head-trained plantings of Carignan growing in the granitic soils west of Route 5 (the North/South highway that roughly bifurcates Chile). This small growing area in Maule was effectively cut off from the mountain-based irrigation systems in the east, and for years its Carignan was relegated to blending component status, adding acidity and color to more profitable wines.
By the late 2000s, Chile's smaller producers were looking for ways to differentiate themselves from the big guys and began looking at the country's cache of older vines.
They understood that older-vine, dry-farmed vineyards naturally limit yields, reduce the overall size of grapes and bunches, thus concentrating flavors and that these sites had a lot more potential than just being used for blending.
From 2009-2012, a group of 12 like-minded growers worked to launch VIGNO, which is short for Vignadores de Carignan (and pronounced VEE-NEE-OH). The goal was simple: showcase old-vine Maule Carignan's potential as a featured variety in boutique and high-end offerings for more serious wine drinkers. The effort also sought to make Carignan grapes a more valuable raw material, thus raising grape prices and providing a better livelihood for Chilean farmers, while also protecting the grape from inevitably being torn out.
To encourage these farmers to save Maule's old-vine Carignan, VIGNO permitted the variety to be grafted onto existing Pais rootstocks (rather than see the vines uprooted in favor of Cabernet Sauvignon or other more lucrative varieties). Thanks to those efforts, Carignan is no longer considered an "endangered species" in the country. It won't be threatening Cabernet Sauvignon or Carménère any time soon, however: Carignan still makes up less than 5% of total vine plantings in Chile.
To qualify for inclusion in VIGNO, producers' Carignan wines must:
Be sourced from a designated area in the southern Maule Valley.

Come from dry-farmed, gobelet-pruned (head-trained) vines over 30 years of age that are own-rooted (or grafted) on País rootstocks, or other traditional varieties.

Consist of a minimum 85% Carignan (with the remaining 15% comprised of other old-vine, dry-farmed varieties traditional to the region)

Be aged a minimum of two years.
The terms secano (dry farming) and viñas viejas (old vines) are permitted, but to avoid consumer confusion, reserva and gran reserva cannot be used.
While VIGNO is not yet an official appellation in Chile, VIGNO's members (now numbering 17 producers) are eying that move as the logical next step for the region's special version of Carignan. If these recent releases are any indication, their success is only a matter of continued determination and inevitability.
[Editor's Note: Learn more at https://www.vigno.org/ and consider studying TK COURSE with us to learn more about Chile!]
TASTINGS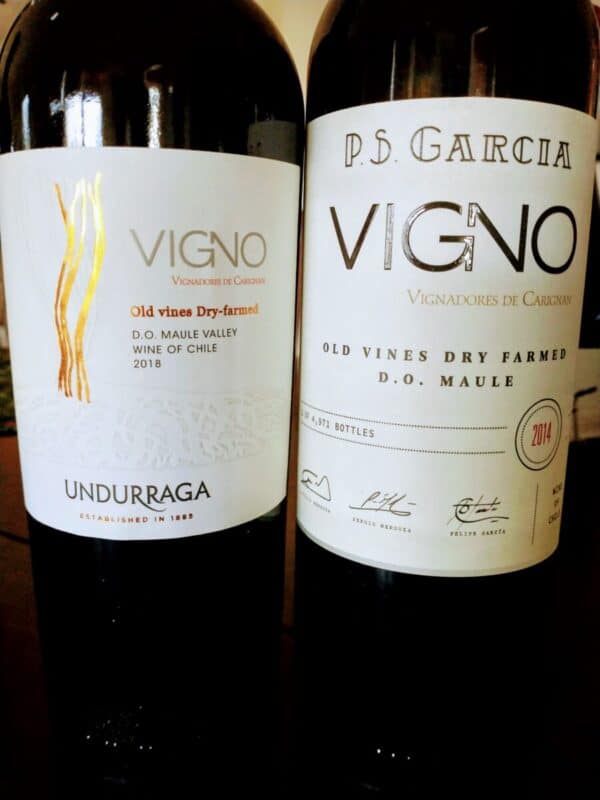 2018 Undurraga 'Vigno' Old Vines Dry Farmed Carignan
Sourced from the La Soledad vineyard in Cauquenes. Notes of tobacco, red plums, currants, black cherry, and ample peppery spices kick things off, followed by a mouthfeel that's very powerful, but also very fresh. Tangy elements emerge thanks to the inclusion of some Cinsault. Long and muscular, this finishes with enticing dried herb hints.
2014 P.S. García 'Vigno' Old Vines Dry Farmed Carignan
From 1958 plantings, this 100% Carignan screams "Old-school!" It's mineral and herbal, with green pepper, black pepper, and deep red and black cherry fruit aromas. It's also gorgeous fresh and authentic in its mouthfeel, with hints of red currants, plums, and a sense of juiciness dancing in time with vibrant freshness. It's difficult to believe this isn't actually a much younger wine, and it showcases Carignan's elegant aging potential.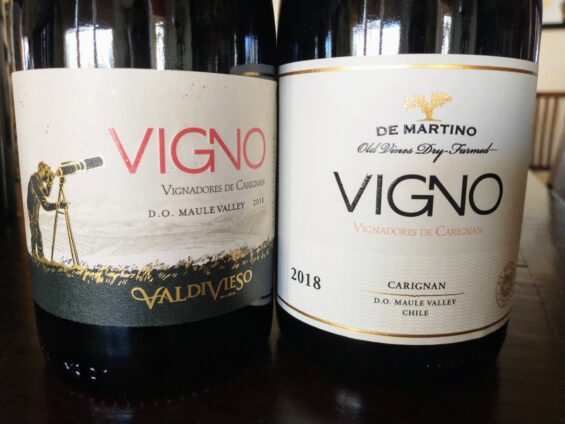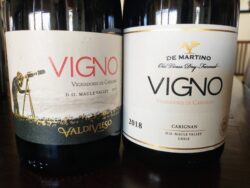 2018 Valdivieso 'Vigno' Carignan
Some of this 100% Carignan is fermented in ceramic amphora, then aged in used French barrels for one year (after spending a year in stainless steel tank). Lovely violets and herb aromas burst from the glass, followed by darker tobacco and cherry notes. Smooth and voluptuous, this red emphasizes the fruitier aspects of the variety. The long, mineral-driven, floral finish is a nice bonus.
2018 De Martino 'Vigno' Old Vines Dry Farmed Carignan
This single-vineyard Carignan is sourced from the La Aguada vineyard, planted in 1955 (and is still horse-plowed). Aged in 5000-liter foudre for 24 months, it's one of the most herbal and spiciest Carignans you're likely to encounter. It's also one of the most dynamic, bursting with cherry fruit flavors (dried, red, and black), but balanced by ample acidity. Very deep and focused, with plenty of grip, and nicely balanced.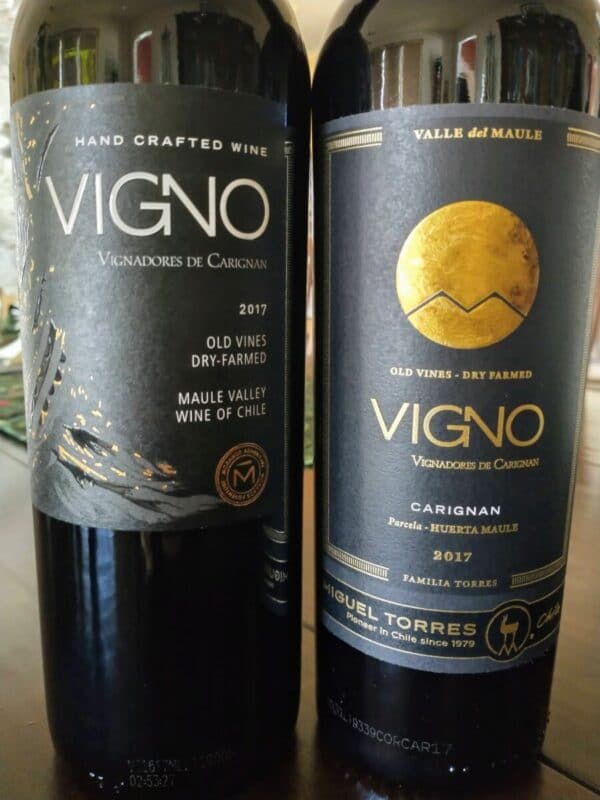 2017 Viña Morandé Adventure 'Vigno' Old Vines Dry Farmed Carignan
Technically a field blend that includes a bit of co-fermented Syrah and Chardonnay from 60-year-old vines, this hails from one of the warmer areas of the sub-region. Plowing is used (to promote water retention in the soil), but not much else is done, and vines are mostly allowed to do what they do best. The result is concentrated, pure black cherry fruit flavors, and a palate that's deep and full, with peppery spice notes, lift, and a sense of chewy structure and authentic power.
2017 Miguel Torres 'Vigno' Old Vines Dry Farmed Carignan
Herbal, dark, and plummy, this Carignan hails from a hot and dry vintage, but still manages to maintain ample freshness. While the pepper-like spices will remind folks of Carménère on the nose, the excellent tanginess on the palate is Carignan all the way, showing off its dried cherry fruits, great concentration, wild herbs notes, and muscular power.