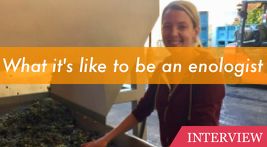 If you're fascinated by the natural world, you enjoy research, and you love using the tools of science to solve problems, the wine world has more to offer you than late-night grad school study fuel. Enology, the cellar counterpart to viticulture, is the science of winemaking, and the field provides vital research to winemakers in every region of the world.
Jamie Rauch is an enologist who graduated from Oregon State University's Enology and Viticulture program in 2012 and worked in Germany for three years before returning to her home state to work in the Dundee Hills region of the Willamette Valley. I sat down with her to talk about her path to a career in wine science.
How did you get interested in wine as a career?
I was 19, and my first international travel was to Italy. I was in business school, and they took us on a group winery tour in Chianti, and I thought, "Wine is amazing!" The more I started tasting wines while traveling in Europe, the more interested in it, especially the agriculture side, I became. My best option was to come back to the United States and go to Oregon State, which had a really strong agricultural program. Once I started science classes, chemistry, and biology, it all came together.
Were you interested in science growing up?
I was never a strong science kid, never extremely interested in it. I guess it was just the first couple chemistry classes I took; I was much more engaged than in business school.
So what was your first wine job?
I crammed a lot of summer courses and laid the background as quickly as I could to get into upper-level viticulture and enology courses. In my senior year in the fall it was my opportunity to do a harvest, so I worked for King Estate while taking three courses' worth of credits.
I went to Germany after graduation. They sent me on a one-year program, the Congress-Bundestag Youth Exchange, where they select 75 American students and 75 German students and do a swap. So I had with two months of language courses, and then you could find a job within your field. I lived on-premise at a winery and worked there for ten months… and then decided to stay [for two more years].
Walk me through a typical day for you as an enologist––say, a day during harvest and a day in March.
During harvest, I show up first thing in the morning, and it's all about monitoring the fermentations and taking care of the grapes that are already in the facility. Primary fermentation affects wine quality all the way through, so it's crucially important to be on top of cap management, sampling, lab analysis––everything that those wines need. Then I get into production and the rest of the wine work for the day. I have my hand in a lot of parts of the cellar as far as processing fruit, pressing, barreling down, cleaning, and sanitation, and then definitely just keeping an eye on what's going on in the lab.
In March we are just about to bottle our aromatic white wines. So we're prepping them, and that's very heavy on lab analysis as far as managing final SO2 numbers, tweaking, filtration, things like that. We're extremely busy pulling samples and figuring out our blends for September bottling, too.
You're very involved in the day-to-day of production, like forklifting, sorting, and cleaning. Is that typical of an enologist?
I think your job description as an enologist changes drastically depending on what part of the country you're in and, more importantly, what size winery you're working for. I'm one of three full-time production employees, so I have to be diverse in what I do. There isn't enough lab work to keep me busy 100% of the time. By contrast, the largest wineries in Oregon will have an enologist who is more of a lab manager who spends very little time in the cellar; they're tracking data, and it's research-based and keeping the lab technicians in line and keeping everyone organized.
I don't know any small wineries that even have an enologist.
It's true. The most basic lab analysis––pH, TA, brix––are all part of the winemaker or cellarmaster's job description in that case. As wineries get larger there's more of a focus on lab analysis to back up their winemaking decisions because there's a larger risk factor––nobody wants to bottle tens of thousands of cases of wine when there's a potential risk. So as lab work gets heavier, wineries have a decision to make: either spend the money to send wine out to an external source to run tests or do it in-house, where establishing equipment is a big up-front cost and then you have to pay someone to use it.
For mid-size wineries like mine, when you can find someone who has a diverse background and can bridge the gap between lab work and other production duties, then it's worthwhile. Once wineries get large enough, it's more than a full-time position, and they want to have access to all the numbers they could want to back up their decision-making in-house. And having your own equipment is cheaper in the long run.
What advice would you give someone interested in enology as a career?
Honestly, if I could do it again knowing how the Germans train winemakers, I wouldn't necessarily go back to University because for all the time and energy and money you put into it very little is actually applicable to what I do today. Everybody needs a foundation, but you can get that by self-study and through a lot of vocational community college programs. Winemaking is very much hands-on. In Germany, your bachelor's degree goes hand-in-hand with wineries throughout the entire process, where you might do two weeks of school followed by two weeks at the winery. You learn super applicable stuff and University here isn't quite up to par with that. We're still learning to train winemakers here in the United States.
And you've done WSET courses as well, correct?
I did. I took WSET Level 2. Just last year I was working in production and my wine knowledge was very much science-based, and production-based, and Pinot Noir-based, and as I grew in my career I really wanted a better understanding of varietals and regions. Level 1 seemed a little introductory and after being in the industry for a couple years I had a great base of winemaking knowledge, so I just jumped into Level 2 knowing that I could study and start to learn about wine regions, and I loved it. I had a ton of fun and it kind of opened the doors to non-production learning and I would like to continue study. I think it changes your perspective as a winemaker.
Do you feel you're less likely to get tunnel vision?
Exactly. House palate. For so many people it's like, this is how the Willamette Valley makes Pinot Noir, this is how I make Pinot Noir, this is the research and the technology that I have in my little bubble. When people drink outside of that and travel and see how many different ways you can achieve high quality, I think it's very beneficial.
What was the biggest surprise for you when you jumped into WSET after your other education?
The structure was great, and so was the variety of people from different backgrounds, especially for Level 2. You had novices who had done Level 1 but really had no background in wine and were just curious, and there were people with extensive backgrounds in areas like food and beverage or production and everyone seemed to really want to be there and soak up the knowledge.