by Jennifer Lamb
What's on my bed-side table these days? Dozens of books from travel to intrigue to historical novels and self-help; all with bookmarks in them from chapters read and devoured. But for the wine lover, here are some of my favorite recent finds.
1. A History of the World in 6 Glasses
by Tom Standage From beer in Mesopotamia to tea in the British Isles and Coke in America, this is an intriguing look at beverages, with a little wine woven through the book, from the Stone Age to the present and how they have affected our culture.
2. To Cork or Not to Cork
by George M Taber As a small winery that bottles half of our wines in Stelvin Screw Caps, I was thrilled to read the technical and historical evolution of the need to move from the monopoly of unreliable tainted corks to a more consistent and dependable closure for fine wines. A great read for anyone who produces, or consumes, fine wine.
3. The Winemaker's Dance
by Jonathan Swinchatt and David G. Howell One of the most complete, yet approachable, narratives about the historical geology, micro climates, and dedicated winemakers who call the Napa Valley terroir their own. Technical, yet fascinating at the same time, the authors delve into each region and share the history of every nook and cranny of soil and climate through photos and interviews with noted winemakers and viticulturists. You will come out of this book with an educated appreciation for the nuances of wine from "a place".
4. The Wine Bible
– 2
nd
Edition – by Karen MacNeil Yes, this is "the Bible" for anyone wondering how wine is produced, classified and appreciated over the centuries from Argentina to Asia, Slovenia to Switzerland and every wine growing region in between. It is an informative, comprehensive and easy reading book as a reference to each region's history, soil, climate and taste profile, but also the tool of all budding wine Somms who need a one-stop-shopping source of the complete basics of each region's wine production. 2
nd
Edition just published and is a Must Have!
5. The Wine Spectator
– November 15, 2016 issue Although I am not a subscriber (I nicked this one from my gym) I could not resist this issue that advertised on the cover "Bonus Inside – Our Very First Issue – April, 1976" as a centerfold. I remember moving to St. Helena a few years earlier, reading those first issues printed on faded newsprint, as though it was Alice's Looking Glass into a world in which we lived, with local figures and age-old graphics luring one to devour each page (I do the same now with the magazine "Culture" about the varied cheeses, milk sources and makers of the world). Who would have thought there was enough news in the wine industry to justify a monthly newspaper about it?! Although I am a firm believer that wine should be an education, and not a competition, I am grateful for the growth in the industry and the educational features which wine magazines have given our consumers in order to further understand our art and craft. My last book suggestion can be used as either a doorstop, (it must weigh in at 20 lbs.!), or the most amazing compilation of facts and history of
every
wine ever produced in Napa Valley . . . or both!
6. Napa Valley Then & Now
by Kelli A. White Buy this one for the true Napa Valley wine aficionado who has too many wines in their cellar but not enough from Napa Valley! Written by one of the top 10 Somms in the country, this books is 1,233 pages of alphabetized wines with in-depth tasting notes going back several decades, historical references, winemaker photos and vineyards descriptions . . . anything and everything you could want to know. The definitive guide to wines from the Napa Valley.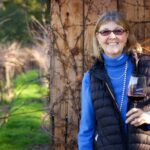 Jennifer Lamb owns Herb Lamb Winery. Originally from Pasadena, with no prior agricultural background, she attended Cal Poly San Luis Obispo in the early '70s as an Ag Science major where she raised hogs and farmed row crops. There, she met the Aggie of her dreams, Napa native Herb, who after graduation took her home to his sleepy community of Napa Valley to start a life together in agriculture. Jennifer began forging relationships with the Valley's wineries and vineyards through her own tour business, Wine Country Tours, in the early '80s. She then expanded into the Hospitality, Public Relations, and Marketing arms of the industry, where she stayed for more than 20 years. In 2002, she left the corporate wine world to focus her energies and passion on Herb Lamb Vineyards and its labels. Today, you will find her nurturing this cool-climate hillside property that consistently produces some of the finest wines in the Valley.