Author's Note: A paired-down version of this article originally appeared on Foodandwine.com. However, it is printed here, in full unabridged form, with the author's permission. For the WSET student of spirits, we hope you'll find this conversation with Scott Beattie, the Sonoma-based master of the cocktail craft-garnish movement, and other like-minded bartenders, a real mind-bender on your way to achieving spirit-focused success.
By Jonathan Cristaldi 
In the late aughts, I was in Healdsburg, California, with my wife, Amanda, and Elizabeth, her mother, and we all had lunch at Cyrus, the Michelin-two-starred restaurant that was the talk of the town. (It shuttered in 2012 but reopened at a new location in Geyserville, California). Although Elizabeth had brought along an impressive bottle of wine that day, none of us ever forgot the photogenic cocktails at Cyrus with their imminently fresh ingredients and beautiful garnishes—all of which are resigned to memories in the absence of an Instagram photo feed. Years later, I would become friends with the man who made those drinks—Scott Beattie. 
Born and raised in San Francisco, Scott Beattie, author of "Artisanal Cocktails: Drinks Inspired by the Seasons from the Bar at Cyrus," published by Ten Speed Press, now lives in Healdsburg and has since 2005 when he moved there to help open up Cyrus Restaurant. Today, he is happily married to his wife Sharia, a local theater actress, and is the Beverage Director at Michelin-starred Barndiva. 
Over the last decade, at various wine country functions, I'd begun running into Beattie, also a partner of Goose & Gander in St. Helena—the bar where Beattie first began producing large batches of impressively balanced cocktails. Time and again, I was awed by his creations—the perfect Negroni, the best Manhattan I'd ever had, and rum punches to die for. And always, these came with eye-catching garnishes: a word branded into an orange peel; spring flours; or pea shoots and herbs shooting out of the glass, but never haphazardly inserted—always precise and with intention.  
Bartenders today, for the most part, believe that the garnish is not an afterthought. It serves the distinct purpose of enhancing or directly complementing an aspect of the drink. 
Historically, this may not have been the case. Considering his focus on intricate garnishes, Beattie tells me, almost choking back laughter, that in David Wondrich's seminal book "Punch" which traces the history of cocktails back hundreds of years, "In one section regarding general guidelines for preparing hot and cold punches," explains Beattie, "Wondrich actually writes, 'Garnish? What's that?'!!" 
According to "Death & Co: Modern Classic Cocktails," the main functions of a garnish are simply "functional." If a garnish doesn't enhance the drinking experience, the book's authors advise not to use one. In Jim Meehan's book "Meehan's Bartender's Manual," he notes that herbs and flowers are integral to cocktail decoration but says pointedly that "The garnish should fit the rest of the drink aesthetically and philosophically." 
As for Beattie, it's all about serving fresh ingredients prepared daily. "It takes quite a bit of upkeep to manage such a large mise en place," says Beattie of his work at Barndiva where the bar looks more like a display case for an upscale groceries exotic ingredients section, "but it is essential that our garnishes are at peak freshness. Pickling obviously helps to preserve produce and provides a tasty bite in the drink. Our herbs and flowers must be re-cut and put into new water at the beginning of each day. If there is any sign of limping or browning, they are composted. The effort is certainly worth the results. No one can sit at—or even walk by—our bar without taking a picture of the myriad of colorful ingredients that we showcase every day." 
For the burgeoning at-home bartenders, heed the advice below from Beattie and a handful of his contemporaries. I engaged them in Q&As and asked for cocktail recipes to get you practicing your garnish chops at home. And as you study hard for your WSET exams, play hard too, and heed the advice these extraordinary bartenders offer, which will help you improve your ability to serve up beautifully garnished cocktails at home. You'll also learn some practical bartending skills along the way.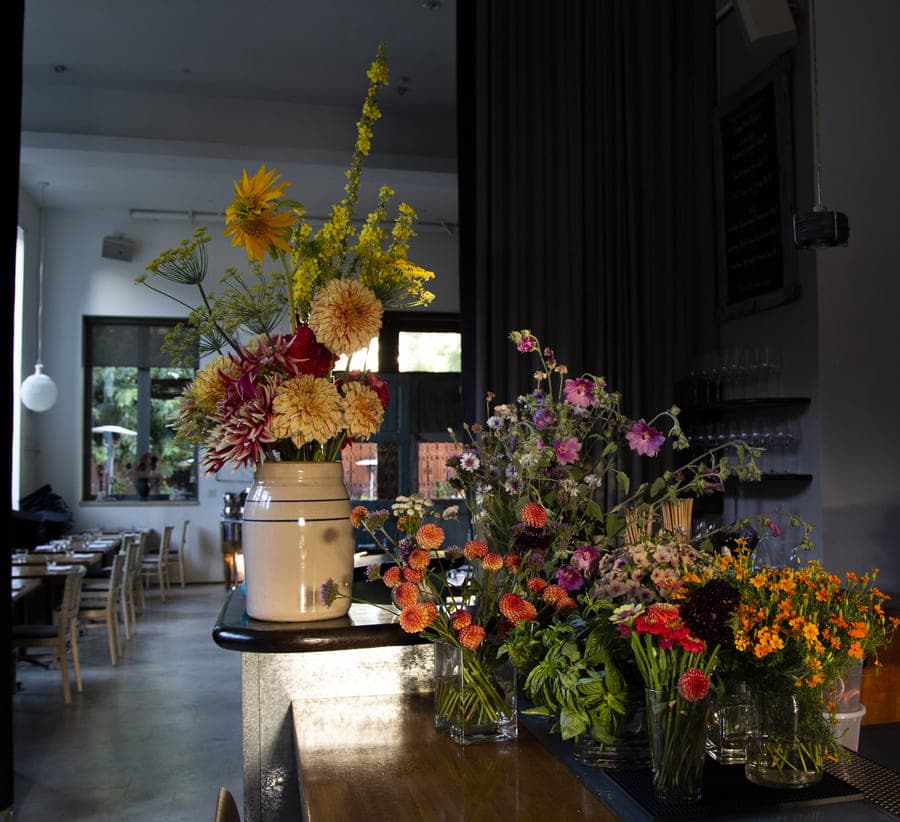 SCOTT BEATTIE
Barndiva
Healdsburg, California 
@scottbeattiecocktails / @barndivahealdsburg
Beverage Director at Barndiva in Healdsburg and Partner at Goose & Gander in St. Helena, California, Scott Beattie loves Older Calvados, Green Chartreuse VEP, Fernet Branca, and Japanese Whiskey at least 12 years old. He counts Michael Pollan, Gary Regan, and Anthony Bourdain as his mentors. 
JC: At Barndiva, what is the role of the garnish?
Scott Beattie (SB): Our goal is to celebrate the vibrant diversity of plants and flowers available in our community and to support the farms and farmers that grow them. Our local hero, Luther Burbank, was a pioneer in agricultural science well over 100 years ago.  His passion for botany led to the development of hundreds of new varieties of fruits, flowers, and vegetables in Sonoma County, influencing and benefitting generations of professional farmers and home gardeners alike. I consider myself a grateful heir to his dedication.
JC: What are you working with for garnishes at Barndiva?  
SB: Our bar-top is full of flowers that Daniel, our full-time gardener in Philo, has grown for us. These ornamental and edible flowers are ever-changing. This week he's brought down multi-colored dahlias, daylilies, fennel flowers, bachelor buttons, purple mallow, cosmos and wild huckleberry leaves. Friends Victoria and Sam Levy (owners of the award-winning Fern Bar in Sebastopol) also contribute to our edible herb and flower program. This week they dropped off three kinds of mint, Genovese basil, Phlox, miniature Zinnias, Gem Marigolds, and Scabiosa.
JC: Can you offer up a drink recipe that will garner the next million-like Instagram post? Also, break down the garnish for us—what does it bring to the drink? 
SB: Our Fresa Flaca is an interpretation of a strawberry margarita. We infused Dahlia Crystalino tequila (which has a nice vanilla nuance but very little oak) with strawberries for three days and then mix it with yellow and green chartreuse, cold-pressed lime juice from The Nectary, agave nectar, and Bitterman's Hellfire bitters. The drink is light red in color, so thin slices of strawberries are an easy and obvious choice as a garnish, but what else might be a good fit?  Rhubarb is available at our local Farmers' Market, so we pickle thinly cut slices with apple cider vinegar, sugar, clove, coriander, cinnamon, mustard seeds, and dried hibiscus (for color). Now we have red strawberry, and pink rhubarb slices in our drink—a nice sprig of something green and white such as flowering cilantro, is a perfect finish. Cilantro is essential to Mexican cuisine and plays nicely with the drink's fruit, herb, and spice qualities. If the flowering cilantro happens to include the little green coriander seeds—all the better. Not only are they delicious, but we also just used the dried version in our pickling liquid.
Fresa Flaca
2 ozs Strawberry Infused Tequila (see recipe below)

½ oz Yellow Chartreuse

1 barspoon Green Chartreuse

1 oz lime juice

¼ oz diluted light agave nectar (see recipe below)

6 drops Hellfire Bitters
(Fill a rocks glass with ice and set aside for later) Add all ingredients to the shorter mixing tin, fill completely with ice, seal it up, shake hard for 10 seconds and double strain over fresh ice in the rocks glass.  Garnish with thin strawberry slices, pickled rhubarb pieces, and flowering cilantro sprig.  
Strawberry-Infused Dahlia Tequila
1 bottle Dahlia Tequila Crystalino

1 pint ripe, red organic strawberries
Pour the tequila into a two qt or larger glass jar.  Thinly slice the strawberries and toss them in the jar, including the green tops. Seal it up and let it infuse for at least three days in a room temperature space away from the sun. Strain through a mesh strainer or chinois. Will last for months.
Diluted Light Agave Nectar
24 oz light agave nectar

12 oz hot water
Pout the agave nectar into a 2 quart or larger container, add the water, and stir well to mix. Store in the fridge for up to two weeks
Erick Castro grew up in a Mexican-American family that held food celebrations and festivities at the center of life most weeks. Castro is the co-owner of Raised by Wolves in La Jolla, California, and Polite Provisions in San Diego, which was listed in Food & Wine's "The People's Best New Bars." And you might know his "Bartender at Large" podcast, which earned the Tales of the Cocktail Spirited Award for Best Broadcast. Check out his self-financed documentary of the same name: "Bartender at Large," which earned him the "Best Director of Documentary Feature 2017" at the Los Angeles Independent Film Festival Awards. Above all, go to his bars! 
JC: In your view, what is the role of the garnish?
Erick Castro (EC): Garnish should never be considered an afterthought, but rather as an integral ingredient to the drink, just like the spirit, bitters, etc. I find that at-home bartenders aren't fully aware of how the garnish will impact the drink. Particularly how it will impact the drink 5-10 minutes after the drink is prepared. For instance, a drink can completely shift its balance if citrus is expressed and, instead of discarding citrus, it's dropped in the drink. Maybe it should have been discarded. But things like straws and swizzle sticks and orchids in things like Tiki drinks are non-aromatics, and for fun, that is, they don't affect the flavor. 
JC: When fashioning a garnish, what is your creative approach? 
EC: I try to stay as true to the original version as possible, as there are many bartenders out there, myself included, who believe once you change the garnish, it can potentially become a different drink. We are mere stewards when it comes to many of these recipes that make up the tapestry of cocktail history. 
JC: What is your best advice for preparing better garnishes at home?
EC: It is important to make sure that the ingredients are as fresh as possible. As for tools, you don't have to spend a fortune on fancy barware. As long as you have a good fruit peeler and a very sharp paring knife, you already have pretty much everything you need. The mistake most folks make is using dull knives that mangle the fruit and can also potentially put you more at risk of cutting a finger. Personally, I prefer the y-shaped peelers for twists.
JC: How about a drink recipe and a garnish that people can fashion at home to impress? Also, break down the garnish for us — what does it bring to the drink? 
EC: The Iron Ranger is a drink that was on the opening menu at Raised by Wolves and has never left. It is something of a novelty for many folks, as it is a tiki drink that features bourbon in the lead role. The drink is rich with the oak and vanilla that we all love about bourbon, but those notes are amplified by the baking spice notes that you get from the Falernum and the bitters. To help bolster those notes, the drink is garnished with freshly grated cinnamon, but to add some vibrancy, those aromas are complemented with fresh mint, which really brings the drink to life. 
Iron Ranger
2oz Bourbon (we recommended bonded)

.75oz Lemon Juice

1oz Pineapple Juice

.5oz Velvet Falernum

.5oz Simple Syrup

2 dashes Angostura bitters
Add all ingredients into a cocktail shaker and fill with ice. Shake well and strain into a large collins glass filled with cracked ice. Garnish the drink with a mint sprig and grated cinnamon. 
A Sonoma County-born-and-raised bartender, Cappy Sorentino is currently the Beverage Director for Brewsters in Petaluma, California. His favorite spirit is Cascahuin Plata 48 (tequila), and while sipping it he indulges in Wayne Curtis's "And a Bottle of Rum," but notes that David Wondrich's  "Imbibe!" and Jeff Hollinger and Rob Schwartz's "Art of the Bar" were both influential books. Sorrentino counts Mr. Scott Beattie among his more formative influences. 
JC: Hey, daddio. What is the role of the garnish in your world?
Cappy Sorrentino (CS): It should elevate the cocktail. A lot of the time, the garnish can really make a drink pop and excite people. Whether it's a piece of dehydrated fruit, a stained cucumber, citrus peel, or even a stencil spray.
JC: What is your creative approach? 
CS: I have the utmost respect for our classics. I fully believe that as a bartender, you need to ground yourself in the classics and have an understanding of them. For that reason, when I'm putting a classic on the menu or making one, I don't stray too much from the norm. An Old Fashioned needs a twist of citrus. A Manhattan should get a cherry. A Gimlet should get a lime twist. But for originals, anything goes. I typically like to incorporate complementary colors and ingredients. For instance, we just put a whiskey sour variation with pineapple and allspice on the menu and are dehydrating pineapples with cinnamon as the garnish. 
JC: Got any practical advice?
CS: Get good at slicing. Sliced lime wheels, cucumbers, and ginger can all add a beautiful garnish and look to your cocktail without affecting the balance of your cocktail. Get good at zesting citrus. There's a reason so many classics add citrus zest; the oil can perfectly complement flavors in cocktails. Get used to zesting fruit without too much pith. Move the fruit, not the zester, to make sure you don't cut off the tip of your fingers ( I learned this the hard way). And get a dehydrator! Dehydrators are awesome because they enable you to do ingredients and get them ready in advance. Plus, if you keep them in a closed jar, they keep for very long.
The Flat Brimmed Sour
1.5 oz Wild Turkey 101 Bourbon

.5 oz. Amaretto 

.5 oz Montenegro

.5 oz fresh pineapple juice

.5 lemon juice

1 bar spoon St. Elizabeth Allspice Dram

.25 ounce simple
Shake, strain over fresh ice, garnish with dehydrated pineapple and freshly ground cinnamon.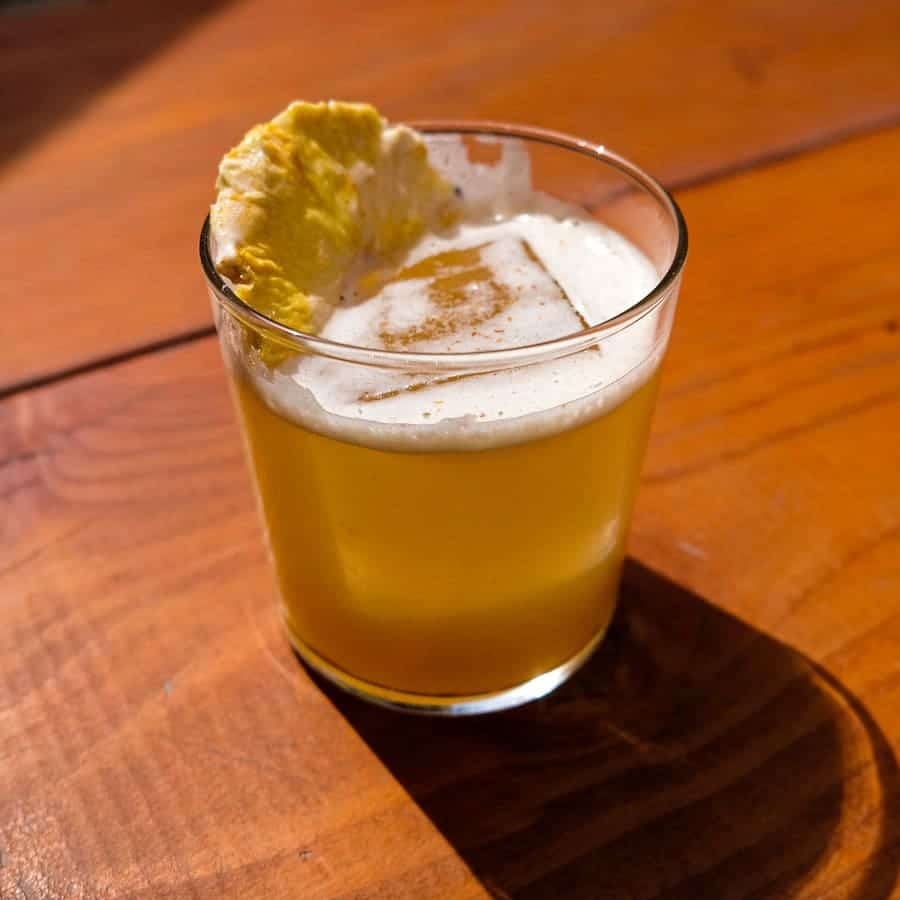 Texas-born Chris Longoria moved to San Francisco in 1999, and stayed put. Today, he is the Founding Partner of West Bev Consulting and was the opening Bar Director for San Francisco-based Che Fico for two years. Ask him his favorite spirit, and he'll tell you whisky—"ALL whisky." Three books he would recommend any professional or at-home bartender read are "The Art of the Bar" by Jeff Hollinger and Rob Schwartz; "Artisanal Cocktails" by Scott Beattie; and "Liquid Intelligence" by Dave Arnold. 
JC: For your bar (Che Fico), what is the role of the garnish? 
Chris Longoria (CL): The role of the garnish in almost all my cocktails is primarily about the presence of aromatics and the juxtaposition of color. The textural appeal is also a component when considering rims as garnishes. But it does have to make sense for the overall concept of the drink. I feel strongly that garnishes are the final accent to a cocktail and shouldn't be thought of frivolously. 
JC: When fashioning a garnish, what is your creative approach to a classic or a new creation? 
CL: Typically, I always feel less is more. I often accent the overlooked component of the drink—like, what's a subtle flavor that I can bring to the surface with the smallest touch? The big primary flavors will always be noticed first, but it's always the smaller notes that pull things together for me, so I like to use garnishes that support the quieter flavors.
JC: What is your best advice for those looking to up their garnish game?
CL: Well, taking your time to score your garnishes properly is important. Anytime you care about what you're doing, it shows in your work. For instance, consider the right place to break the stem of a mint sprig, given how many leaves are positioned on it. Basically, get familiar with the ingredients you want to use as garnishes. Observe how they behave in warmer/colder atmospheres, how they alter as they sit on drinks for a while, and how malleable they may or may not be when pulling them directly from the fridge. 
JC: What about tools? 
CL: A proper pairing knife is typically the number one tool for me, but a good pair of tweezers is quite helpful. If your fingers are wet and you're working with, say, some sort of flower petals, it's gonna be frustrating to get them off your fingers and place them where you want on the drink. In addition to those tools, a solid cutting board is good to have so that you have the platform and space to prepare the garnish how you choose.
JC: Give us a drink recipe and a garnish to make at home. And break down the details on the garnish. 
CL: A simple aromatic garnish that is always eye-catching, in my opinion, is fennel fronds. They are brightly colored, their stems are strong, so they stand upright in a cocktail, and again very aromatic. Below you'll find a recipe that I used for The Madrona, a boutique hotel in Healdsburg, California, by Jay Jeffers and Cory Schisler.
The Veranda
.25oz dry vermouth

.75oz fresh lime juice 

.75oz Il Gusto Finocchietto

1.5oz London Dry Gin

1 bar spoon of Accompani Flora Green

2 broken stems of fresh dill
Add all ingredients to a cocktail tin and shake vigorously. Single strain in a chilled Collins glass.
Add ice. Garnish with a bright, fresh, fennel frond.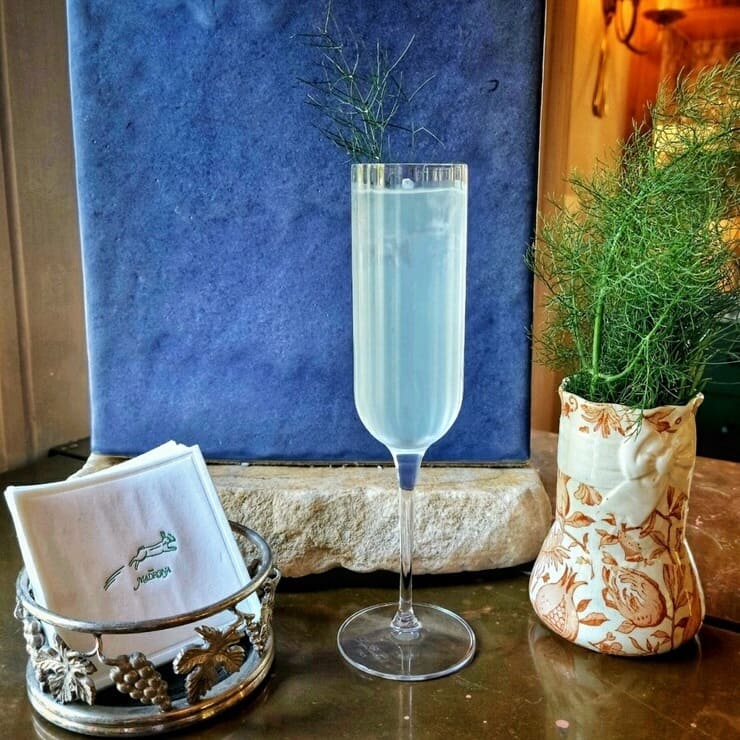 Bartender-extraordinaire Nicholas Bennett grew up in the Hamptons and started working behind the bar at his uncle's bar on Main Street Sag Harbor. In the early Aughts, he was the kingpin bartender at The Whisk & Ladle Supper Club, which operated out of a loft apartment in Brooklyn, New York, that is now demolished. The author of this article spent many nights encouraging Bennett to experiment with drinks, but takes no credit for his imminent success. A regular at Tales of the Cocktails, he is the beverage Director at Porchlight, the first cocktail bar under the umbrella of Union Square Hospitality Group. Previously he worked at Booker and Dax with Dave Arnold and says he considers Arnold his first "real" bar mentor. (So much for all those nights at Whisk & Ladle). 
JC: At Porchlight, when you're not slinging drinks in the Hamptons, what would you suggest is the role of the garnish? 
Nicholas Bennett (NB): The garnish needs to serve a purpose. When I am trying to decide on a garnish for a cocktail, I want to know if the cocktail will benefit from it. Will the garnish impact one of the senses and improve the guest experience? If the answer is 'yes,' then, and only then, is the garnish worthy of the drink. If it doesn't make the drink definitely better from start to finish, it doesn't need to be there. Same goes for how the garnish will impact the taste of the drink when it's nearly gone. If you've got too much of the pithy part left, your drink will taste too bitter. 
JC: What is your approach to fashioning a garnish? 
NB: I actually love looking to the guest for my cocktail garnish inspiration. I have the benefit of 20 years behind some of the best bars to cut your teeth in, so I have made a lot of versions of the same cocktails. Does an Old Fashioned benefit from an aromatic twist of lemon and orange citrus to soften the harsher alcohol? Probably. Does a Daiquiri need a lime wedge if I am confident in my recipe? Probably not. Does any cocktail need a small paper plane clipped to the side of the glass with a mini clothespin? Definitely not.
JC: But you do acquiesce and do these things! I've seen it! So, give up some of that hard-earned advice for the at-home bartender here on making Bennett-worthy garnishes.
NB: Get yourself a good paring knife and keep it sharp.
JC: Every other bartender I've asked this question to says the same thing. 
NB: Then you asked some good people. I like the Mercer Culinary Renaissance Paring Knife. Because the last thing you want to do is try cutting a lime wedge with a butter knife or a steak knife. Also, don't overdo it at home. Keep some fresh citrus (lemons, limes, oranges) for twists and wedges, some good olives and cocktail onions for your martinis, and some fresh mint if you must.
JC: I like mint in my salads, but Dean Martin definitely referred to drinks on stage as "salads," as in, "I'm gonna fix myself a little salad." So, give us a good 'salad' recipe with a garnish to impress and tell us why it works. 
NB: That would be the Frozen Watermelon Negroni. The benefit of the watermelon here is that, as the drink sits, the porous fruit absorbs the flavor of the negroni, making that final bite of watermelon both refreshing and bracing. Plus, if you have the forethought to freeze the watermelon beforehand, it will keep the cocktail colder longer, an important trick with blended cocktails.
Frozen Watermelon Negroni (At-Home Version)
.75oz Fords Gin

.75oz Campari

.75oz Method Vermouth

.5oz simple syrup (1:1)

4 1-inch cubes of Watermelon
Place 1 cup of cracked ice into a blender with the ingredients. Blend until smooth. Pour in a glass.
Garnish with a slice of watermelon. Serves 1.
MARIA CAMARENA
Pico
Santa Barbara
Raised in Lompoc, California, bartender Maria Camarena says that talking "about myself is never easy. I literally have 'I'm shy' tattooed in plain sight on my arm." So, when she's not behind the bar, she takes refuge in visiting hometown friends and the delights of a bottle of Jager. (How many of you just went: 'Yeah, that sounds pretty good'?) She enjoys leafing through "Liquid Intelligence: The Art and Science of the Perfect Cocktail" by Dave Arnold for inspiration. Today, she is the Beverage and Operations Director at Pico, a remarkable little restaurant in Los Alamos, co-owned by Will Henry. Henry's late father, Warner, was a wine industry legend who founded the Henry Wine Group. Go for Camarena's superb cocktails and later get a great bottle of wine from their uber-unique wine list peppered with jaw-dropping gems.  
JC: How do you approach creating a garnish for a cocktail? 
MC: I like to see what ingredient options are available to me—what's in the kitchen or our backyard garden at Pico. I try not to overthink the garnish but want to ensure it serves a purpose. 
JC: I assume you're not evangelical about tools for preparing the garnish? 
MC: Just use whatever you have handy. Most households have a vegetable peeler and a knife of some sort. Heck, I usually use my hydro flask to shake cocktails and a French press for the stirred ones. A good thing at-home bartenders should consider is a little herb garden, one you can fit on a window ledge. Grow some fresh thyme or rosemary, which make for great additions to a gin + tonic. A small kitchen torch is always nice for a burnt orange peel to an Old Fashioned or Negroni. 
Grand Torino
1 oz mal bien mezcal

1 oz cocchi vermouth di torino

1 oz sfumato amaro. 
Add all ingredients to a mixing glass, stir the spirits until it's properly diluted (30-45 seconds) strain into a rocks glass over a big ice cube. Place the cinnamon stick in the looped end of the cocktail stick, torch one end of a cinnamon stick, and let it rest on the end of the glass.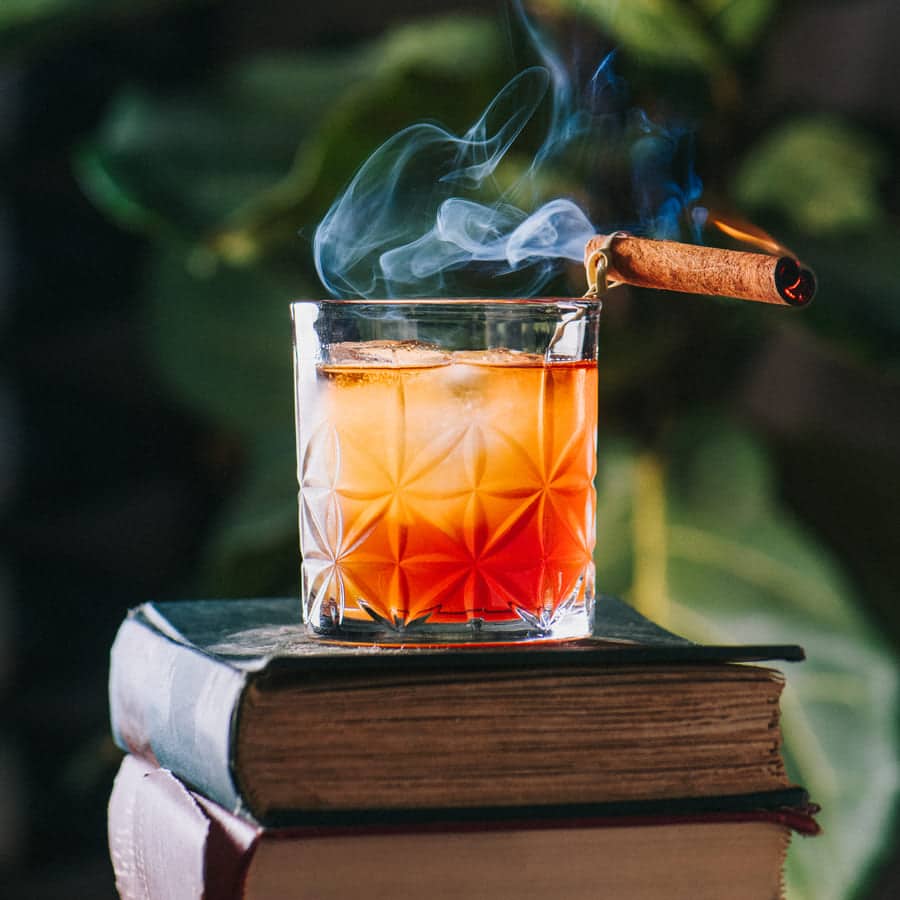 Brooklyn-based bartender Eloy Pacheco is the Head Bartender at Dante, a bar that serves as a love letter to the location's past as the famed Café Dante, which opened in 1915 and became a regular haunt of a host of famous actors, writers, and musicians. Pacheco first moved to NYC in 2009 and barbacked at the Thompson Hotel. (So did the author of this article, eons ago, who desperately wanted a job as a doorman at the Thompson because he recalls the wads of tips his roommates would bring home to their shared Carrol Gardens apartment). As for Pacheco, he also served stints at The Gilroy, Seamstress, Henry Hotel, and Leyenda in Carroll Gardens.
JC: For your bar, what is the role of the garnish? Emotional? Aromatic? Visual? Textural? Does it depend? Please elaborate.
Eloy Pacheco (EP): The main purpose for a garnish depends on the cocktail—it could add to the aromatics, the mouthfeel, or enhance the presentation and cocktail experience. The garnish completes the cocktail and is always necessary. 
JC: Tell me about your approach to creating the perfect garnish.
EP: My creative approach to garnishes depends on the cocktail, the ingredients I'm using, and the purpose the garnish serves. For example, when crafting a classic cocktail like a Whiskey Sour, the garnish—angostura bitters—is meant to cover the scent of the egg whites that make the texture of the cocktail. Therefore, you don't want to change the garnish, but you can take liberties with how they are presented. At Dante, we serve our signature Whiskey Sour with "DANTE" branded on top in bitters. 
JC: For the at-home bartender, could you offer up some advice on how to make better garnishes? 
EP: Garnishes should always be as fresh as possible! 
JC: Give us a drink recipe and a garnish that people can fashion at home to impress their friends. And explain what the garnish brings to the drink.  
EP: Our Aperol Spritz is a great example of a drink that's easy to make at home, and features a fun twist on the classic garnish. We garnish with the traditional orange wedge and olive, but pit our olives and restuff them with Marcona almonds. It's a combination of two of the great Italian Aperitivo accouterments enjoyed together with your spritz. 
Classic Aperol Spritz 
2 oz Aperol

4.5 oz Prosecco

½ oz San Pellegrino

Glass: Spritz tumbler glass

Garnish: Orange wedge and almond-stuffed olive skewered on a pick. 
Pour ingredients over ice. Garnish with an orange wedge and almond-stuffed olive skewered on a pick.