Bars owe their popularity to the fact that they give people a reason to leave the house. If you're just going out for a drink, you're hiding the fact that you never really had any exciting plans in the first place. Sure, you could go to a bar to meet friends, but the only reason you don't invite them over for drinks at your apartment is because you don't want them falling asleep on your couch. So if you need to get out of the house, a glass of wine can become your destination. I recently traveled solo to Iceland despite the fact that I'm not a fan of Bjork.  Walking through the streets of Reykjavik, the Icelandic capital which has the cobblestone-paved, walking-friendly feel of an old but modernized European city only without all that pesky scenic architecture, I poked my head into restaurants and bars I'd since only read about. My first night, I made myself at home in the bar and lounge of the aptly named Loft Hostel, a cozy third-story lounge in the heart of downtown patronized by young people traveling on a budget, dressed to impress, and hiding from the erratic weather.
There, I ordered a glass of wine from an attractive Icelandic woman
, which should go without saying because all the women in Iceland look like Belle and Sebastian album cover models, even the ones that work at the gas station. And this young woman, who spoke English with no discernible accent, gave me the choice of something I didn't want, and a Pinot.
Pinot is the kind of wine I usually hate the least.
Sometimes, I even enjoy it. I'd hoped for some local Icelandic-made wine, but the subpolar oceanic climate, it turns out, isn't the best place for growing grapes (or trees for that matter). All the wine was imported and this wine was a French-made Pinot, so technically it was a tourist just like me! I sat alone with my French companion with her flavored hints of oak, cherry, and sleepy-time alcohol, and I asked her what's up with the Pinot grape color associations; noir is black, gris is gray, and blanc is white.  Last I checked, grapes were purple, red, and green. Do the grapes in France ripen in greyscale?  She didn't answer. In fact, she was quiet all night.  So I read the local weekly paper, basking in the novelty of lingering in a hostel on an island in the Arctic where the majority of the population believe in elves (true story).
The next night I went to Snaps, a haven for tourists because it's frequently reviewed as the best restaurant in Reykjavik and reviews are all we tourists can rely on. Now, it may not be the best restaurant in the city, but it probably is. And if for some ungodly reason the food doesn't delight, the bathrooms will charm the pants off of you, which is kind of the point. I could have just ordered dinner, but I also ordered the house red which, allegedly, went really well with the food I ordered. I had a hard time denying myself the full experience–it's good to splurge when you're abroad–and sure enough, when I asked what I was drinking, the server said simply, "It's Pinot," like she knew I was drinking something good, and Pinot was the obvious explanation.
This time, the Pinot had a smooth flavor and, like former Idaho Senator Larry
Craig,
was not overtly fruity.
The vintage read 2015, so it was still fresh off the boat, but in a good way. It paired well with the salmon dinner I got which was also fresh off the boat, but in a good way. The experience was so delightful, it almost made me want to get on a boat just so I could get fresh off of it. But in a good way.
And while Snaps was everything I could have possibly wanted in a restaurant or a rodeo, I found myself dropping in at the Lebowski Bar.  Yes, it's a bar, in Iceland, centrally themed around The Big Lebowski, the now-classic 1998 Coen Brothers film that scratches the cultural itch of stoners and frat boys worldwide. Patrons drank and heatedly watched a soccer game as I perused the decor, but I decided to take a seat when I saw they served milkshakes. Finally, a bar that speaks to me! If bars served milkshakes in America, I'd have no excuse to stay home.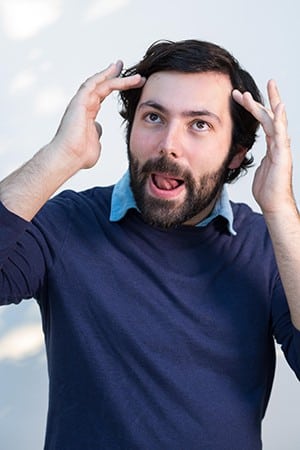 Zachary Bernstein is a writer and musician who lives in Los Angeles. When he isn't writing about wine, he's writing songs as The Bicycats.