This month's success story comes to us from the Pacific Northwest, in Oregon.  Jeff Lewis is a graduate of our WSET Level 3 Award in Wine credential and used this internationally-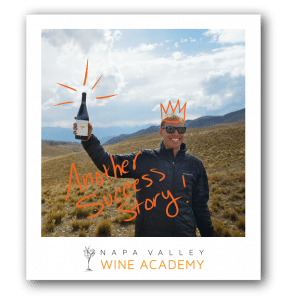 recognized certification to further expand his wine career; taking a winemaking opportunity in Argentina and serving as sommelier for an Argentine celebrity chef before taking a National Sales Manager position at the premium producer, Revana Wines. We sat down with Jeff to see how wine education helped him realize his wine dreams.
Q– How did you first become interested in wine?
A– My interest in wine developed when I was a restaurant owner and Chef in my early 20's. I hosted monthly wine dinners with traveling winemakers and began learning about wine through their personal stories. I started looking at wine as a way to experience the world. Wine became my gateway to intrigue, to the world's most beautiful destinations. I saw and experienced things that, as a kid from Kansas, I never dreamed of seeing before entering the wine industry.
Q – Why was gaining a certification important for you?
A – Gaining a certification became a necessary part of my evolution as a wine professional.  It was an internationally-recognized validation of the experience and knowledge gained from my years of working in vineyards, wineries, and restaurants and all my studies along the way. I was very motivated to obtain my WSET Level 3 certification through the Napa Valley Wine Academy.  
I also wanted to challenge myself in a structured environment with a group of my peers. I understood that developing a structured process for tasting and talking about wine, and having broad knowledge of wines of the world, would act as a strong foundation for decades of future learning and recall.
Q– Tell us about you and what role wine plays in your professional and personal life?
A – Besides being a lifestyle, wine acts as a primary catalyst for me in finding new experiences and opportunities within my professional and personal life. There are infinite people to meet and connections to be made in the world of wine, and knowledge not only opens your eyes to these opportunities but helps you make these connections.
I have always had a deep curiosity of viticulture and this led me to work in various cellars and vineyards in the Willamette Valley. Each of these experiences were opportunities to learn even more about geology and biology– and they gave me the opportunity to immerse myself in the incredible Oregon wine community, my current home.
An opportunity in winemaking led me to Argentina, where I ended up living for five years. It was a priceless experience, giving me new perspectives and opportunities such as working as a sommelier for Francis Mallmann, an Argentine celebrity chef. I also became fluent in Spanish while developing three boutique wineries and a luxury resort.
Today, I share what I have learned and experienced through storytelling as National Sales Manager of Revana Wines. My position affords me the opportunity to travel all over North America visiting the top F&B managers, and collaborating with them to bring value to their beverage programs.
Wine has also been a great connector for many incredible friendships and relationships, including my girlfriend, Jamie, an incredibly talented winemaker.  For many people, wine is simply a component of their "lifestyle", but wine is also an opportunity to expand your worldview and give you access to wine experiences that even a Billionaire wine collector can't attain.
Q – How has gaining your certification through NVWA helped you achieve either your career or personal goals?
A – Certification and most importantly the process of achieving that certification has instilled respect in, and endless curiosity with, the world of wine.  Napa Valley Wine Academy helped bring those goals into focus and provided a guidebook on how to attain them. They were with an important part of my wine journey.
Q – What did your life look like before wine education? And what does it look like after?
A– I was a designer and restaurateur before obtaining my wine education, and wine knowledge was the missing component in creating a career that would open doors to new opportunities and travel the world to do so.
Q – What would you like to accomplish in the next five years as it relates to wine?
A – I've been hyper-focused on developing winery programs and working in National Sales. I'm ready to achieve new goals and progress my wine knowledge, allowing me to further expand my professional trajectory.
Q – Anything else you would like to share?
A – A special thank you to the Napa Valley Wine Academy for being such a massive proponent of wine education and helping wine professionals like myself build a platform from which to launch and further their professional goals.