The idyllic country of New Zealand is made up of two little drops in the ocean, two unspoiled islands in the South Pacific.   New Zealand is the most isolated country in the world and the last habitable land mass on earth to be populated. Even today, only five percent of the population are people, the rest are animals. Sheep outnumber people seven to one.
New Zealand remains a true paradise, where snow-capped mountains nestle beside rivers, lakes, and forests, all surrounded by miles of uninhabited golden beaches. No part of the country is more than eighty miles from the sea resulting in a cool, maritime climate perfect for producing juicy, mouthwatering wines with leap-out-of-the glass aromatics.
It is unsurprising that the wines of New Zealand have been the fastest growing imported wines in the USA over the past few years. The world can't seem to get enough of their distinctive, bright, vivacious flavors.
Almost all of New Zealand's vineyards and wineries are certified sustainable by Sustainable Winegrowing New Zealand, highlighting a strong desire to ensure that the land remains as pristine in three generations' time as it is now. Ecology is important to New Zealanders, about one-third of the country is protected national park and Blue Lake in Nelson Lakes National Park, has the clearest water in the world.
But there is far more to the New Zealand wine story than picturesque scenery and a pure environment. New Zealand wine is exciting today because of the way that the people growing and making the wine are harnessing the gifts nature provides, and continuously evolving their wine styles and practices–it's a wine growing country worthy of deeper exploration by wine lovers.
Winemaking History
Missionaries started growing and making wine in New Zealand's North Island in the early 19th century, but the birth of the wine industry there proper can be credited to Croatian immigrants. Arriving between the first and second world wars, they were lured mostly by the money that could be earned from the digging of amber solidified from the gum of the indigenous Kauri tree.
Reinvesting their earnings in agriculture, many began growing grapes, and from these humble beginnings emerged many of New Zealand's most famous names: Nobilo, Selaks, Kumeu River (Brajkovich), Brancott (Yukich), Oyster Bay (Delegat) and Villa Maria (Fistonich).
With a population dominated by British heritage, the styles demanded at the time were predominantly fortified, Port and sherry-inspired wines, and the varieties grown were largely hybrids. With the advent of the jumbo jet, 'Kiwis' began spending a minimum of two years post tertiary education working in the UK and visiting Europe.
The big 'OE' (overseas experience) is it's affectionately called remains a rite of passage for young New Zealanders, shaping the country's cosmopolitan culture. However, in the 1970's, it was a taste for Liebfraumilch style wines that they brought back with them from the motherland, and which drove the wine industry to plant Müller-Thurgau, and evolve from fortified to semi-sweet, vaguely fruity whites.
Eventually, in the 1980s as winemakers traveled more and worked and studied internationally, they instigated a renaissance of classic French varieties: Chardonnay, Pinot Noir, Pinot Gris and Sauvignon Blanc. This was accelerated by a government sponsored vine pull scheme in 1986, whereby Müller-Thurgau and hybrids were removed in favor of these vinifera cultivars.
Advances in viticulture permitted a shift in the center of gravity from warmer North Island climates to cooler South Island regions like Marlborough, Canterbury and Central Otago. A key protagonist was Dr. Richard Smart, who was appointed government viticulturist in 1980 and introduced canopy management practices that turned sunlight into wine. A series of international trophies for Marlborough Sauvignon Blanc in the late 1980s put New Zealand on the map as a serious producer of distinctive, high-quality wine.
From that point, the New Zealand wine industry has never looked back. New Zealand winemakers propensity to travel, collaborate and share ideas resulted in the widespread embracing of temperature controlled stainless steel tanks in the 1980s, screw caps in the early 2000s, and a general proliferation of regions, varieties, clones, vineyard management practices and winemaking styles.
Major New Zealand Wine Regions
(Map Designed by Vivino Wine App)
Auckland/Northland
New Zealand's northern regions surrounding the major city of Auckland tend to be relatively warm and humid, with fairly heavy clay soils. In fact, in contrast to most regions, many growers can dry farm their vineyards without irrigation. The area is known for Chardonnay, particularly the elegant, flinty wines of Kumeu River, but the warmer dryer micro-climate of Waiheke Island in Auckland's Waitemata Harbor makes excellent reds from Rhône and Bordeaux varietals.
Gisborne
Humid, warm and fertile, Gisborne was once New Zealand's biggest grape source before the boom of Marlborough this century. Once called the "Chardonnay Capital of New Zealand," Chardonnay remains its key variety, producing fairly fat, rich, peachy styles. However, Gisborne is becoming more renowned for unctuous, heady, aromatic whites, particularly Pinot Gris, Gewürztraminer and Viognier with Millton and Vinoptima the classic producers to try.

Hawkes Bay
New Zealand's most climatically and geologically diverse region. Sub-regions and styles ranging from cool maritime and hilly spots where crisp Chardonnays, fresh Sauvignon Blanc and even respectable Pinot Noir are produced to the temperate redmetal soils of the Bridge Pa Triangle, home to deep complex Merlot-predominant reds and to the sunbaked, stony, Gimblett Gravels, where Cabernet Sauvignon and Syrah ripen to great successes. Classic examples come from Trinity Hill, Craggy Range and Kim Crawford Small Parcels.
Wairarapa
The region north of the capital city of Wellington, with Martinborough at its center, the temperate climate, deep gravelly soils and yield-moderating winds of Wairarapa often produce a richer, rounder more savory style of Pinot Noir than Central Otago, and a weightier version of Sauvignon Blanc than Marlborough. It's difficult to find Wairarapa wines in the U.S., but look out for Ata Rangi.
Marlborough
New Zealand's most famous region, it is dry, sunny yet cool, developing extreme aromatic intensity and juicy acidity in its wines, irrespective of variety. Diverse soils, ranging from 20,000 to 240 million years old, and a cool climate moderated by Antarctic winds, result in wines with a spectrum of fruity flavours. Marlborough Sauvignon Blanc is globally renowned, less-famous, but worth discovering are the region's citrusy Chardonnays, red-fruited Pinot Noirs and fresh, pear-flavored Pinot Gris wines. Notable producers are Kim Crawford, Nobilo Icon, Saint Clair, Fromm and Seresin.
Canterbury
The vineyards north of the city of Christchurch are broken up into several areas from wetter Amberly to the south of the region, to drier Waipara in the middle and the hilly vineyards in the north. Waipara and north Canterbury with their sheltering hills and range of soils from alluvial to limestone produce elegant, dense, layered Pinot Noir, focused, orange citrus-flavoured Rieslings and tight, nutty Chardonnays. Classic producers to try are Pegasus Bay, Pyramid Valley, and Bell Hill.
Otago
Surrounding the tourist towns of Queenstown and Wanaka and stretching up to the Waitaki region of north Otago, this is the only region that is not strongly maritime-influenced. Semi-continental, mountainous, with many soils composed of schist weathered from the mountains; it's a region of extremes with some of the warmest and coldest recorded temperatures. The combination of these factors provides dark-fruited, spicy Pinot Noir, pretty, floral Riesling and lemony Chardonnays, all with bracing acidity. Classic examples come from Felton Road, Valli and Mount Difficulty.
Exports to the United States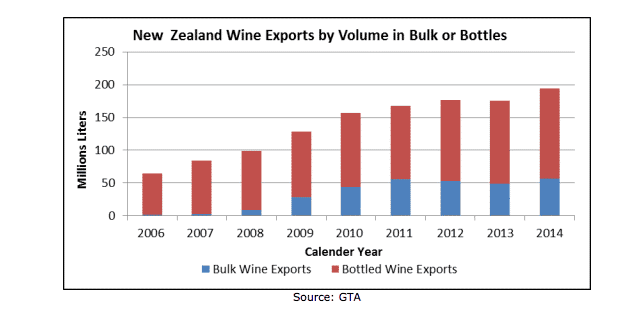 New Zealand's total wine exports are worth over $1 billion USD per year, growing double digits each year. That makes New Zealand the 8th largest wine exporter in the world by value, ahead of Portugal, Argentina, and South Africa and poised to pass Germany in the near future. For New Zealand, wine is the countries' 6th largest export after dairy, tourism, meat, forestry, and fruit.
Since 2015, the number one export market for New Zealand wine is now the United States, driven overwhelmingly by Sauvignon Blanc which accounts for approximately 94 percent of exports. Certainly, the unique, powerfully aromatic, refreshingly crisp and just off-dry style of Sauvignon Blanc epitomized by Marlborough is finding a place in many U.S. wine drinkers hearts.
Nonetheless, while Sauvignon Blanc is important, at 72 percent of New Zealand's production, clearly there is tremendous opportunity for the country's distinctive styles of fresh, vibrant Pinot Noir, Chardonnay and aromatic whites such as Pinot Gris. At a much smaller scale, New Zealand's elegant sparkling wines, sophisticated Bordeaux-varietal blends and peppery Syrah's should be of interest to the adventurous wine aficionado.
The Future of Wine Production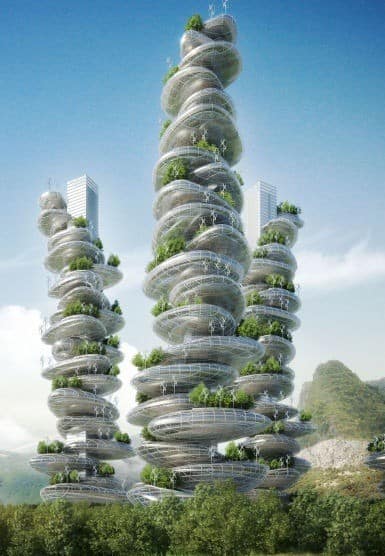 The New Zealand wine industry is by no means resting on its laurels, in fact as it matures the wines are simply getting better, more interesting and more diverse.
The major regions have now been discovered, most of them over 30 years ago, so New Zealand winemakers are focusing more and more on sub-regional and even individual site identity. Marlborough provides an intriguing case in point, as the classic style of Sauvignon Blanc there is grown and made in such a uniform way that subtle differences in climate, soil and topography can appear quite pronounced in the wines.
Particularly, there can be a distinct and recognizable difference between Awatere, Central Wairau and Southern Valleys styles. Due to its marginal climate, in Central Otago, Pinot Noir differs greatly from Cromwell Basin compared to Alexandra or Gibbston. Taking the concept of terroir a step further, more winemakers are beginning to bottle a range of delineated single vineyard wines. Whether this eventually leads to an American-style AVA system remains to be seen.
In tandem with the exploration and study of site, there has been a lot of work on matching the best planting material and viticultural methods to those sites. In particular planting densities, clones, pruning and trellising systems and the evolution of sustainable, organic and biodynamic farming. Now, just this decade, we are beginning to see the effect of these factors with the added benefit of vine age.
This is particularly noticeable in the quality renaissance of New Zealand Pinot Noir and Chardonnay. Today, New Zealand Pinot Noir can be very site-expressive, perfumed, ethereal wines, with freshness, vibrancy and elegant layers of red and black fruits, earth, and floral aromas. The best Chardonnays are tight and texturally compelling with flinty, mineral complexity and mouthwatering acidity. Both styles benefit from a more restrained approach to oak handling than in previous decades.
Furthermore, winemakers are exploring new grape varieties. The diversity of this long, slender country's climates and soils affords a rich variety of varieties. Wines made from Albarino, Arneis, Barbera, Dolcetto, Fiano, Gamay, Gruner Veltliner, Lagrein, Marsanne, Montepulciano, Nebbiolo, Petit Manseng, Roussanne, Sangiovese, Savagnin and Tempranillo are all available commercially in New Zealand.
Likewise, they are exploring a richer assortment of winemaking styles; natural wines and skin-fermented whites are as en vogue amongst the cognoscenti as they are in the U.S. A particularly exciting advance is the growing prominence of alternate styles of Sauvignon Blanc. While the classic style of pungent, fruity, stainless steel ferment Sauvignon Blanc will continue to be New Zealand's calling card, there is now a greater range of styles to explore for the curios. Hand harvesting, native yeast ferment, barrel fermentation and maturation (typically in well-seasoned barrels) and lees ageing are providing a new spin on the variety and producing some truly compelling wines.
If you haven't tried the depth and breadth of what's on offer from New Zealand lately, exploring the diversity of what this dynamic wine producing country has to offer is highly recommended.
---
LEARN MORE ABOUT OUR WSET PROGRAMS AT NAPA VALLEY WINE ACADEMY.