Earlier this year, New Wines of Greece reached out to us and offered up a smattering of samples from several growing regions. Stephanie Block sipped and reviewed them below based on their merits and gives a general overview of what to know about wines from Greece. – Jonathan Cristaldi, Editor-in-Chief 
---
by Stephanie Block
Travel back to the future in Greece where ancient and modern production methods co-exist for both heirloom and international grape varieties, and discover a fascinating series of officially designated wine regions spread across windswept islands, warm valleys, and even the face of an ancient caldera. These Greek wine samples offer a fairly representative odyssey through indigenous grapes like Liatikos and Moschofilero, important growing regions from Peloponnese to Crete, and tricky
terroirs
ravaged by relentless winds or bracing heat. Today, when buying Greek wines in your local marketplace or
agora
, know that Greece has a simple hierarchy of qualities adopted from the European Union's wine laws. If you see the letters "PDO" on a bottle, you are on the Mount Olympus of the wine pyramid. Greece has been producing and shipping wine for almost five thousand years, and whether in the resin-sealed amphorae of old or modern bottles with lovely ribbon around their necks (see below), this birthplace of Western civilization is not about to let near economic collapse stall their wine trade. The old ways are still practiced here. On Santorini, the
koukoura
method of training is used, where a low-to-the-ground basket pattern is made of each
stefáni
, or vine, protecting the grapes inside from howling winds. This is particularly pleasing to your humble wine blogger Stephanie (or "stefáni," in one Grecian language,
ahem
).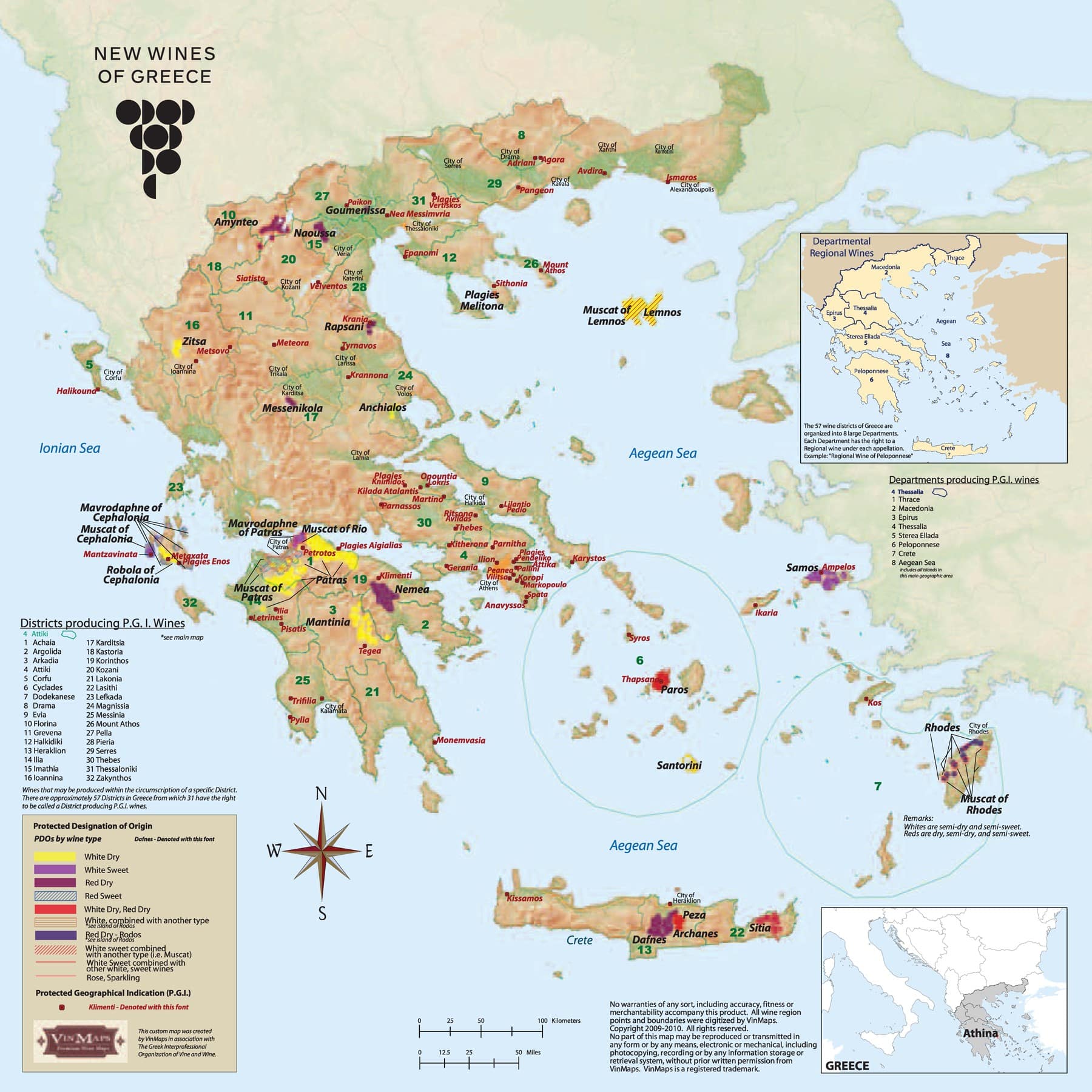 Getting back to our vinous odyssey across Homer's wine-dark seas, prepare to become enchanted by the Siren-esque white wines of volcanic Santorini with their bright acidity and haunting floral aromas. Calypso-like, find your palate a willing prisoner of the bewitching tropical notes of Macedonia's famed Malagouzia grape. Then we turn our almost Cycloptic focus onto the wines of the Peloponnese's Nemea and Mantinia, where the ancient red variety Agiorgitiko is said to have been Agamemnon's palace wine. Finally, we brave Neptune's wrath to sail to the sunny island of Crete only to find our noses shipwrecked in the grape Liatikos's fascinatingly funky barnyard. Arriving home after our adventures, there's no fear of forgetting because these stories are archived in bottles… whose price points are all below $30.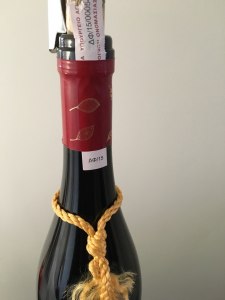 Two shout outs: Thank you Greek wine producers for thoughtfully building pull-ties into many of your foils. And a special thank you to some San Francisco wine tasting pals whose insights and camaraderie were no Trojan horse: Lani, Yoshi and Dan. With a grand past and promising future, snap up the fantastic wines of Greece before they have more suitors than Penelope, and a price to match.
***
GREEK WINE: WHITES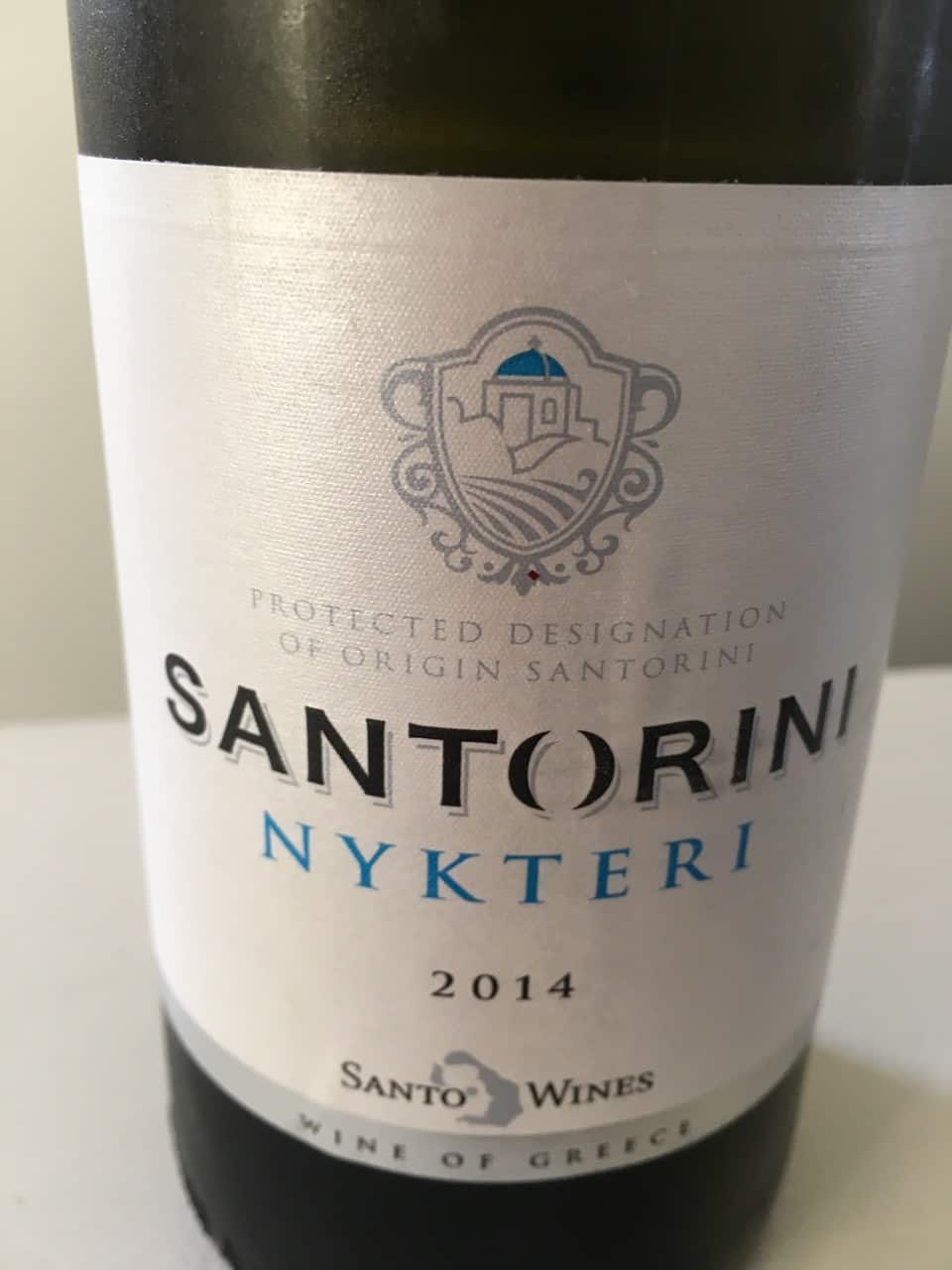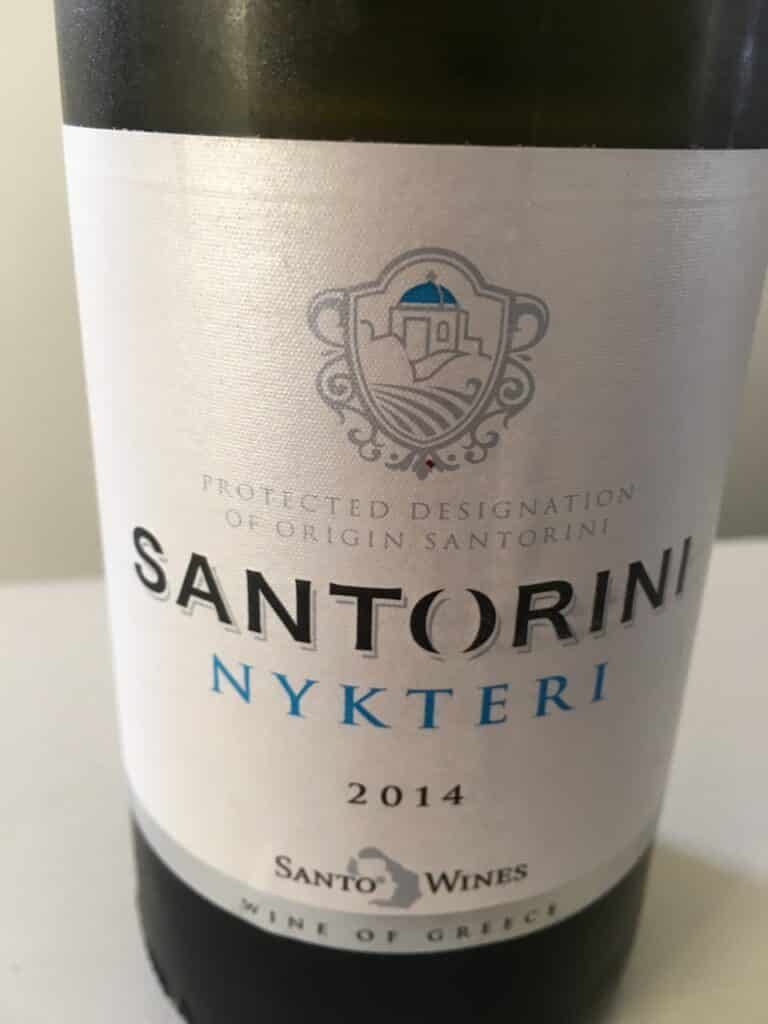 Santowines 2013 Nykteri Assyrtiko, Santorini, Greece (SRP $26).
(100% Assyrtiko)
Appearance
: Pale yellow.
Nose/Palate
: Medium plus aromatics of lemon curd and pineapple, with a mineral note. On the palate a sumptuous experience perfectly in balance. Honeydew and delicate floral notes combine seamlessly with creamy mineral characteristics and beautiful acidity. A wonderfully well-structured, full-bodied wine with a long finish. Worth Noting: Santowines is a wine cooperative.
Conclusion
: Very good.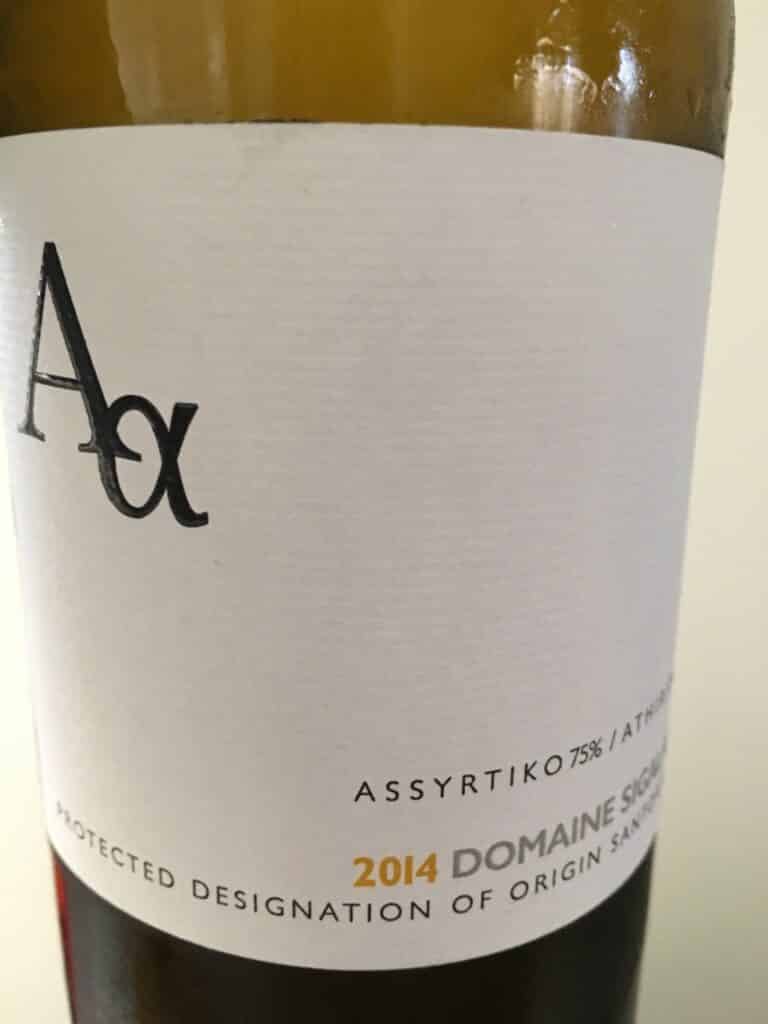 Domaine Sigalas 2014 "AA" Assyrtiko-Athiri, Santorini, Greece (SRP $22).
(75% Assyrtiko; 25% Athiri)
Appearance
: Medium yellow.
Nose/Palate
: Fairly aromatic with some lime, mineral characateristics, and a funky herbal note. Dry on the palate with edgy acidity and some leesy notes alongside more citrus. Good acid keeps the finish going. Worth Noting: These vines are over 50 years old.
Conclusion
: Good to very good.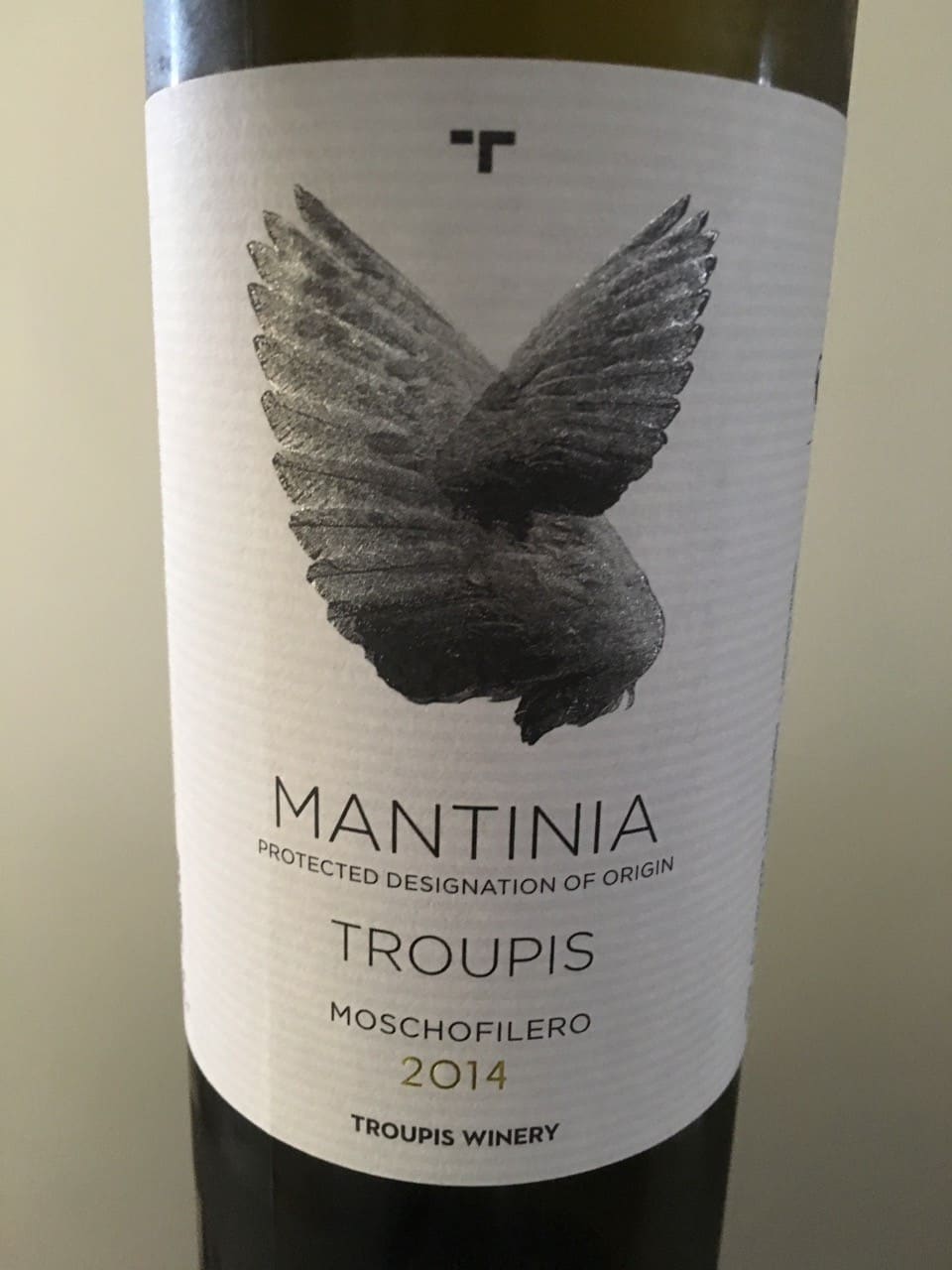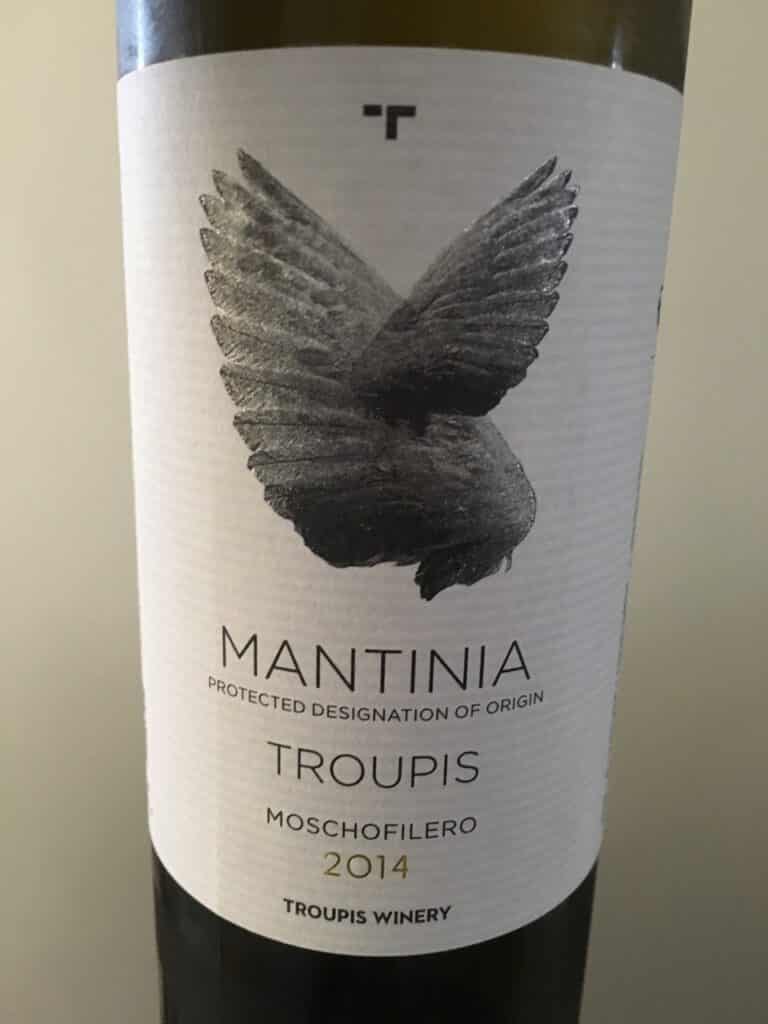 Troupis 2014 Moschofilero, Mantinia, Greece (SRP $16).
(100% Moschofilero)
Appearance
: Pale yellow.
Nose/Palate
: Serious tropical aromatics suggesting guava, banana and mango with a hint of artificial sweetener. On the palate, the fruit character displays more youthful tartness. Worth Noting: This wine is from the Peloponnese where the 10-20-year-old vines enjoy about 2000 feet of altitude.
Conclusion
: Good to very good.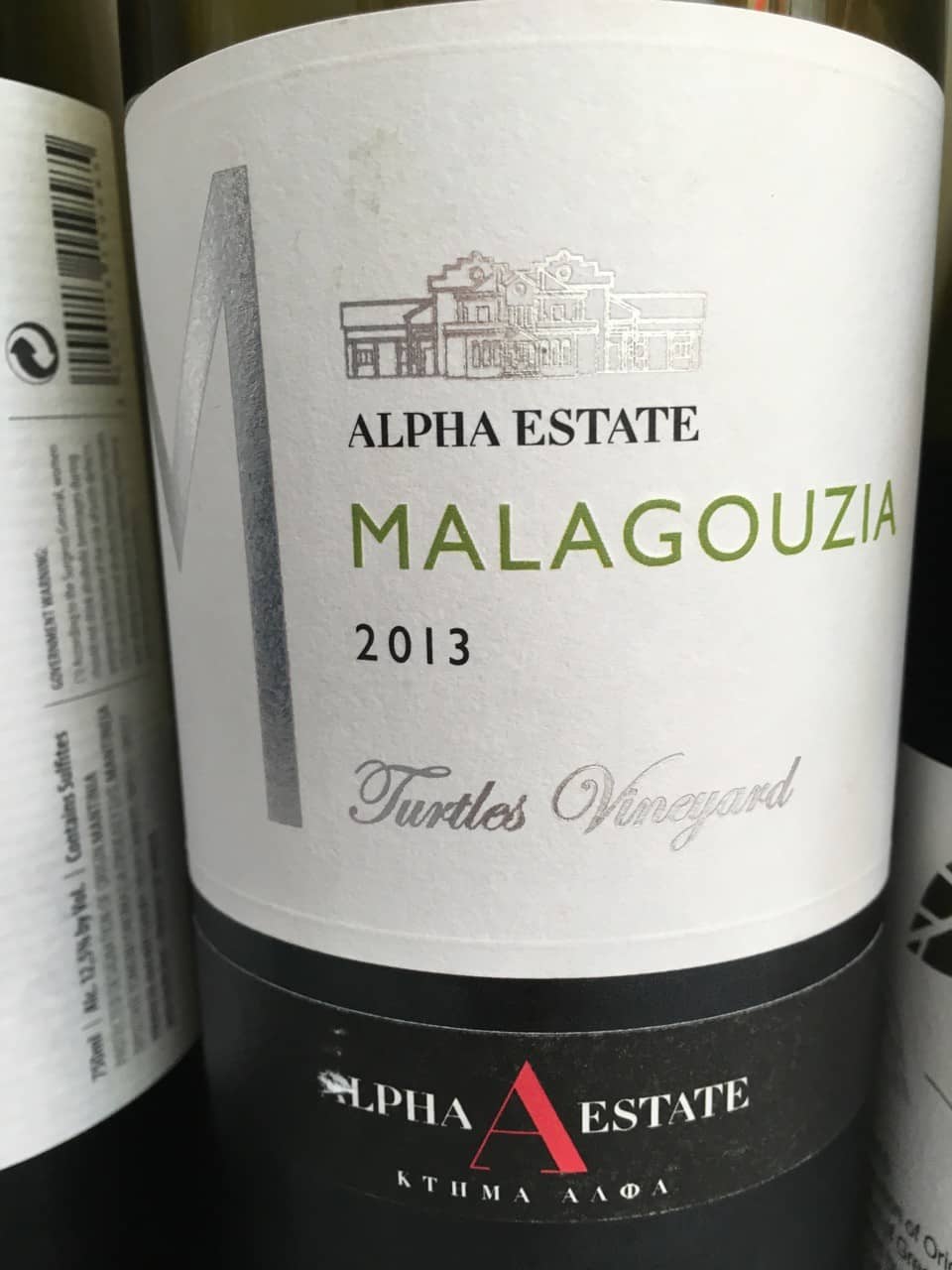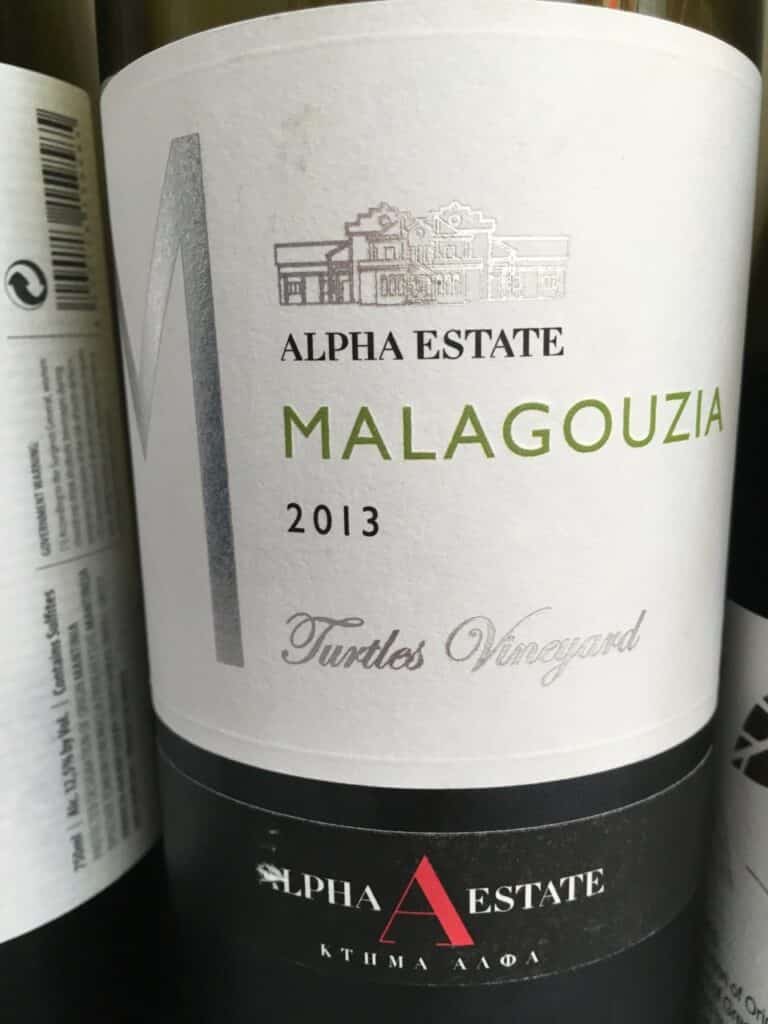 Alpha Estate 2013 Malagouzia, Turtles Vineyard, Amyndeon, Greece (SRP $18).
(100% Malagouzia)
Appearance
: Pale lemon with slight green tints.
Nose/Palate
: Aromatic with tropical notes of guava, pineapple and mango. On the palate a classic tiki bar with lots of vibrant fruit like lychee combined with refreshing acidity. Perfect for a summer porch-pounder. Worth noting: Remote Macedonian growing region where we are dealing with altitude (2000 feet) and northwest exposure. The winery derives its name, Alpha, from both the first letter of the Greek alphabet and the first initial of the region, Amyndeon. Finally, this rare heirloom variety was rescued from extinction in the 1990s.
Conclusion
: Good to very good.
GREEK WINE: REDS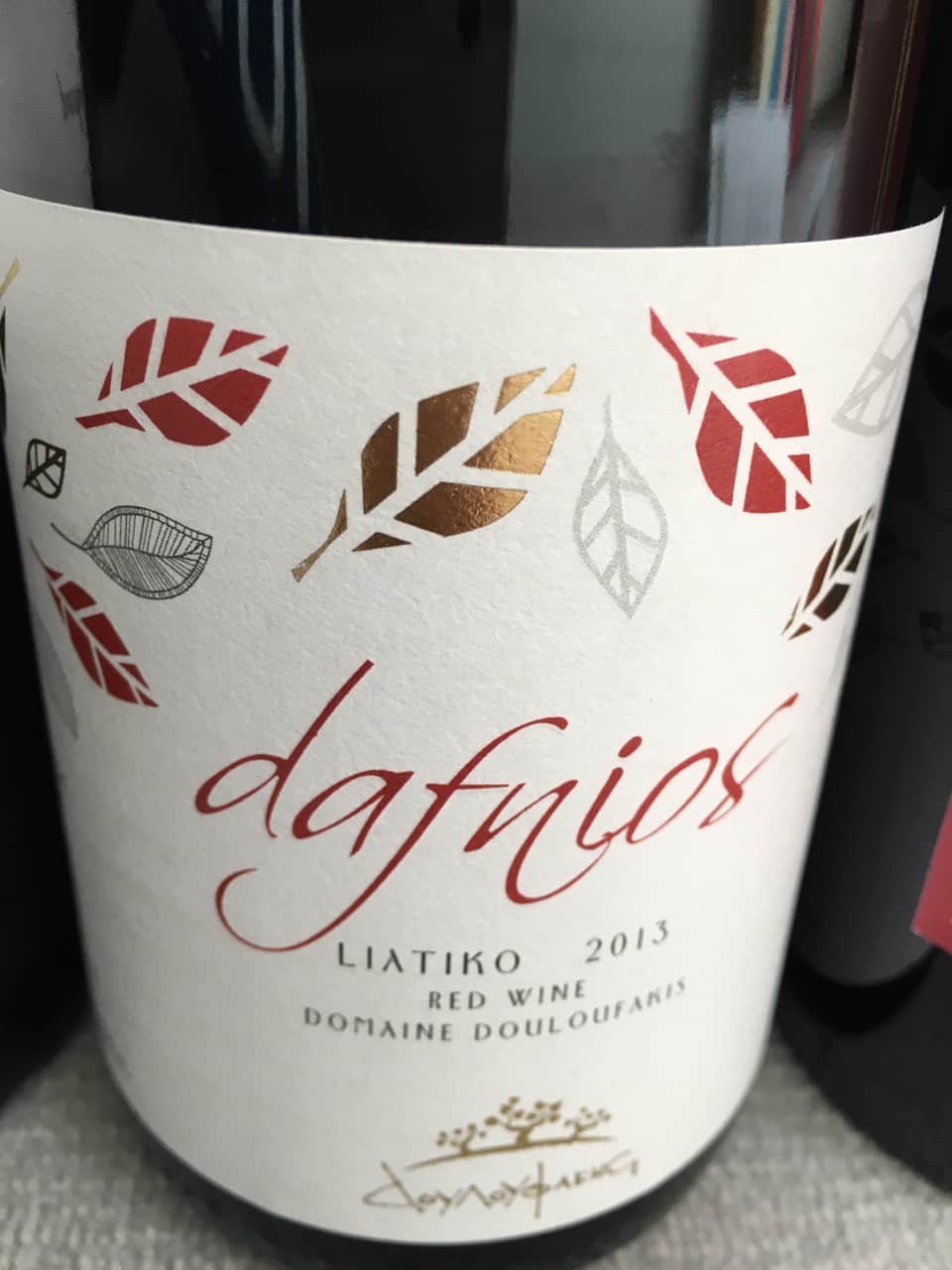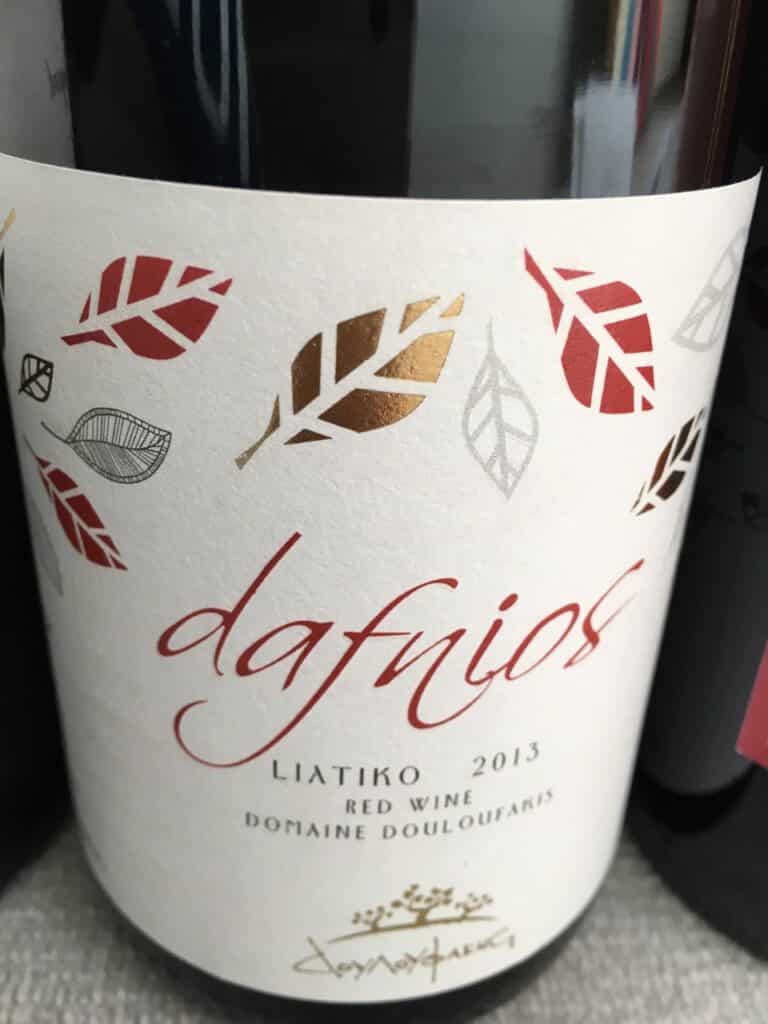 Douloufakis 2013 Dafnios Red, Dafnes, Heraklion, Crete (SRP $20).
(100% Liatiko)
Appearance
: Medium ruby.
Nose/Palate
: Super funky nose of forest floor, humus and barnyard with hints of violet. On the palate, muddled mulberry and other red fruits taste like they're right off the dusty bush. Good acid and subtle tannins make this a fun quaff if your guests can get past the nose. Don't cellar this one—enjoy it now. Worth noting: This is an ancient grape grown at almost 1200 feet above sea level.
Conclusion
: Good to very good.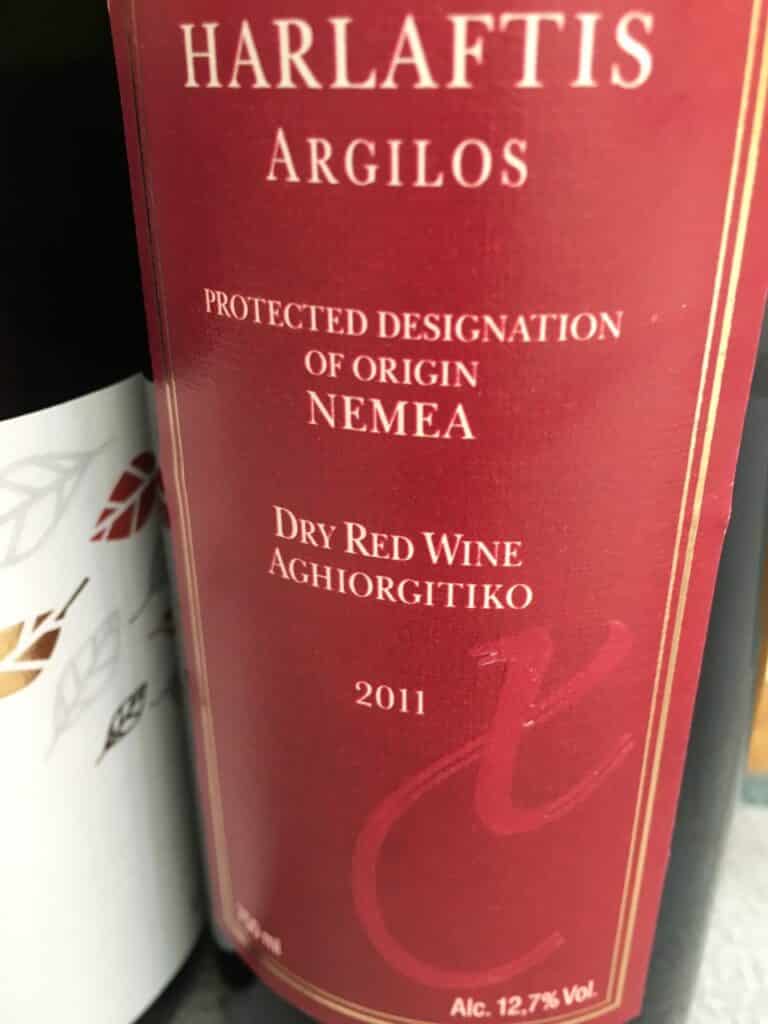 Harlaftis 2011 Argilos Agioritiko, Nemea, Greece (SRP $15).
(100% Agiorgitiko, also known as St. George)
Appearance
: Light to medium ruby.
Nose/Palate
: The classic variety of red-producing Nemea, this Agiorgitiko presents with its typical markers of spice and cherry. Fruit forward aromas of strawberry jam and a hint of chocolate make it a crowd-pleaser. On the palate, however, the flavor profile is a bit muted with medium tannins.
Conclusion
: Good.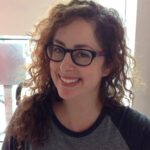 Stephanie Block (@stephanieblock) is an award-winning writer and St. Supéry Estate Vineyards & Winery's (@stsupery) social media maven and wine educator. She took her WSET Level II, Level III Harvest Bootcamp, and French Wine Scholar program at the Napa Valley Wine Academy. She has also been a social media strategist for national gender equality entities and has engaged in humanitarian work around the world. A former travel and entertainment editor, Stephanie has ordered wine in almost eighty countries and lived in six.