Being an American expat in Italy isn't always romantic. Even after 17 years, there are certain times like Thanksgiving that can make you feel especially nostalgic. That is why every year we try to blend the two cultures by finding the closest ingredients and wines that resemble this American holiday. Here are a few of the many Italian food friendly wines I chose that could add a fun twist to  your traditional American feast 
ITALIAN WINE PICKS FOR THANKSGIVING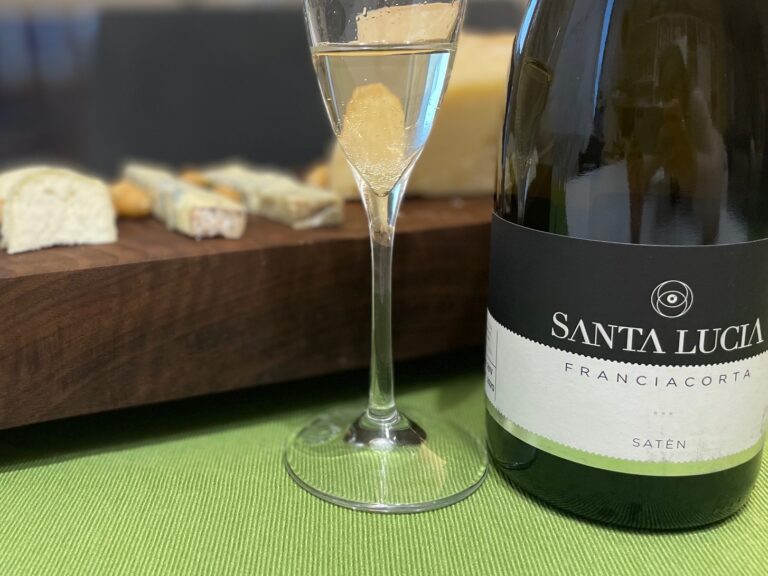 Appetizers like fried snacks, stuffed mushrooms and Brie would be great with a fun traditional  method sparkling wine to kick start this festive meal with the right celebratory mood. 
Franciacorta DOCG Satén – A blanc de blanc style metodo classico sparkling wine made from Chardonnay and Pinot Blanc from Lombardy. Its lower bottle pressure results in a creamier mousse which is easy for all palates and perfect for an aperitivo to start the feast.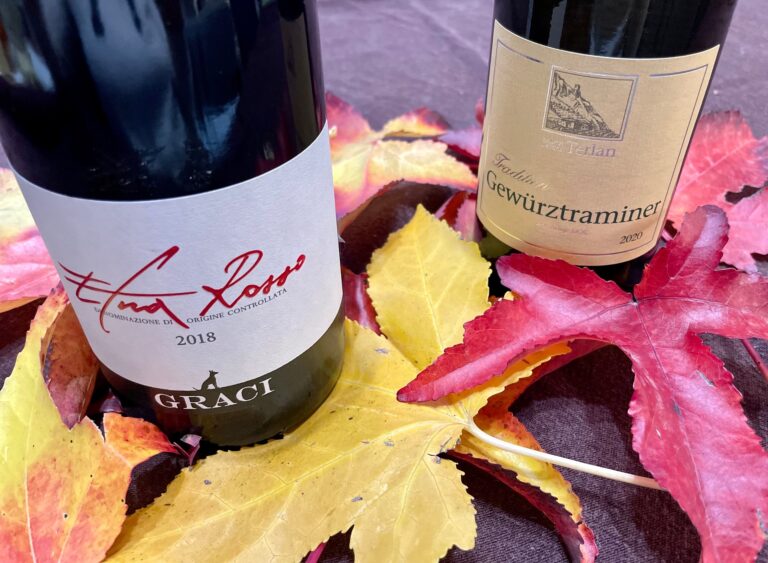 As a general rule of thumb, look for lighter fruity wines with lower alcohol and nice acidity to go with the array of flavors and spices found on the Thanksgiving table. Our choice is:
Red: Nerello Mascalese used prevalently in the Etna Rosso DOC from Sicily. In some ways you could compare this grape to Pinot Noir. Its light body and fruity notes of cherries, orange zest and earthy dried herbs pairs perfectly with turkey and cranberry sauce and can work well throughout the entire meal.
White: Alto Adige Gerwurztraminer DOC is a classic pairing for an entire Thanksgiving meal thanks to its expressive aromatics including lychee, floral elements and spices such as cloves and nutmeg. Its sweet and savory flavor profile goes extremely well with turkey and its mix of sides. The wine is native to Trentino Alto Adige in the South Tyrol.
When it comes to stuffing, every family has its own traditional recipe or favorite type of stuffing. The ingredients can strongly affect the wine pairings so we came up with the 3 most common styles.
Classic bread and herb stuffing: 
White: Garganega Soave Classico DOCG is a refreshing white with a slightly oily texture and notes of citrus, melon and aromatic herbs. I would suggest finding a Soave Superiore Classico DOCG which is a bit more complex with a few years of aging which will bring out its honey and fennel flavors while maintaining its minerality. This would be a killer pairing for a rich bread stuffing with butter and herbs.
Sausage stuffing:
Red: Primitivo, can take the place of a classic Thanksgiving pairing with Zinfandel. The Italian grape will offer more candied red fruits in addition to black as well as earthier herbal flavors. Primitivo tends to have slightly higher acid compared to a Zin which is the perfect combination for spicy Thanksgiving dishes. This wine from Puglia would go well with one of the heartier meaty dishes like sausage stuffing with herbs and please guests who want bigger wines.
Mushroom stuffing: 
Red: Nebbiolo based wines like Langhe DOC, Valtellina Superiore DOCG or even an aged Barbaresco DOCG will be able to match its mountain red fruit and earthy flavors with the mushrooms in the stuffing. Nebbiolo's relatively high acid and tannins will cut through the rich Thanksgiving dish well. Living in Piemonte, of course I have to represent one of our wines!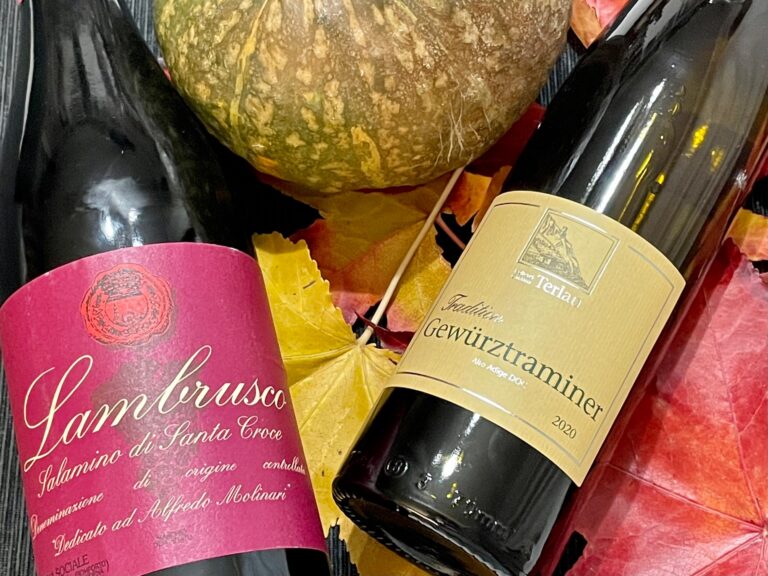 BAKED YAMS (WITH MARSHMELLOWS)
This can be tricky for pairing with dry wines because of the sweetness of the dish eaten during the meal rather than as a dessert. 
White: Off Dry Gewurztraminer Alto Adige DOC has explosive aromas of exotic fruits and honey that could be the right alternative for pairing with a sweet yam dish. Be careful as it is quite high in alcohol!
Red: Lambrusco We can't overthink a dish like candied yams so let's just go with a fun easy wine like a dry red berry Lambrusco fizz. It could make you feel like a kid drinking soda and eating candy. Don't judge all Lambrusco as being like cheap soda pop though and try to seek out some of the higher quality Lambruscos out there.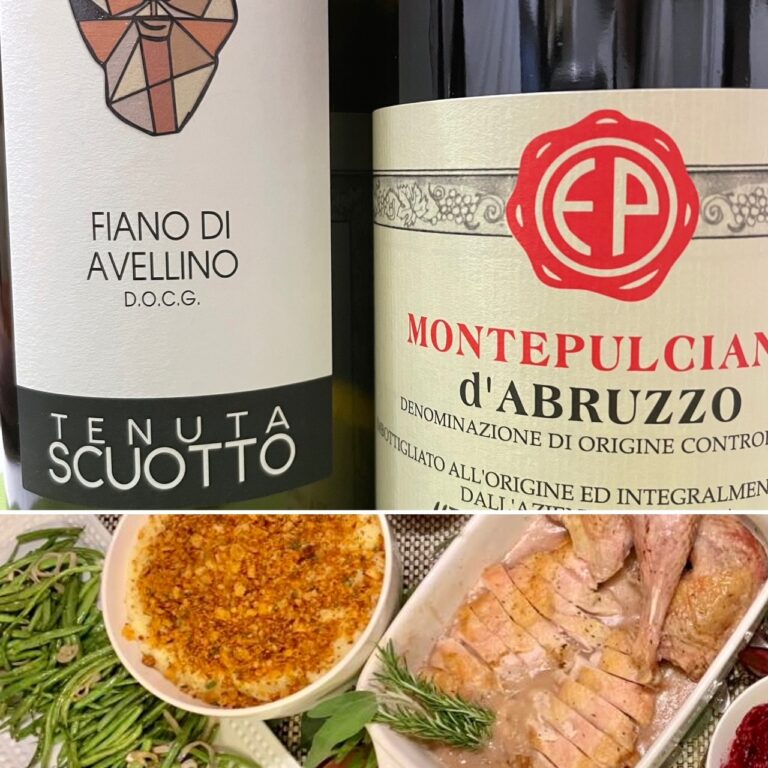 MASHED POTATOES AND GRAVY
White: Fiano di Avellino DOCG is a southern white from Campania with a luscious and resinous mouthfeel making this one of the most important white wines in Italy. The volcanic soils give it an expressive nose of honey, yellow fruits with nutty and smoky aromas. You get all of this with a fresh sapidity making this the perfect texture for buttery mashed potatoes but with an umami quality that goes well with the gravy. 
Red: Montepulciano d'Abruzzo DOC calls for something earthy and hearty like mashed potatoes. The tannins and spice from the Montepulciano pair well with the rich gravy and the splash of acidity from the grape that cleanses the palate just enough to cut the mashed potatoes.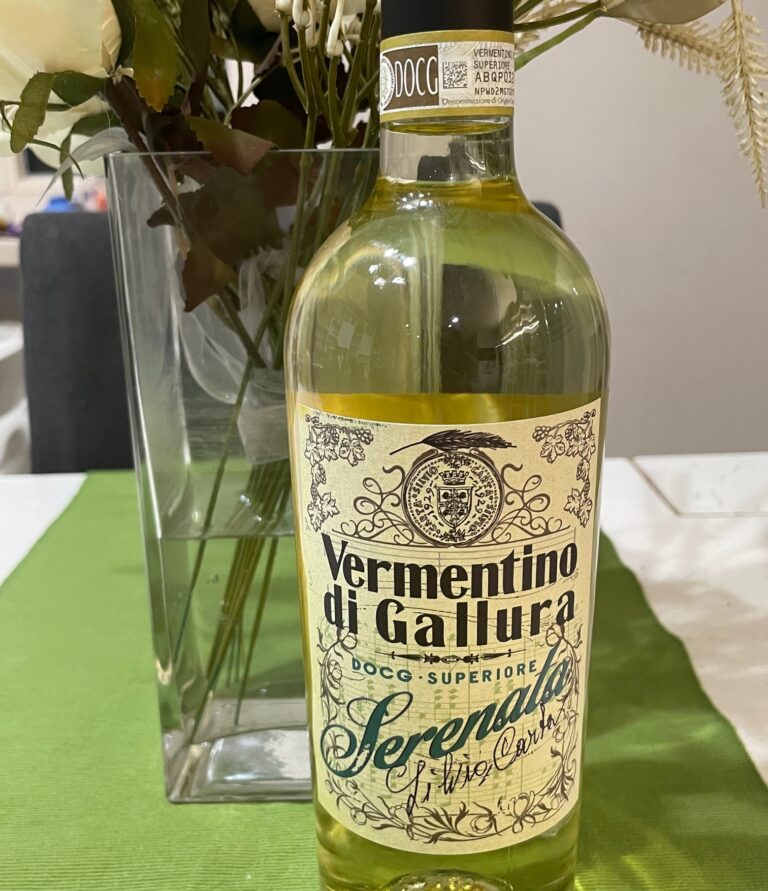 The vegetable sides may be a tougher dish to pair with wines because of their green flavors. This is why we would recommend :
White: Vermentino di Gallura DOCG could be considered one of Italy's great white wines coming from the windy island of Sardinia. The poor granite soils give a  crisp acidity with intense flavors of sour apples, salty almonds and aromatic herbs with nice body that can match the green flavors of brussel sprouts. Its dry and slightly oily texture can tame the sharp flavors of this strong vegetable.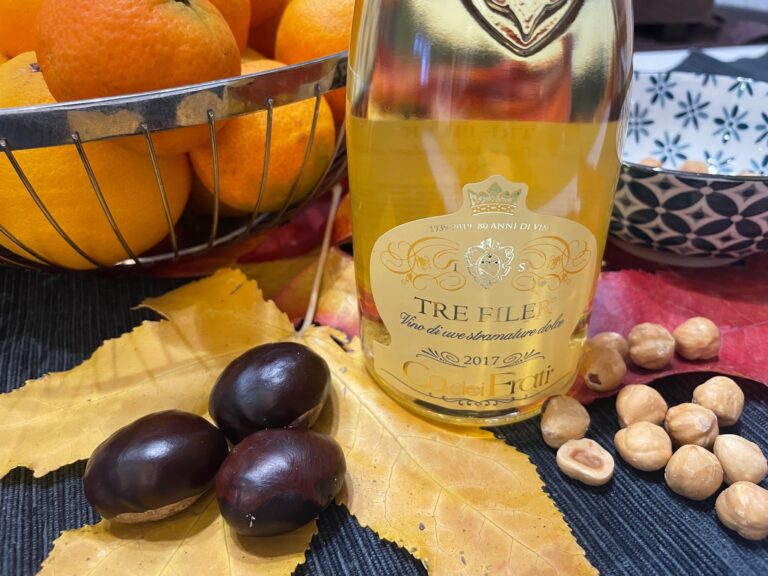 A sweet robust spicy pie like this could pair well with many Italian dessert wines like passito or even Moscato d'Asti but I would recommend a botrytis dessert wine called muffa nobile like this:
Orvieto Classico Muffa Nobile DOC – Coming mostly from Grechetto and Trebbiano di Toscano grapes, this botrytis wine gives off beautiful flavors of dried apricots, honey, baking spices, caramelized toasted nuts and candied citrus fruits. 
Do you want to accompany me on my Thanksgiving meal and wine shopping trip in Piemonte?
Check out our Wine Education Abroad Trips 2022!