From the editor: meet our newest columnist, Joe Herrig. Mr. Herrig and I met at the Wine Bloggers Conference in Santa Barbara in 2014. We were both speaking on a panel about wine education–a subject neither of us really knows anything about (ahem)–and later talked over beers. That talk became a plan: and Joe flew out to Napa in the fall of 2014 to film a pilot for a show we are totally going to release, soon. Herrig is [practically] famous for his blog Suburban Wino, which won an Academy Award and has been nominated several times at the Wine Bloggers Conference for his oft witty, yet, informative deep dive prose on all things vino. This is the first of Joe's ongoing column for Napa Valley Wine Academy's "Pouring Points." Joe Herrig is everyones' "Second Glass Citizen," and this inaugural column comes on the heels of a post about when to get certified in wine. "So, you wanna work in the wine business?" Joe begins….and without further ado…meet Joe Herrig.  – Jonathan Cristaldi
---
Second Glass Citizen (An Introduction)
by Joe Herrig
"So, you wanna work in the wine business?"
It's a decidedly loaded question that has either been posed to us dreamers, or one that has kept us all up at night, wistfully longing for greener grass. Maybe you're toiling in an unsatisfying career. Perhaps you're just looking for your next move; something smacking of adventure, intrigue, sex appeal, and cachet. Or, you just like wine—I mean, you really like wine, beyond enjoying that glass of Pinot Grigio with your Friday night riblet platter at Jimmy McGarlic's.
For me, it was bit of everything. And a little too much love of food.
As I'm not quite accomplished enough to start writing my memoir, and since it would–up to this point–contain about as much intrigue as a bowl of oatmeal, I'll keep it brief. Basically, I was a little chunky kid who liked to read cookbooks. While my athletically-inclined friends were out practicing to become future washed-up high school football stars, I was sitting at the kitchen table, pouring through Mom's tattered copies of McCall's Cooking School, The Good Housekeeping Cookbook, and Disney's Cooking for Kids (containing haute recipes like, "Pluto's 'how to cook hot dogs'"). Naturally, as I progressed through culinary tomes–and occasionally burned some food of my own–I started to notice constant mentions of the synergy between food and wine. Again. And again. As a ten-year-old, I saw no appeal in wine. And I didn't even know what "synergy" meant. But it was too-pervasive a concept for my subconscious to ignore.
Thankfully fast-forward past college days of Carlo Rossi cannonballs, magnums of Gallo "Hearty Burgundy", Franzia-fueled parties, and copious headaches, and I found myself working as a Marketing Manager for a large Heating & Air Conditioning distributor in Atlanta, GA. For my California friends reading, Air Conditioning is a technology used to remove humidity from the air, thus "conditioning" a space. It's useful in the Deep South, which can be a rather sweaty place.
But I digress…
I found myself mired in a hopeless place so many of you may find yourselves: working hard, making decent money, but wholly unsatisfied with my career trajectory. Thirty-two years old, punching the clock each day, just waiting to wake up one morning in my sixties, the grizzled Marketing Manager of an Atlanta-based Heating & Air Conditioning Distributor. Sure, perhaps your current situation isn't as glamorous as this, but you get the gist.
So, I left. And I set out, babe in the woods, to scratch the itch that just wouldn't subside; to live and breathe wine all day long.
Now, working on my fourth year in the distribution sector, I hope to have collated enough veteran knowledge and insight to prove valuable to readers. Mine is a popular industry, and the desire by those outside to get inside is strong (I've been there). My intent with this column is to help those who itch like I did (in a purely metaphorical sense, you creeps). I'll use the powers of humor, blue language, bad grammar, and inexplicable tangents to illustrate where education (and certification) has its value. I will try to flesh out a better understanding of the industry. And, like so many angels in the industry, I will emphatically encourage those who need to be doing it. Conversely, I won't hesitate to discourage others. Looking to get rich? Want to swill booze all day? Ready for sleeping in on weekdays and kicking back on weekends? You probably won't like beverage distribution. Or the working world, for that matter.
Mostly, I intend to entertain any audience willing to listen. Wine is fun, and I like to have fun talking about it. There's plenty of serious and decidedly heavy stuff in the world we have to endure. Let's not make rotten grapes one of them.
I look forward to the opportunity to most valuably waste your time.
---
ABOUT THE AUTHOR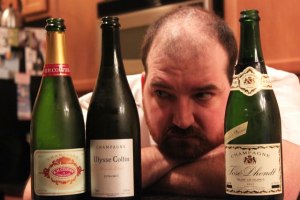 Joe Herrig is a certified sommelier, certified specialist of wine, and a WSET advanced diploma-holder. His current magnum opus is representing the fine wine portfolio of a large wholesaler in metro Atlanta. When not slinging wine or awkwardly painting himself in a favorable light for biographical purposes, Joe enjoys drinking beer, eating burritos, and being raised in a house run by his wife and two young daughters.