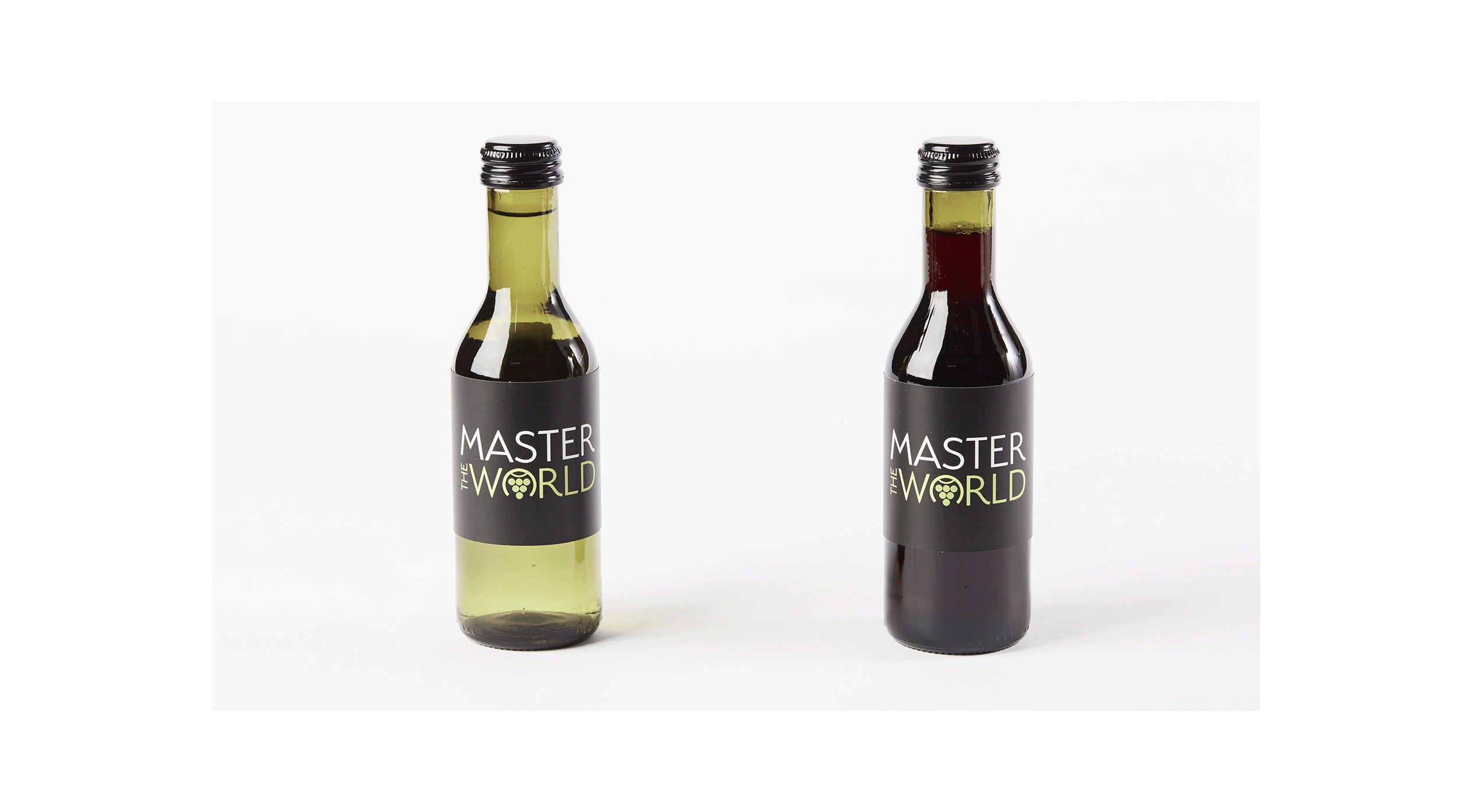 Mastering Your Wine Misconceptions with Master the World's Blind Tasting Kit
By Joe Roberts
Recently, I was invited to take part in a media preview and webinar of Master the World, a new blind tasting program over five years in the making by Master Sommelier Evan Goldstein and Limeng Stroh (of Full Circle Wine Solutions), including input from Master Sommeliers Madeline Triffon and Tim Gaiser. I know all of those people as hard-working, dedicated, fastidious professionals, so of course my first instinct was to answer them with a very hard NO.
You see, nothing in the wine world is as humblingly humiliating as a blind tasting. Nothing. I'm talking about the kind of embarrassment that can make fully-grown, veteran industry pros cry like newborn babies.
But… there's also no better way than blind tasting to improve your wine tasting chops, dissolve your misconceptions, and turn you on to wines and styles that you might not previously have considered. So I relented, and almost decided to deep-six my wine career, which ironically is proof that the Master the World kits are that good.
The Highlights
What is it?
A blind tasting kit of six premium wines, curated by Master Sommeliers (priced from $70 to $90 per kit).
Who should get it?
Anyone who's serious about upping their wine tasting game, especially those participating in formal study (Court of MS, WSET, etc.).
Does it work?
Yes! I actually could perceive some improvements even in this first tasting, especially after starting to "calibrate" to the MS's tasting/evaluation rubric.
Is it worth it?
Yep. This is probably the best blind tasting kit on the market, and is fairly cost-effective vs. buying full-sized individual bottles (and includes enough of each wine to split the tasting with a partner).
The Master the World Kit
The kit is well-packaged in a single box, including the kit ID number (also on every bottle's label) and "born-on" date for the kit's six 187ml bottles (according to MTW, kits should be used within 12 months). Unboxing and set-up is simple (there are videos on YouTube to help as well), and a tasting mat is included. After setting up, you play along by entering your kit number into MTW's online evaluation tool (mobile apps are in development), and either doing a full step-by-step sensory evaluation as you taste (comparing your impressions with those of the MS experts), or skipping the eval and going straight to guessing the vintage, grape variety, and provenance of each wine. MTW website accounts are free, but the tasting kits will run you $90 each (less with a subscription).
The first thing I tried to do with my kit was to cheat. 
But that doesn't work; each wine's identity is well-hidden behind its label, which has to be peeled off in an obvious this-label-was-tampered-with way for a reveal. So I did it the old-fashioned (and humbling) way, going for a full sensory evaluation and identity guess on each wine. 
How'd I do? 
About as well as expected; which is to say, poorly. But… I could already sense my tasting chops getting whipped into better shape after only six wines. As co-founder Goldstein told me, that's exactly the point, and "this is not purely a training tool for 'Jedi Knights.'" MTW's focus is for the kit to have utility for wine students and avid consumers alike. The bottom line: it's well worth the investment if you're a serious wine geek, provided that you can check your pride at the door!
How I Fared with Each Blind Tasting
Wine #1: Marco Felluga Montgris Collio Pinot Grigio 2018
Sensory – 2/5 
Deduction – 5/5 
My sensory score sucked but otherwise, nailed it (even the vintage)!
Wine #2: Anselmo Mendes Alvarinho Contacto 2018 
Sensory – 2/5
Deduction – 1/5
Sadly, my first choice was Spanish Albarino (not correct, but kind of close). But in a classic testing panic move, I second-guessed myself at the last second, and the result was an almost total failure.
Wine #3: Laurenz V. Singing Gruner Veltliner 2018 
Sensory – 2/5
Deduction – 1/5
Ok, this is starting to get embarrassing!! Is it a f*cking Root Day, or something? I guessed Central Otago Chardonnay, so… way off.
Wine #4: Walla Walla Vintners Columbia Valley Cabernet Franc 2016 
Sensory – 2/5
Deduction – 1/5
Believe it or not, despite a terrible score, I felt better about this one, because it reminded me (and the panel of MSs) of my first guess: Chilean Carmenere (in terms of spiciness and fruit depth).
Wine #5: E. Guigal Crozes-Hermitage 2016 
Sensory – 1/5
Deduction – 3/5
Even if my descriptors were off, I did get the wine right apart from vintage. I am beginning to feel somewhat vindicated.
Wine #6: Trig Point Alexander Valley Cabernet Sauvignon 2017 
Sensory – 3/5
Deduction – 4/5
Thank god! I was starting to wonder if I should be contemplating a new career. While my sensory notes clearly need some work, I'm not ready to quit my wine day job just yet…
NAPA VALLEY WINE ACADEMY INCLUDES MASTER THE WORLD WINE KITS WITH THEIR ONLINE WSET WINE COURSES:
LEVEL 1 – https://napavalleywineacademy.com/product/wset-level-1-four-4-week-online-course/
LEVEL 2- https://napavalleywineacademy.com/product/wset-level-2-5-week-online-course/
LEVEL 3- https://napavalleywineacademy.com/product/wset-level-3-9-week-online-course/