Would the world know Vermouth if it weren't for the Martini, Manhattan, and Negroni? Long a staple of these classic cocktails, in big doses and small, as a complement to the essential ingredient of Vodka, Gin, Campari, or Rye, Vermouth is a fortified, aromatic wine made from white grapes. 
Making a good Vermouth is about processing it to the point that the character of the base wine is not apparent in the final product. The wine is meant to be a starting point, or palette, as bartending legend Dale DeGroff puts it, upon which other flavors are assembled.
Sweetened fruit juice and Brandy (or other spirit), a concoction called mistelle, is added to the base white wine, which is then flavored with herbs, roots, bark, flowers, fruits and/or vegetables. The mistelle can itself be a fortified wine or be the ingredient used to fortify.
Vermouth typically settles to be between 16 and 19 percent alcohol by volume and is made in both dry and sweet versions, the sweetness coming from sugar, honey, or sweet base wine.
The manufacturing process for Vermouth is fairly complex, and each producer has its own process. After fortifying and flavor steeping comes blending, pasteurization, and refrigeration to crystallize any impurities. The final liquid is then filtered and bottled.
The word Vermouth is German in origin, derived from the word for wormwood, the bitter digestive herb famous for being the boogeyman in Absinthe due to its trace amount of the  psychoactive compound thujone. European producers must include wormwood; many American brands choose not to.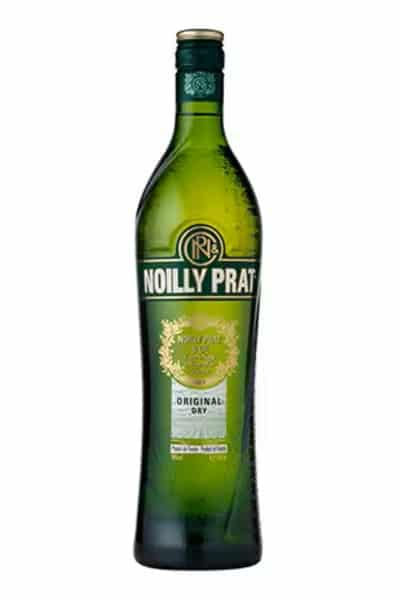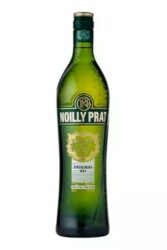 The first commercial Vermouth, Carpano Antica Formula, was made in Turin, Italy, by Antonio Benedetto Carpano in 1786. His original recipe continues to this day: blending white wines from Italian grape varieties from Romagna, Puglia, and Sicily with secret aromatic plants and vanilla beans (and only the beans) from Madagascar, Papua New Guinea, and Tahiti.
In France, Joseph Noilly introduced a white, drier-style Vermouth in 1813; today Noilly Prat makes four Vermouths, all dry whites macerated with herbs and spices. Vermouth from Chambery in the French Alps was the only one to have its own appellation d'origine. Made since 1821, Dolin Vermouth de Chambery continues that heritage though the designation no longer exists. 
Cocci Vermouth is another historic Turin brand. Within its botanical library are gentian, artemisia, quinine bark, bitter orange, rhubarb, star anise, achillea, rose petals, juniper, quassia wood, mace and coriander.
The House of Cinzano started making Vermouth in the 19th century; Martini & Rossi Company started in 1863 in Turin with a sweeter version of Vermouth that was also more herbal and less spiced than Carpano's. 
As wine writer Alice Feiring noted in a 2013 New York Times piece, "Because there's no single recipe, the taste is difficult to summarize, but many Vermouths evoke a marmalade, with its balance of bitter and sweet. Some conjure up Christmas cake; others, a forest walk through pines and ferns."
California-based Vya launched in the late 1990s, made at Quady Winery from grapes grown in the San Joaquin Valley. Both dry and sweet versions exist, with the sweet version produced by adding a Port-style wine. The rest of the recipe is kept secret—as most Vermouth recipes are.
In Napa Valley, the best-known Vermouths is made by winemaker Steve Matthiasson.
Matthiasson uses Flora (a cross between Semillon and Gewürztraminer) and Viognier grapes, picked late with some botrytis, and adds organic cane sugar to reach 45 brix. Made in batches, his Batch No. 6 is a non-vintage solera blend of the 2016 through 2021 vintages.

Matthiasson Vermouth is barrel-aged in French oak previously used for white wines and 25-year-old French Cognac barrels. He also infuses blood oranges and sour cherries grown in his own garden with coriander seed, using a high-proof neutral grape spirit for infusing. To add bitterness, he makes an infusion of homegrown cardoons and wormwood, adding chinchona bark and blessed thistle before bottling.
So whether it's an Old World or New World Vermouth you seek, many versions exist to enjoy in your favorite cocktail or on its own over ice.