by Stephanie Block
Mazel tov, it's almost Passover! We know that our Jewish readers are elbow-deep in matzo balls and bidding a fond farewell to Wonder Bread for the 8-day unleavened extravaganza, and we know our non-Jewish readers love learning about all sorts of wine cultures, so here is a timely guide to the kosher-for-Passover wines of Hagafen Cellars and Covenant Wines, brought to you by an author on the hunt for wines worthy of her mother's hand-ground gefilte fish.
What is Passover? Jewish Easter–as no one calls it–is a beloved holiday that takes observers out of the synagogue and into home and hearth. Every household hosting a Seder, or festival meal, becomes its own place of worship and storytelling. We re-tell the story of the enslaved Jews' Exodus from Egypt via Moses, and we discuss how freedom has still not come for much of the world today. Chief among our sacred rituals is the commandment to drink four cups of wine.
Four!
And not just any wine, but kosher wine, and mevushal wine if you're following the rules to the letter. You used to be psyched about this because you were five and the wine on the table was Manischewitz, which to your palate tasted grape! I mean great. But for the adults, perhaps not so much (though to me the Mani always hits the spot.
Kosher wine has come a long way, baby. You won't be plagued by a lack of selection…get it? Ahem. Israel is producing gorgeous wines in the Galilee, but you don't have to part the Red Sea to find great California kosher and mevushal wine.
Why are they so good these days? The method of making mevushal wine has improved. Mevushal wine is kosher plus an iron-clad way to maintain wine's kosher-ness: It's complicated, so hold onto your yarmulkes, but suffice it to say that grape products have extra restrictions in kashrut law thanks in part to those wild pagan rituals of yore. Kosher wine is acceptable in many Passover households, but mevushal wine saves the bacon (such a tacky joke) of the good folks who need all the religious boxes ticked. In the past, the way one rendered wine mevushal was to boil it. Yipes. Today, dedicated producers follow the laws in a more wine-friendly way. Hagafen flash pasteurizes the wine early in the winemaking process, heating it super fast and then cooling it quickly. Covenant practices flash-détente, flash-heating its freshly pressed grape must prior to alcoholic fermentation. These methods satisfy both rabbinic law and discerning palates.
Let's see what other fascinating details we can learn from these two unique producers whose wines are wonderful for palates of all faiths and particularly a godsend for Passover celebrants:
HAGAFEN CELLARS
Napa Valley's Hagafen Cellars offers a ticker tape parade of 25 varietal wines to satisfy every opinion and Seder course. Dry and sweet Reisling? They've got it. Late Harvest Chardonnay? You betcha. A super high-end reserve Cabernet Sauvignon? Yup!
And how is it kosher? First of all, everything that goes into the wine is kosher, even the yeast. Secondly, they do a pump through where they bring the temperature up to 180F super fast and then drop it down to 60F. They do this early in the process so that winemaking can really come to fruition. Because of this, Hagafen Cellars says, their wines can age. I tasted a 2001 library Cabernet Sauvignon that they Coravined for me that had some nice tertiary moments of red fruit, leather and cocoa.
Interestingly enough, Hagafen's owners, Irit and Ernie Weir, aren't strictly religious enough to handle their own wine, and until it is flash pasteurized, only the holiest of folks can touch it. Enter your Mashgiach. Now the Mashgiach is a guy (almost always a guy harrumph) who can kosher certify anything, like almonds or olive oil. Once he gives the wine the thumbs up, the barrels are sealed by the OU (which stands for Orthodox Union and not Oklahoma University), and if they need to be opened again, who you gonna call? Your Mashgiach. Another fascinating point about the kosher situation is that there is a whole milk/meat prescription, so these wines aren't fined with egg whites. Tada: Vegan too!
Hagafen, it should be noted, is the last word of the Hebrew prayer over wine said every Shabbat. This prayer is so well known that this brand name is instantly recognizable to even the least religious Jew. The last three words of this prayer are beret pri hagafen. And cleverly, Hagafen makes a Beret Rosé and has a high-end label called Prix, so if you point that out to the nice Jewish girl interviewing you for the Napa Valley Wine Academy blog, you'll put a big ol' smile on her face.
COVENANT WINES
Berkeley's Covenant Wines is also run by a husband-wife team: Jeff and Jodie Morgan. They're cookbook writers, too, and have just come out with their ninth: The Covenant Kitchen: Food and Wine for the New Jewish Table. If Hagafen is the (wine) country mouse, then Covenant is surely the city mouse. This winery space is a cool converted warehouse in Berkeley, and like Hagafen, they offer a wide selection of kosher wines from their approachably priced Mensch and Red C (ha!) labels to their finest Covenant wines that might set you back a hundred shekels. In terms of their mevushal obligations, they utilize that pioneering grape-heating technique we discussed, flash-détente, on their Tribe and Mensch wines. The rest of Covenant's wine portfolio is not mevushal but is certified kosher for Passover by the OU.
I'll let Jeff tell you more about Covenant, Judaism, and the Passover holiday season from our interview:
Q: What does your Passover look like?
Jeff Morgan: We do the first night's Seder at home with friends and family, the second night with friends from the community. This year we are going to our Rabbi's house for the second night. (He lives across the street from our house in Berkeley!)
Q: Do you do a Covenant Staff Seder?
No. That would be way too complicated. We are also closed for the week of Passover.
Q: Do you add anything personal to your Seder?
I usually talk too much. Again…it's tradition!
Q: Passover is so wine-focused–what does the holiday mean for you and Jodie?
It's the one holiday of the year that celebrates Jewish history through a detailed and symbolic culinary experience that provokes creativity in the kitchen as well as commentary at the table. The wine is simply one part of the story. It does make everything on your plate taste better though. (Especially the right wine pairings!)
Q: To whom or with whom is your covenant?
Great question! For the Jewish people, the word "covenant" signifies a special bond of some sort—perhaps with God, or perhaps with our own people and heritage. I've found that the meaning has changed for me with time. When I started Covenant in 2003, I had no idea that the wine would bring me closer to my heritage, my people and my culture. But it has. I feel so "connected" to all things Jewish—from the secular Jews to the Hasidim—I feel this bond. And to Israel, where my daughter Zoe now lives and where we are building a winery too. It's all about "connection" and how it enriches our lives and those to whom we feel connected.
Q: What do you pour for the prophet Elijah? Does he get the good stuff? [Author's Note: As part of the Seder tradition, an extra cup of wine is set on the table for Elijah]
It's only one glass (unless he shows up early in the evening)…So you can pour whatever you want. But in general, I would suggest pouring the best wines you can for special holidays such as Passover, or even your birthday. Why celebrate high points in our lives with anything less than the best in wine?
Q: For people unfamiliar, what is a brief thought about the thinking behind kosher?
These are dietary rules that have been developed over the millennia. Some are rooted in healthy eating; others are probably about societal control. Let's be honest, people who eat and drink together develop a special camaraderie….and sometimes make babies together. The kosher dietary laws are probably the single most important reason for why the Jews still exist today. They have kept us separate…..
Q: Why should kosher wine be "purer" than the average wine?
It's not; unless you believe it is. For me, kosher wine is made with the spirit of Judaism in mind—from grape to glass. For this reason, it is in my mind the only true Jewish wine. And as a result, it is worthy of Kiddush—the sanctification of the Sabbath and other holy moments.[Author's Note: The Kiddush is that prayer that ends with Beret-Prix-Hagafen]. As I hope I've implied….Passover is a time for all Jews to get together and celebrate our heritage, history, culture and—perhaps most important—our freedoms living as Jews. It's something we should never take for granted. And while we're at it….let's eat!
PASSOVER PAIRINGS
Finally, let's talk Passover wine pairings with traditional dishes, which is a subject covered in The Covenant Kitchen: Food and Wine for the New Jewish Table. These are Jeff Morgan's recommendations with your author's commentary:
Matzo Ball Soup: This savory (traditionally chicken) broth with carrots and matzo balls pairs well with the crisp Red C 2014 Sauvignon Blanc, Allan Nelson Vineyard, Dry Creek Valley ($24). This wine will take you through your next course as well:
Gefilte Fish: Ground fish like pike or carp is balled and served chilled as a traditional appetizer, the one that instills trepidation in the hearts of your non-Jewish guests. More for you! As with any fish course, you could also serve the tropical and mineral The Tribe 2014 Chardonnay, Lodi ($32), or the refreshing, citrus and spice Red C 2015 Rosé ($35).
Charoset: This delicious yet simple spread that symbolizes mortar the enslaved Jews would have used (building the Pyramids perhaps?) combines apple, honey, nuts and wine, perfect with Mensch 2014 White Wine, California ($20), a tropical, floral Roussanne and Semillon blend.
Beef Brisket: Treat yourself and your treasured guests with Covenant 2013 Cabernet Sauvignon, Napa Valley ($100) for the jewel of your meal. This Cabernet-driven, Bordeaux-inspired blend with Merlot and Petit Verdot is lush and complex, just like your Bubbie's (Yiddish for grandmother) gravy recipe.
Flourless Chocolate Cake: For many Passover observers, if it doesn't have leavening agents like flour in it, you can eat it! Pair your delicious dessert with Covenant 2014 Zahav Napa Valley (375ml, $44), a sweet, late harvest Muscat Canelli. Zahav means gold in Hebrew.
***
Finally, one of the popular Passover songs we sing around the Seder table is called Dayenu. It roughly translates as it would have been enough. We list out all the miracles that happened during the Exodus from Egypt: The plagues, the Red Sea parting, the Ten Commandments, etc—and after each line item we say "Dayenu! It would have been enough." Well, that's how I feel about these thoroughly modern kosher and mevushal wine producers with their extensive portfolios and dedication to the future of this (vini)culture. It's great to engage the public in this class of wines, and it's immensely meaningful to be able to celebrate major Jewish occasions with worthy wines. Dayenu. It's already enough, but I can't wait to see what these producers do next.
***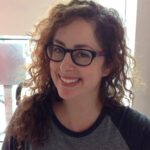 Stephanie Block (@stephanieblock) is an award-winning writer and St. Supéry Estate Vineyards & Winery's (@stsupery) social media maven and wine educator. She took her WSET Level II, Level III Harvest Bootcamp, and French Wine Scholar program at the Napa Valley Wine Academy. She has also been a social media strategist for national gender equality entities and has engaged in humanitarian work around the world. A former travel and entertainment editor, Stephanie has ordered wine in almost eighty countries and lived in six.