Photo by Neil Moralee. Image source here. Text added by NVWA.
During the 1600s, Sherry was all the rage among the Brits, Scottish and Irish. It was the drink of choice for Shakespeare, who referred to it as "sack," which is what sherry was called during the reign of Elizabeth I, in the late 1500s, and it was also enjoyed by Columbus, who ferried it aboard the Santa Maria. Sherry comes in a variety of styles from bone dry to very sweet. It is used in both classic and new cocktails, makes for an exciting alternative for food pairings, and is just as pleasing, and contemplative, enjoyed on its own.
Region
Three cities form the "Sherry Triangle"—Sanlúcar de Barrameda, Jerez de la Frontera and Puerto de Santa María—all located in the Andalucía region in Southwestern Spain, within the coastal province of Cádiz. The Atlantic Ocean is on one side and the Guadalquivir and Guadalete rivers flow through the hills on the other side. There are castle ruins and Moorish influence as a reminder of the past. From the Phoenicians to the Romans to the Moors, this area boasts more than 3,000 years of occupation—a diverse history that has contributed much to Sherry's production and transformation over the years. The Sherry Shakespeare was drinking wasn't quite like the sherry we know today (for one thing, it wasn't fortified).
Interestingly, grape vines are planted in all directions and between the vines, the soil is stark white,giving the entire area the look of an infrared photograph. This white soil is called "albariza" and it's part of the terroir that makes the region special.
Climate
The region is marked by a warm Mediterranean climate. It can be sunny and hot for as many as 300 days a year. Both Sanlúcar de Barrameda and Puerto de Santa María are closer to the North Atlantic Ocean, and have cooler temperatures than Jerez. During the fall and winter, there can be torrential downpours of rain that the chalky albariza soil is capable of retaining—an important factor since irrigation is strictly forbidden.
Production Method
The primary grapes used to make Sherry are Palomino, Pedro Ximénez and Muscat of Alexandria—all three are white grape varieties. Palomino is the base wine for the dry styles of Sherry while the other two are used for sweet wines. Dry or sweet, all are fortified.
An important component of making Sherry is a fine layer of yeast that forms above the wine while aging called flor. The flor is able to form in this region because of a combination of the humid Atlantic wind from the west, high temperatures, and the hot dry Levante wind that blows from the east through the Straits of Gibraltar (similar to the Mistral in the Rhone Valley). There are two types of Sherry, those that are aged biologically under a layer of flor or those that are aged without the presence of flor, in an oxidative state, developing aromas of nuts, spice, leather, dried fruit and toffee characteristics.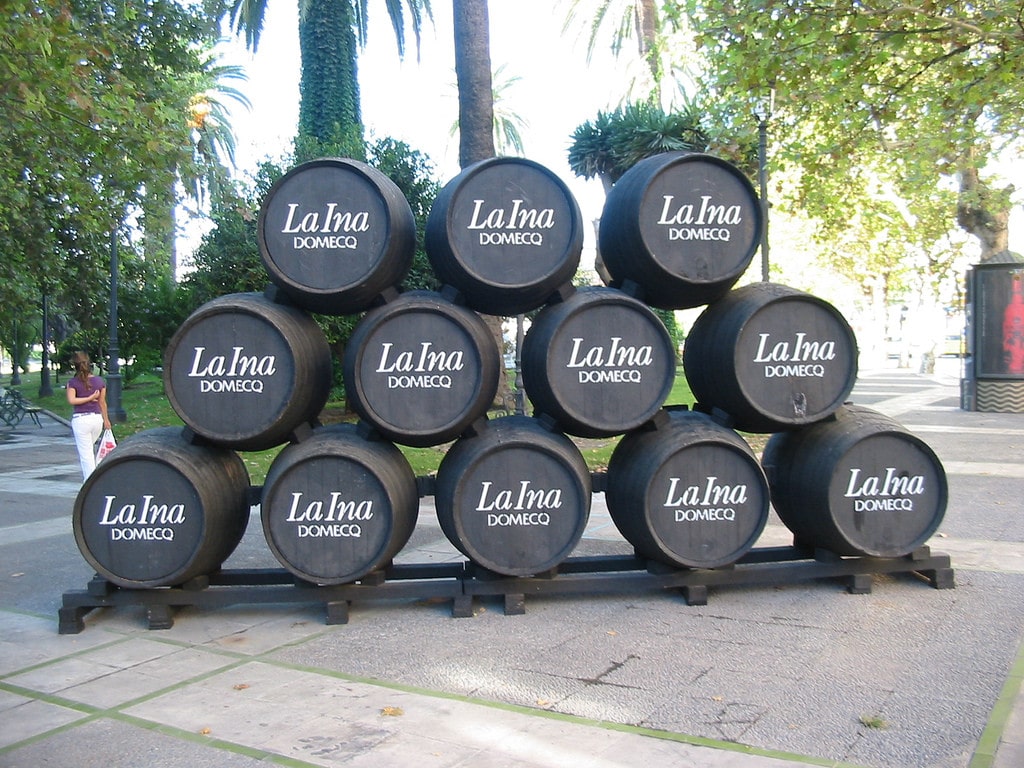 Palamino, the primary grape for Sherry, is neutral and flavorless. Flavoring comes from flor, sweetening, or barrel aging. After fermentation the wine begins a maturation and blending process. This is done in what is called a solera system. To simplify, think of a group of stacked barrels with different vintages on each level. The youngest is on top. After a period of time a portion of wine is moved to the second level of barrels. A portion of the second level is moved down to the third level and so on. Finally, a portion of the last level that contains a blend of the previous vintages will be bottled. By law, producers are only allowed to bottle one third of Sherry in the bottom barrels in a single year, and producers will typically move even less—about 10 to 15 percent.
Once blended together, the young wine will take on characteristics of the older wine. If there is a bad vintage it can be balanced out by the older wines. This is one way producers maintain a consistent house-style.
Main Styles of Sherry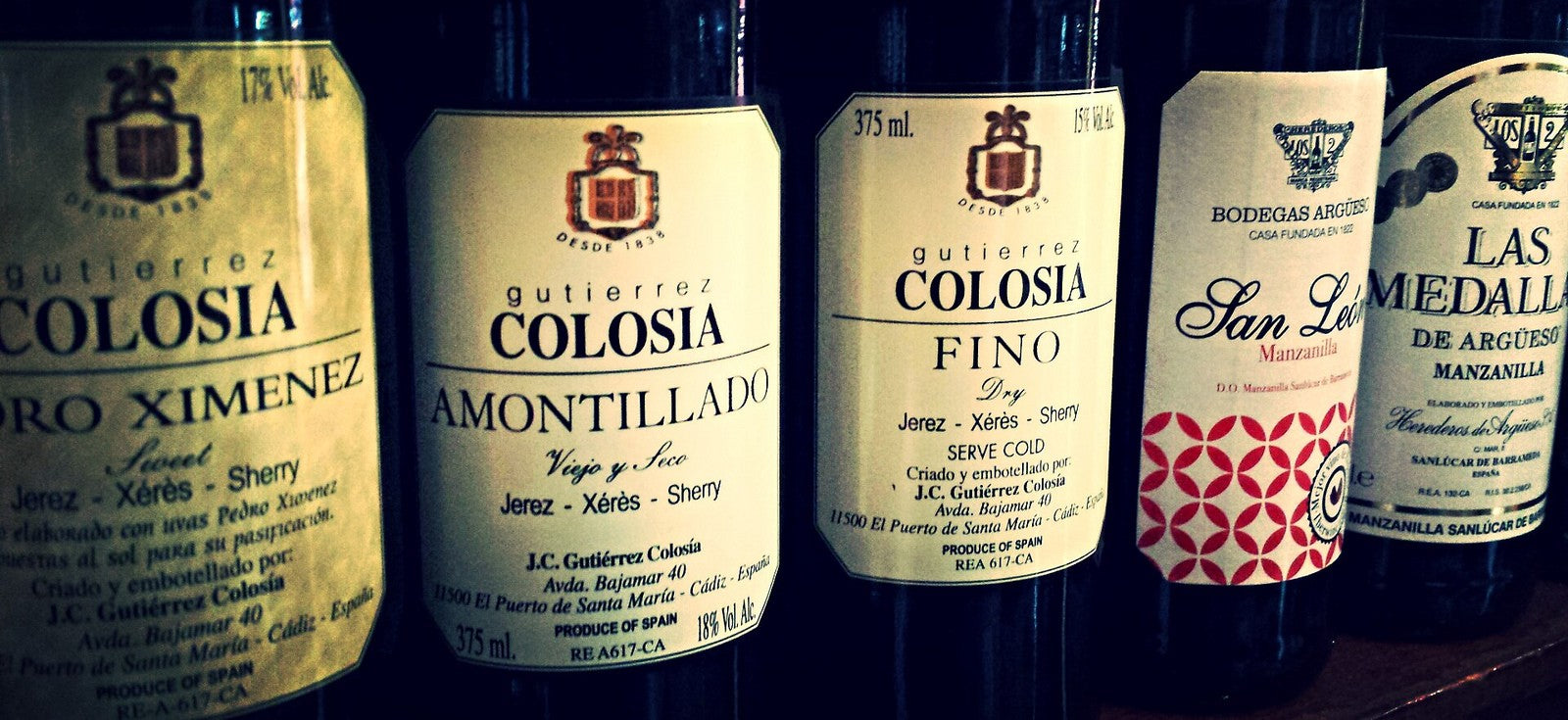 Dry Sherry:
Fino

: Developed under flor, light and crisp. Pale lemon in color. Flavor characteristics include saline, almonds, and bread dough. Usually 15 percent abv.
Manzanilla

: Developed under flor. Pale lemon in color. Flavor characteristics are similar to a Fino but with a bit more saline. Manzanilla can only be made in the town of Sanlúcar de Barrameda. Fortified 15-17 percent abv.
Oloroso

: Not developed under flor. Can be dry or sweet. Dark gold to deep brown in color. Flavor characteristics are toasted hazelnuts, spice, dried currants, and leather. Fortified15 to 22 percent abv.
Amontillado: Started as a Fino but lost its flor while aging. It has a brown color with nutty flavor characteristics. Fortified 16 to 22 percent abv.
Palo Cortado

: Started aging as a Fino, lost its flor like an Amontillado but develops flavors of an Oloroso. It's something that develops on its own. It has a brown color and flavor characteristics of orange peel, dried leaves, and tobacco. Palo Cortado is expensive and rare because of it's low production volume and uniqueness. Fortified 17 to 22 percent abv.
Sweet Sherry:
Pale Cream: A Fino that has been sweetened with Rectified Concentrated Grape Must (a sugar concentrate squeezed from the grape must). Pale lemon to light gold in color. Flavor characteristics include the yeasty flavors from flor, cocoa and raisins.
Medium Sherries: An Amontillado that has been sweetened with Pedro Ximenez or Rectified Concentrated Grape Must. It can also be a blend of Amontillado and Fino. Light brown in color. The flavor characteristics include baked apple, roasted nuts, and licorice.
Cream Sherries; An Oloroso that has been sweetened by Pedro Ximenez or Moscatel grapes. The color can range from light brown to very dark brown. Flavor characteristics include roasted nuts and caramel.
Pedro Ximenez (PX); Made from the grape of the same name. Unlike the above Sherries that are blended, PX is naturally sweet. The grapes are dried in the sun to concentrate the flavor and the wine has a dark brown color. Flavor characteristics are figs, raisins, coffee, and licorice. The high acidity balances the sweetness.
Although Sherry is quite enjoyable on its own, there are many classic cocktails that use Sherry as an ingredient. For a new twist to your holiday cocktail party, try one of these recipes below.
Rebujito
2 ½ oz. Manzanilla Sherry (La Guita recommended)
1 oz. fresh lemon juice
1 oz. simple syrup
Fresh mint leaves
Combine all ingredients over ice in a rocks glass and serve.
Recipe courtesy Moriah Crouthers, Mixologist and Manager, La Taberana, Napa, California.
Stray Mule
2 ½ oz. Manzanilla Sherry (La Guita recommended)
2 oz. concentrated ginger beer (Top Hat recommended)
Squeeze of lime juice
Pour all ingredients in a rocks glass and serve.
Recipe courtesy Moriah Crouthers, Mixologist and Manager, La Taberana, Napa, California
Sherry Flip
3 oz. Amontillado Sherry (recommend Tio Diego)
2 tsp. sugar
1 raw egg
Grated nutmeg
Combine first three ingredients in a cocktail shaker, shake well, add ice, shake again, strain, and garnish with grated nutmeg.
Recipe courtesy Mike Lee, General Manager, La Taberana, Napa, California
---
ABOUT THE AUTHOR
Rebecca Fletcher is a Wine Educator at Raymond Vineyards and the Tasting Coordinator for Karen MacNeil, renowned wine journalist and author of the "Wine Bible." Rebecca is an Air Force Veteran. Her wine credentials include: Certified Sommelier, WSET Advanced in Wines and Spirits and holds the Certified Wine Specialist honor. She is a member of the Guild of Sommeliers, Society of Wine Educators and the Napa Wine Country Chicks. She has interned as an assistant instructor for the Wines of the World course at Napa Valley College. She regularly posts wine tasting notes on the Delectable App.