In celebration of Thomas Jefferson's birthday–April 13–we are digging deep into this founding father of wine and third POTUS' grape-growing experiments from his celebrated home in Monticello, Virginia. Consider this a teaser to our American Wine Studies certification program, which covers the history of winemaking in the U.S. and explores American Viticultural Areas from coast to coast, with a focus on New York State, Virginia, Texas, Oregon, Washington, California and other critical wine-producing states. And if you truly wish to celebrate Virginia wines, we've provided a list of exceptional producers below. Thanks for reading! – Jonathan Cristaldi, Editor-in-Chief
---
by Sherry Rose Stolar
In thinking of the world's most esteemed wine regions, I'd doubt the rolling hills of Monticello, Virginia would make the top of your list. Honestly, Virginia probably wouldn't even make your list of most esteemed wine-producing states in America. But, hear me out – the Virginia wine industry is quietly booming, all thanks to the early efforts of President Thomas Jefferson.
You might not know it, but Virginia is the 5th U.S. State with the most wineries, 256 according to the Virginia Wine Marketing Office and statistics from the USDA, behind only California, Washington, Oregon and New York. The state's wineries are scattered across seven AVAs. The first one, established in 1984, is the Monticello AVA whose boundaries were drawn up based on Jefferson's vision for vineyards surrounding his home estate. He'd be pleased to know that today there are 30 member wineries within the Monticello Wine Trail, all within 25 miles of Charlottesville (the 'Capital of the Virginia Wine Belt').
The picture didn't look so rosy, however, during Jefferson's time. In 1773, Jefferson gave 2,000 acres adjacent to his home at Monticello to Filippo Mazzei, an Italian viticulturist. The two men planted vitis vinifera vines brought over from Europe, but their experiment was cut short due to the Revolutionary War.
Following the Revolution, Jefferson tried a second time to cultivate vines for wine production—unsuccessfully. His second failure is widely attributed to phylloxera, a devastating pest native to North America to which the native grape varieties were resistant, but deadly to vitis vinifera. However, Gabriele Rausse, Director of Gardens & Grounds at Monticello and one of the founders of the modern Virginia wine industry, argues that freezing temperatures likely played a factor and grafting wouldn't have been a solution. His evidence? Jefferson had a refrigerator at Monticello (the 'Ice House', which visitors can see on a tour of the property) that was cooled with ice from the frozen Rivanna River nearby—but that river hasn't frozen once in the last 40 years.
Despite his many inspired attempts (seven experiments in total), it's unlikely that Jefferson ever actually made a Monticello wine. Though native grapes were more successful than vinifera, they tended to have an unpleasant 'foxy' taste and were of poor quality. It wasn't until 1835 that a domestic grape was pleasingly cultivated—the Norton variety—named after Dr. Daniel Norton who brought about its success. After that, wines from Virginia started winning global wine awards. The Monticello Wine Company won a gold medal in Vienna in 1873 and a silver medal in Paris in 1878—but the industry stalled with Prohibition, the Great Depression and World War II.
Barboursville Vineyards, still recognized as Virginia's best winery, opened in 1976, marking the first successful planting of vitis vinifera vines in the modern Virginia wine industry. The man who planted those vines was the same Gabriele Rausse cited above, a name that carries with it much acclaim in Virginia wine circles. And, in a not so coincidental a twist of fate, ruins of the Governor's Mansion that burned down on Christmas Day 1884—a building designed by Jefferson himself—can be found within Barboursville's vineyards today (in fact, the winery named its top wine 'Octagon' after the octagonal drawing room design of the mansion).
In 1985 and 1993, respectively, the original Northeast and Southwest vineyards on the Monticello estate were replanted based on Jefferson's original plans from 1807—but on grafted vines. Rausse oversees these wines, which can only be purchased from the Monticello Museum Shop.
Vintages matter dramatically in Virginia, where extreme weather can easily destroy an entire season of fruit. For this reason, Bordeaux-style blends are common, as well as grapes that ripen before hurricane season starts. Whites usually ripen early enough, the most commonly planted being Chardonnay and Viognier. And Merlot often comes in before a hurricane. Then, there are plantings of more esoteric grapes like Petit Manseng, originally from southwest France in the Jurançon appellation, and rarely found outside of there or Virginia (who would have thought?). Jefferson would be proud.
Still, there's one Virginia winery Jefferson might not be so fond of – TRUMP Winery, the former Kluge Estates, which Donald Trump purchased in 2011 (his son, Eric, manages the property). According to Erin Scala, a sommelier at Petit Pois and Fleurie in Charlottesville, Virginia, Trump's wines are pretty good, but it's their associated politics that keeps them off wine lists.
"While the election might take over your dinner conversation, a welcome table is not one that pours liquid politics down your throat," Scala said in a recent Op-Ed piece in the Washington Post.
Thomas Jefferson was a successful U.S. president who failed at winemaking—perhaps Donald Trump will be a successful winery owner who fails at making the presidency (and who, in some twisted form of irony, has never drank a drop of alcohol)? The Virginia wine industry can only hope.
More info: https://www.monticello.org/site/research-and-collections/wine & https://virginiawine.org/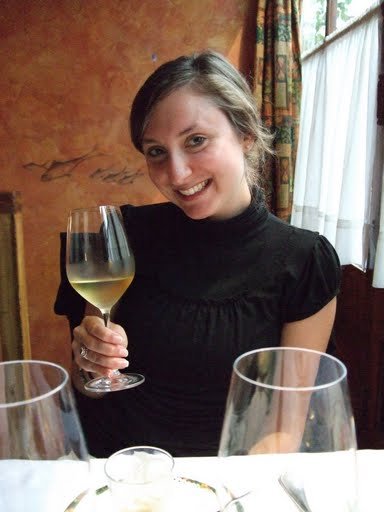 Sherry Rose Stolar is a certified wine lover, holding a Diploma of Wine Studies from the Wine & Spirit Education Trust and a BS from Cornell University. She has worked in the wine industry in New York, London and Napa Valley, in roles ranging from sales, marketing, events and education. Named after the world's most diverse wine from Jerez, Spain, Sherry not only has wine in her blood, it's in her name.
---
VIRGINIA WINE RECOMMENDATIONS – BY ERIN SCALA
---
WATCH THE "TRUE TO OUR ROOTS" VIDEO SERIES ON VIRGINIA WINES
---