Opening over 100 bottles of wine during the course of a week is typical here at the Napa Valley Wine Academy–particularly when all our classrooms are full and scores of students are swirling, sniffing and sipping away. And because it is imperative that students taste wines that show classic expressions of a variety in question, we've begun hosting regular staff tastings at our Napa HQ, always on the lookout for a new and ideal wine to showcase. At a recent tasting, we had the opportunity to experiment with iFavine's iSommelier Smart Decanter, which is designed to rapidly decant wines and which unexpectedly delivered a revelatory tasting experience.
In recent years, it's no secret that technology companies have introduced products that have helped revolutionize wine service. Think of Coravin, the device invented by Greg Lambrecht, a surgeon, which allows anyone to draw out a glass of wine from a bottle without removing the cork or spoiling the wine inside. And Apps like Delectable or Vivino that are changing the way users and professionals interact about wine while also creating new avenues of purchasing opportunities for retailers and wineries. Now, iFavine is bringing a technological upgrade to table-side wine service.
John Fruin, iFavine's North American director of sales and marketing, demonstrated the device's capabilities. Decanting times can be preset and programmed to six preselect buttons for quick decanting options (ideal for restaurants and wine bars), though any decanting time can be set manually. Wine that is decanting for one minute in the iSommelier Smart Decanter is equivalent to a regular one-hour decant; two minutes equates to two hours; three minutes to three hours, and so on. "There's also an app that can store all tech sheet information and more," explained Fruin.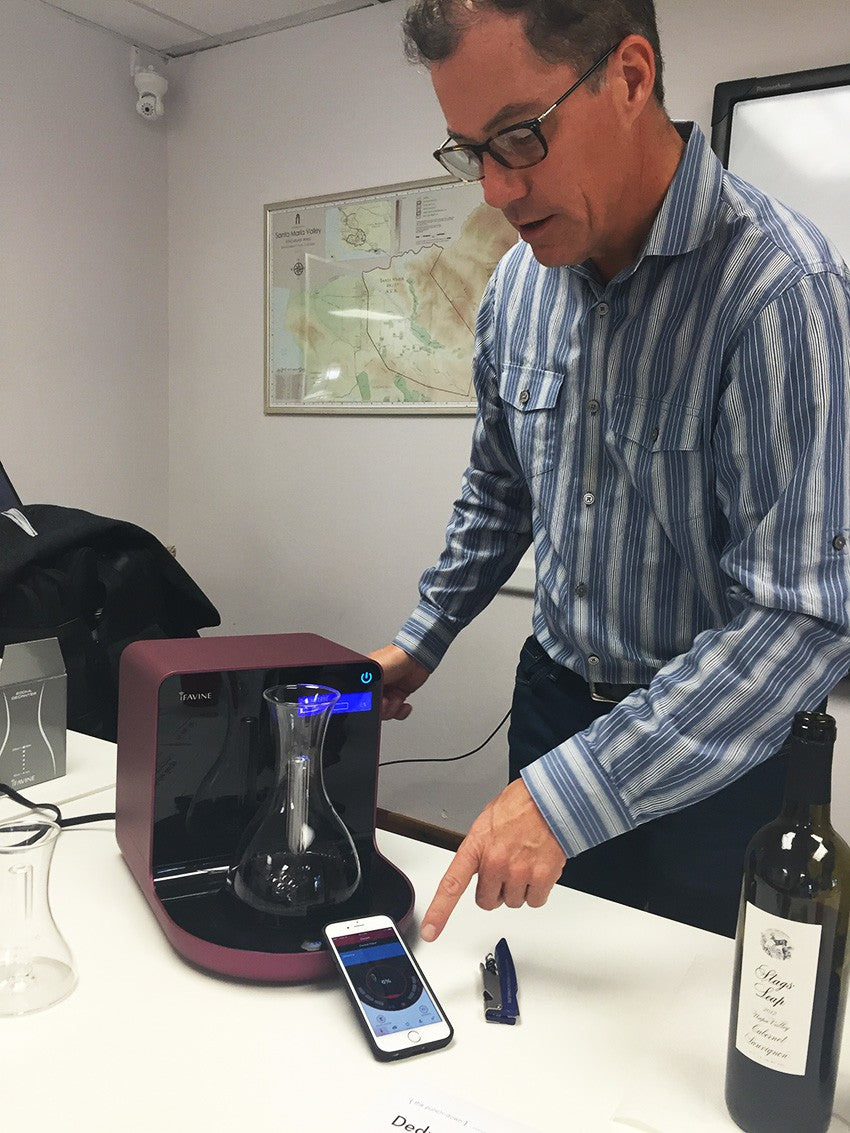 Fruin further described how the iSommelier's intended purpose is to create softer tannins and enhanced aromas in wine. "There are three filters built into the machine," he explained. "One removes moisture in wine that comes from humidity in the air. The other separates nitrogen and carbon dioxide, effectively pushing them out, while the third removes air pollutants and odors." So, in essence, impurities are removed and a rapid decant, simulating a lengthy one, is carried out in mere minutes and the wine–as we would experience–is transformed.
Though there was a bit of collective skepticism that a rapid decant would actually change the aromas, flavors and mouthfeel of a wine, once we began using the iSommelier, there was no denying the obvious changes taking place (mostly for the better), and then skepticism turned to an excited discussion of other potential uses. For instance, beyond table-side service, in the classroom, when showing a tightly wound Barolo or Brunello for a WSET seminar, it would be possible to let students taste a bottle freshly opened and then, by using the iSommelier, show how (within minutes) the wine would evolve over two, four, even six hours.
Putting the iSommelier to the test, we tasted five six Napa cabs: one from Stags' Leap Winery and five vintages of a Diamond Mountain cab.
***
Mueller Family Vineyards 2007 Cabernet Sauvignon, Diamond Mountain District, Napa Valley, USA, $80
UN-DECANTED: The wine was showing its age with more dried fruit and caramel notes emerging. The tannins were a bit disjointed.
ONE-HOUR DECANT: Tannins mellowed slightly and those caramel notes were more integrated and less obtuse.
Mueller Family Vineyards 2008 Cabernet Sauvignon, Diamond Mountain District, Napa Valley, USA, $80
UN-DECANTED: Black and blue fruit, along with spicy oak, tobacco notes and graphite character is underscored by generous tannins and good structure.
ONE-HOUR DECANT: The wine softened but there was more pronounced oak spice.
Mueller Family Vineyards 2009 Cabernet Sauvignon, Diamond Mountain District, Napa Valley, USA, $80
UN-DECANTED: Generous and weighty, impeccably dark, juicy, super ripe fruit coupled with gobs of gripping tannins.
ONE-HOUR DECANT: Interestingly, the decant didn't help this as much as expected–the tannins did soften, but somehow the fruit mellowed too much as well.
Mueller Family Vineyards 2010 Cabernet Sauvignon, Diamond Mountain District, Napa Valley, USA, $80
UN-DECANTED: Dark berry fruit and red raspberry along with some stewed fruit character, a subtle cheese rind note on the nose, extremely soft and silky on the palate.
ONE-HOUR DECANT: Again here, decanting wasn't ideal as some bitterness was accentuated.
THREE-HOUR DECANT: Curious to see what would happen, we turned the iSommelier back on for another two minutes and turned this one-hour decant into a three-hour decant and the results were again surprising: that bitterness had dissipated and overall the wine was impeccably soft and the fruit character, while not wholly complex, was pleasing.
Mueller Family Vineyards 2012 Cabernet Sauvignon, Diamond Mountain District, Napa Valley, USA, $80
UN-DECANTED: A well-balanced wine of rich blackberry and blueberry fruit, licorice, coffee notes. The fruit concentration is not over the top and the acidity lifts it above the cut of most Napa cabs.
ONE-HOUR DECANT: This was the star pour of the tasting. The short time decanting brought about added complexity by improving the rich, voluptuous texutre and more complex aromas of dusty tannins and wild blackberries and bramble emerged, and also played on through the palate. With stellar mountain fruit and typicity, this is a great wine. We all agreed it might serve an in-class tasting well by offering a clear example of how good mountain fruit, treated well in the cellar, can produce a wine expressive of its terroir.
***
Stags' Leap 2012 Cabernet Sauvignon, Napa Valley, USA, $53
UN-DECANTED: As expected, this wine was fairly tight upon first tasting. Dark berry, anise and oak flavors dominated while the tannins were dense and mouth-drying.
ONE-HOUR DECANT: Immediately differences in the nose were evident–interestingly, the wine was even less aromatic, but subtle floral notes emerged. The biggest change was on the palate and the wine was markedly softer and the fruit more voluptuous and complex.
FIVE-HOUR DECANT: The aromatics were now quite pronounced and all agreed the change was rather "astonishing." Savory notes had emerged, even "soy" and the wine was truly enjoyable and "not like a fresh sawed off piece of wood," as one taster put it. The implications? Whereas this style of cabernet wine might be undrinkable upon opening for many, five minutes in the iSommelier can offer a world of difference.
***
While this may not be the most exciting minute of your life, this is what happens when you turn on the iSommelier:
https://www.youtube.com/watch?v=thFnlCV2fdM
For more information about the iSommelier visit: www.ifavine.com.