by Geralyn Brostrom, CWE, IWP, VIA Italian Wine Expert / images courtesy of Geralyn and Jack Brostrom, authors of Into Italian Wine: The Italian Wine Professional Certification Course.
EDITOR'S NOTE: Napa Valley Wine Academy is the only school in America offering the Italian Wine Professional course online. Learn more about
becoming an Italian wine expert from the comforts of your own living room. Click here. 
"…the more than 400 denominations provide the diversity to make Italian wines so compelling, but at the same time make it so difficult for the average consumer to embrace. Add to this the Italian penchant for complication as applied to the laws of Italian wines and you have a perfect storm that causes consumers to throw their hands up in desperation of ever being able to master such a maddening level of complexity."
That recent quote, from Leonardo LoCascio, founder and former CEO of the Winebow Group, just about sums it up. Italian wine laws can be a conundrum—but understanding them doesn't have to be. Here are 7 tips to help you decode Italian wines laws, which will also make it easier for you to choose–and ultimately enjoy–Italian wine.
The Umbrella
The governance of Italian wine law falls under a larger umbrella of the EU (European Union). Under EU wine law there are three quality levels recognized for wines. You can think of these conceptually as 
Good, Better, and Best
and as you move from Good to Better to Best, this will usually go hand in hand with more legal restrictions on how the wine is made, a lower volume of production, and of course higher prices.
Pyramid Scheme?
The most common visual graphic used to depict these levels has been a pyramid. While there are pitfalls to this, the pyramid has done a fairly good job of helping hundreds of thousands of wine students worldwide understand wine laws by illustrating the idea that there is a broad base of everyday wine that builds up to a pinnacle of top-quality wines. Here, you can see the official English-language terms for the three quality levels:
The Good News is This is Not New News
If you have ever eaten any specialty Italian food item, you are already familiar with PDOs and PGIs because they have existed for years for foods like cheeses, meats, olives, and many other agricultural items, but were established at the EU level for
wine
only in 2008. Think
a)
Aceto Balsamico di Modena
vinegar,
b)
Parmigiana Reggiano
and
c)
Mozzarella di Bufala Campana
cheeses and the velvety smooth, beguilingly sweet d
)
Proscuitto di San Daniele
ham.
a)
b)
c)
d)
Acceptance: Getting Into the Club
To qualify as a
PDO
, the highest level, a wine must meet a long list of requirements that govern, among other things: where the grapes were grown, how the vineyard was planted and managed, when the grapes were picked, what types of grapes go into making the wine, and for blends, in what proportions, and also methods are used in making the wine. It further governs flavor, aroma, sweetness, and color of the finished wine, as well as alcohol content and other chemical components, length of aging and whether barrel aging is required, and finally labeling and packaging.
But Why All These Rules?
A group of California winemakers that I was recently traveling with, asked this very question. Well, the purpose of having a PDO designation is important, I told them, particularly in the wine and food world—especially to Italians who have been perfecting their very
"particular"
(an oft used Italian word) methods of production over time and protecting their centuries old territories. They exist:
To tie a specific agricultural product to the place where it was developed over time;
To prevent producers in other areas from taking advantage of and perhaps damaging a traditional product's reputation;
To ensure that items for sale are typical of that product and meet consumer expectations.
Not Everybody Can be in the Top Tier
The middle tier, below the PDOs, is where we find the
PGIs
. To qualify as a
PGI
, the requirements are similar to those for a PDO, but not as detailed or as difficult to achieve. The geographical area where the grapes can be sourced is usually broader than for PDOs. More grape varieties are usually allowed to be used. Viticultural and winemaking requirements are less stringent. To qualify as "
Wine
," the bottom tier, there are few requirements. The grapes can be sourced from anywhere in the EU. Any grape varieties can be used and viticultural and winemaking requirements are minimal.
Interpreting the Language
In the Italian language,
PDO
is translated as
e)
Denominazione d'Origine Protetta
 also known as "
DOP
," and
PGI
is f
)
Indicazione Geografica Protetta
 also known as "
IGP
." These terms are used in official EU documents and may appear on Italian wine labels, BUT—and here's where it can get a bit confusing . . . EU wine law allows countries to continue to also use traditional quality terms that existed in their national wine law before 2008.
e)
f)
Back to the Pyramid Scheme: Italian Wine Law
Italy's national wine law has
two
quality levels that equate to the EU's "PDO" level.
g) Denominazione d'Origine Controllata or DOC is the main designation at the PDO level.
h) Denominazione d'Origine Controllata e Garantita or DOCG is a higher level that is based on higher production standards and therefore, in principle, better quality.
i) Italy's traditional term for PGI is Indicazione Geografica Tipica or IGT.
g)
h)
i)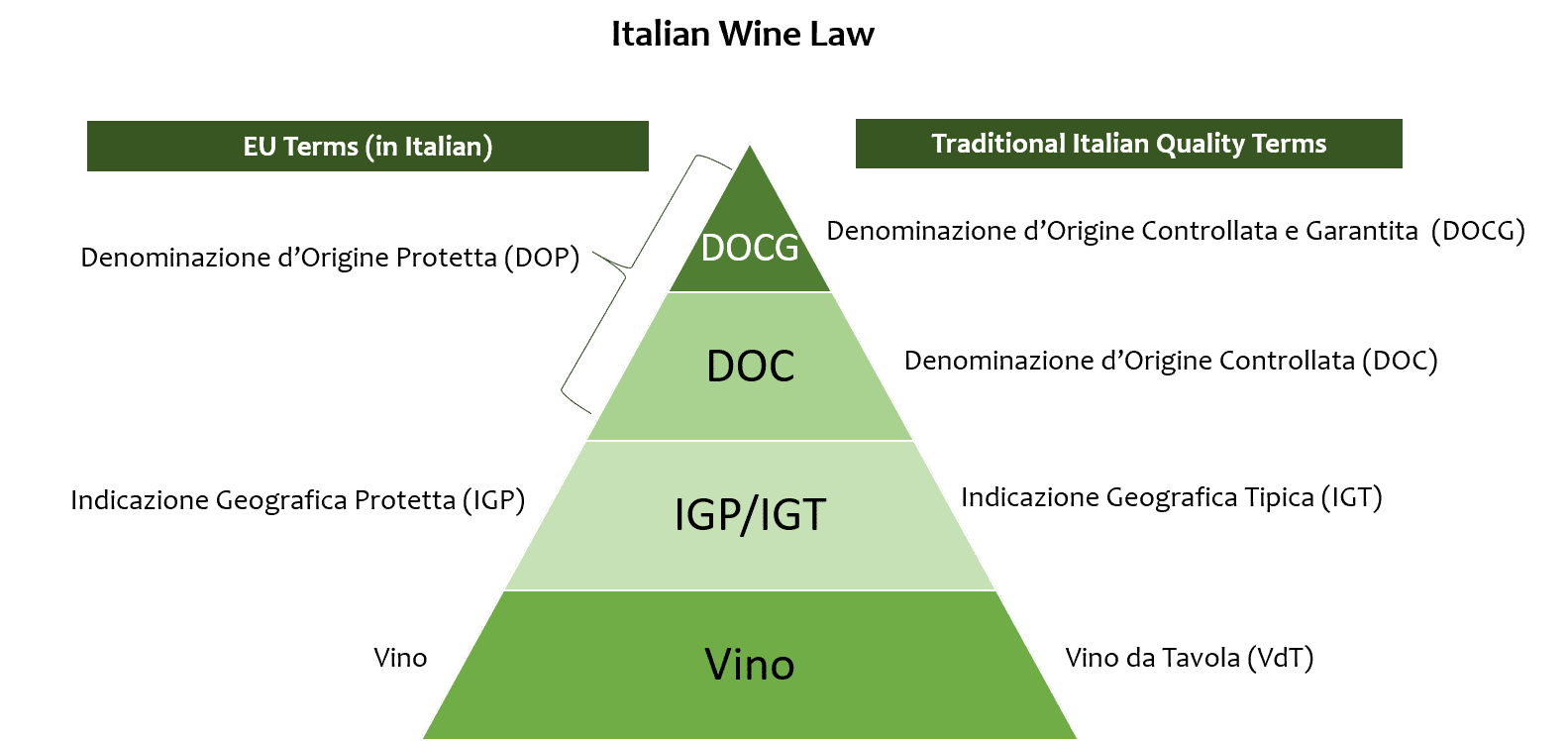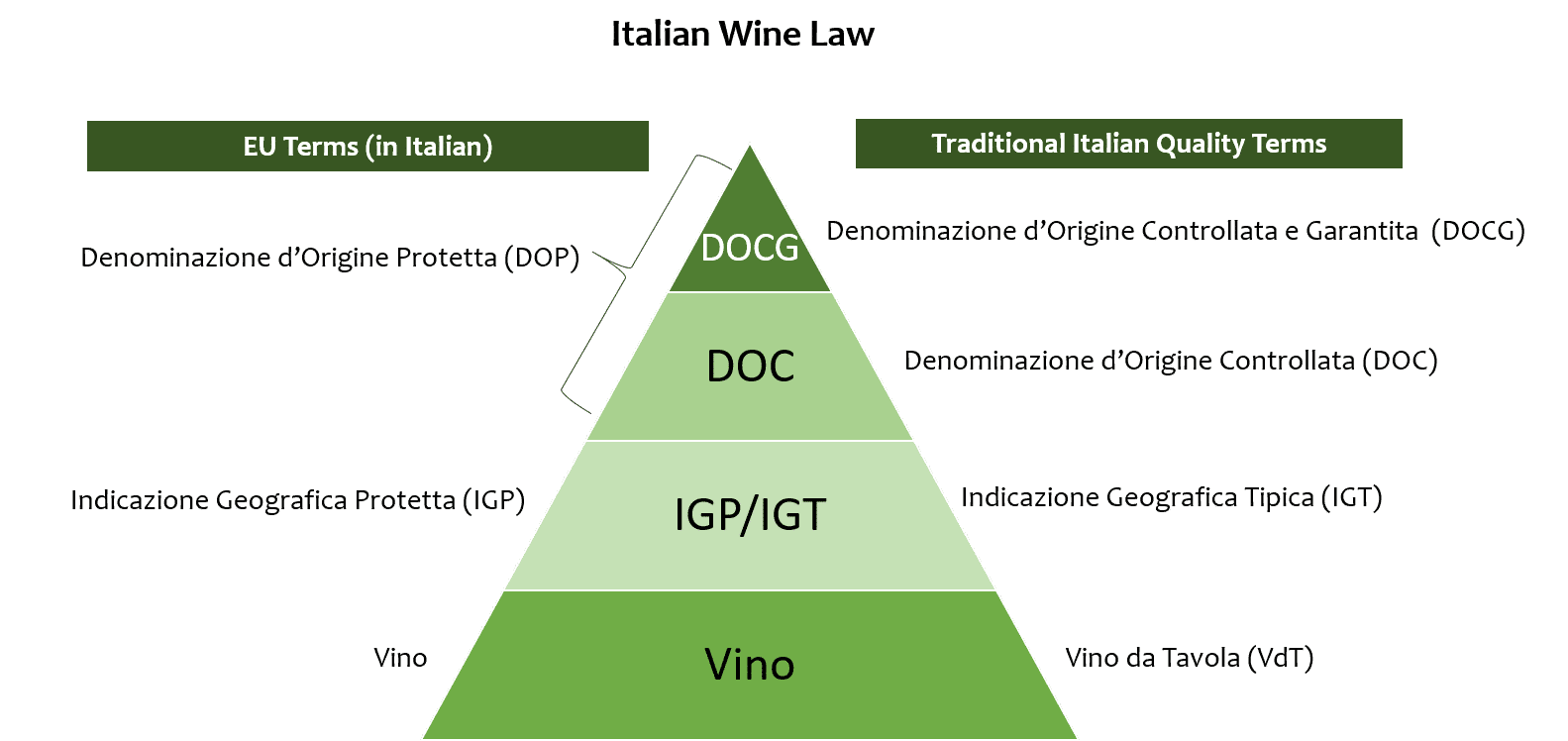 Wineries can use either the traditional term or the official EU term on their labels.
Because the DOCG level is more difficult to achieve, it is more prestigious than DOC, so wines that qualify for a DOCG denomination will continue to use that term instead of DOP on the label. However, because of the many variables involved, DOCG wines are not always superior to DOC wines. There is less incentive to continue using DOC and IGT on wine labels, but many wineries prefer the traditional terms,
so both the old and new terms will be seen on labels.
Now you should be a little closer to understanding the Italian wine law puzzle!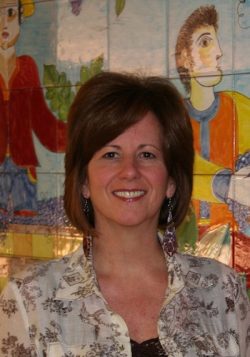 Geralyn Brostrom, CWE, IWP, VIA Italian Wine Expert
Education Director, Italian Wine Central. Geralyn is co-founder and education director of the Italian Wine Central (IWC) website, a central network for wine professionals wanting to learn and teach about Italian wines. Prior to starting IWC, she was Vice President of education for The Winebow Group. A 25-year veteran of the wine industry, she has held positions in multiple channels: winery, import, distribution, retail, and the non-profit wine education sector. As a published author her book titles include Into Italian Wine and The Business of Wine, which was nominated for the Gourmand World Cookbook Awards. She is an instructor in the Wine Business program at Sonoma State University in California and the Wine Studies program at the Culinary Institute of America at Greystone. Geralyn holds a BS in Management and an MBA in Marketing, is a dual citizen of the United States and the Italian Republic, and is conversational in both Italian and French. Her professional wine credentials include the Vinitaly International Academy (VIA) Italian Wine Expert, the Italian Wine Professional (IWP), the Certified Wine Educator (CWE) from SWE and the Level III Award in Wines and Spirits, with distinction, from the WSET..