From medicinal tonic to psychedelic misinformation, its absurd ban, and quiet resurrection.
Absinthe has a long and colorful history, dating back centuries. This unique spirit has enjoyed a tumultuous life—having gone from a medicinal tonic to a source of psychedelic inspiration and being banned for almost a century. 
But what is absinthe, exactly? And why is it so misunderstood? I wanted to better understand this spirit that is never included in wine and spirit curriculums and has long been shrouded in mystery.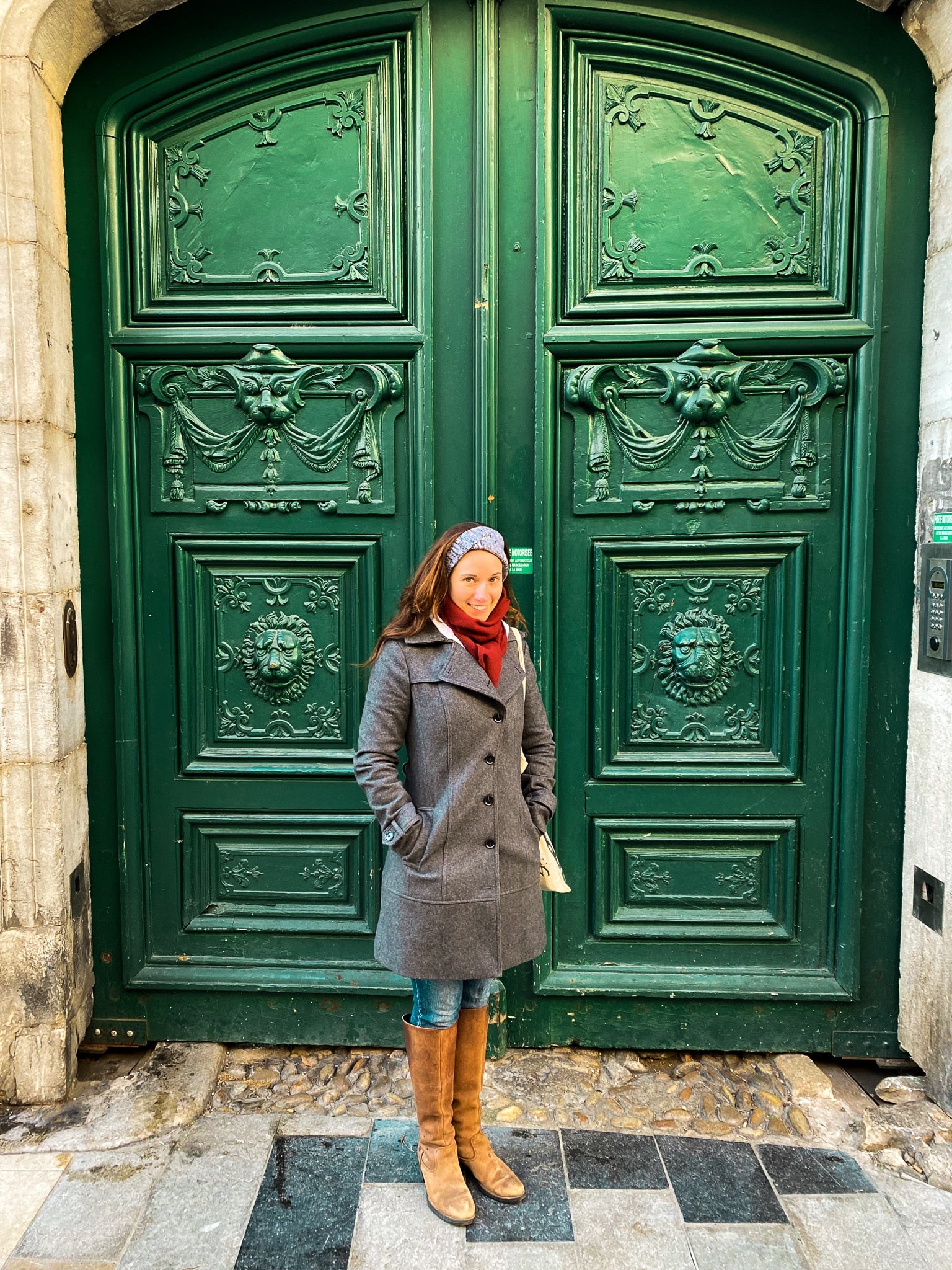 On a cold weekend in January this year, I set out on a journey to the "La Route de l'Absinthe" beginning in Pontarlier, France. The route extends into the Val-de-Travers area of Switzerland. The entire region is dotted with distilleries all nestled into the mountain landscapes of the Alps. 
On my journey, I met with modern distillers and fourth-generation producers who shared captivating stories of family bootlegging and hard work to revive the spirit.
Let's take a closer look at the history of absinthe and explore some of the myths and legends that have surrounded it for years.
What is Absinthe?
First, absinthe is a spirit made from botanicals, most notably grande wormwood or what is called "grande absinthe" in French. Wormwood is what gives Absinthe that unique botanical bitterness.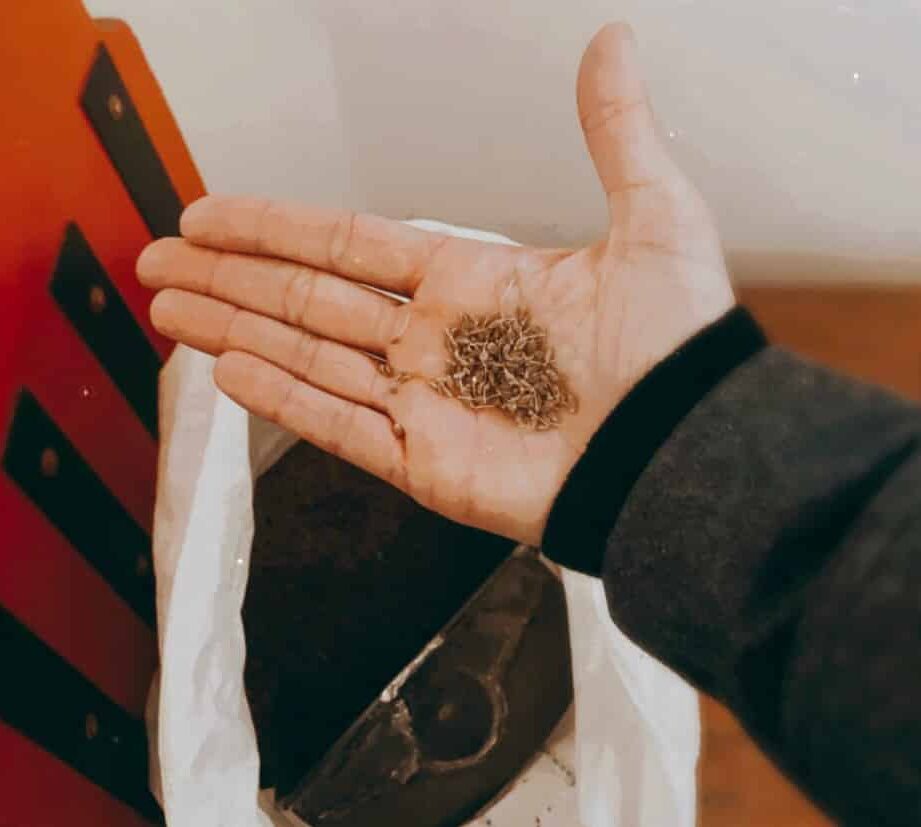 Wormwood is part of the Chamomile family and is packed with aromatic oils. The herbs and spices used in absinthe create a distinct flavor profile that has been enjoyed by drinkers for centuries. Ask any producer today and they will tell you that the "holy trinity" is wormwood, anise, and fennel. Together these herbs create a concentrated, complex high-proof spirit we call absinthe.
Distilleries have their own special recipes or "cuvée" often kept secret and handed down to new generations even through the ban. Absinthe was outlawed in the United States in 1912 and was illegal until 2007. More on that later.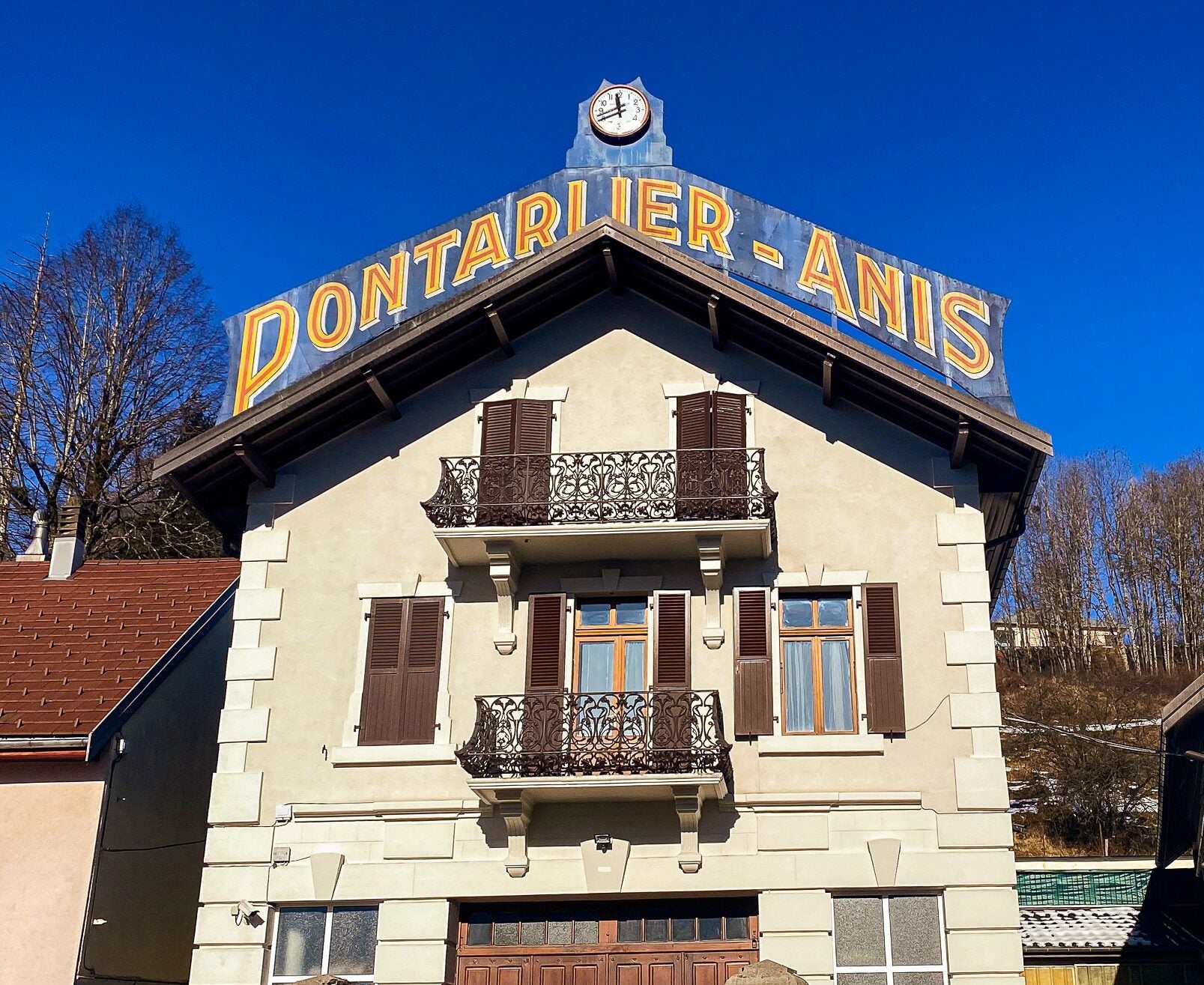 Some European distillers grow their own plants organically as is the case at Distillery Armand GUY. In the heart of absinthe country, the family-owned distillery still exists in the original location in Pontarlier, Franche-Comté—a region in eastern France, bordering Switzerland. A rural, mountainous area with fertile agricultural valleys and thick pine forests. Distillery Armand GUY still uses 100-year-old copper stills and oak casks in their aging processes.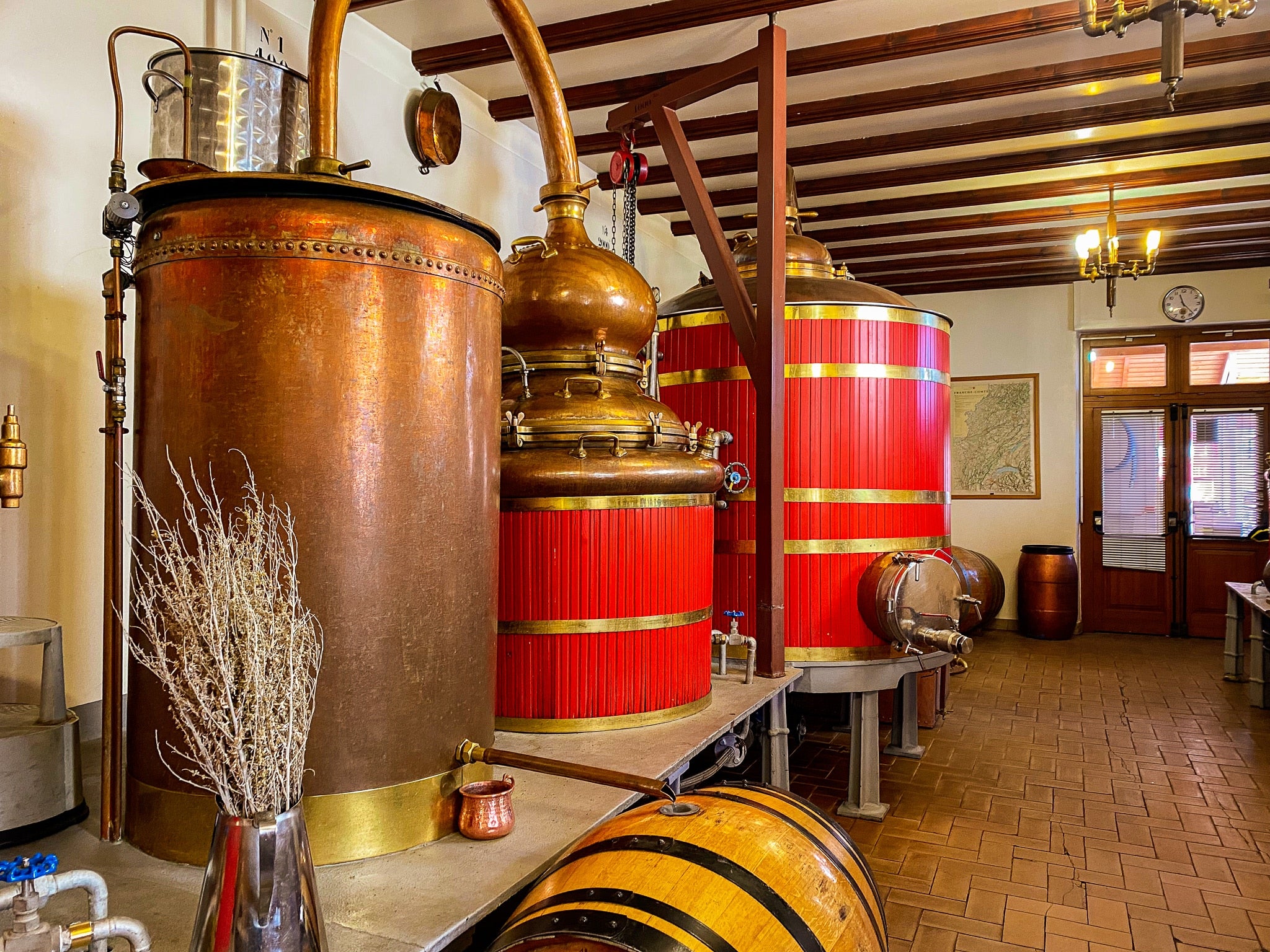 The distillery was created at the peak of the golden age of absinthe in Pontarlier. Owner Francois-Laurent Vitrac sources all their wormwood from the distillery's local garden. Vitrac cultivates a species indigenous to the Franche-Comté. 
Distillery Armand GUY has recently been given label certification "Entreprise du Patrimoine Vivant" (EPV), which is a sign of recognition awarded by the French state, created to distinguish French companies with exceptional artisanal and industrial know-how.  
As far as tastes are concerned, absinthe can prove a delicious drink, rich with herbal aromas, strong anise, or black licorice on the finish. Some absinthe is lighter and more floral while others are darker and earthier. It is easy to make terroir-observed connections to the vegetation and landscapes along the route de l'Absinthe.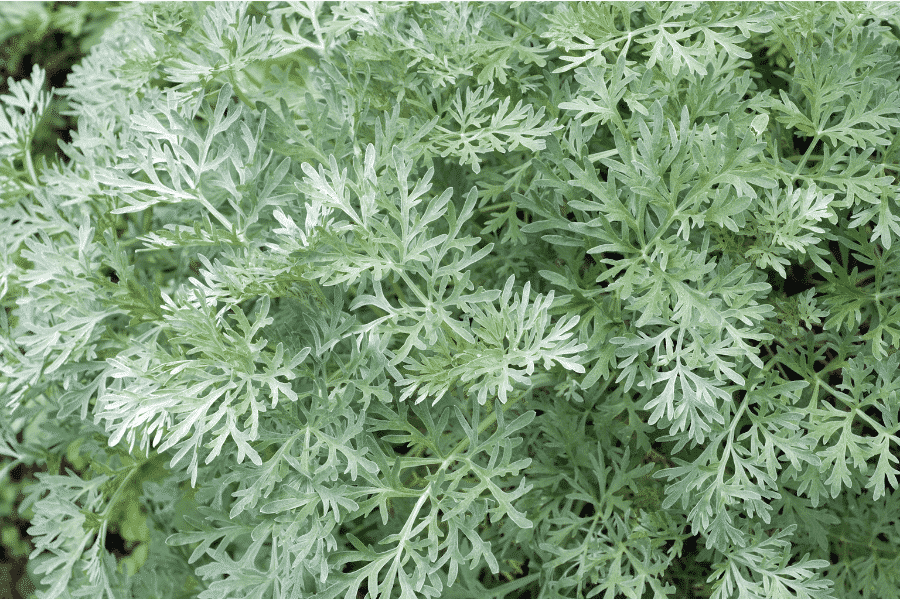 Absinthe is also notorious for its alleged psychedelic effects. This has led to much speculation and misunderstanding about the drink. The most common misconception is that absinthe will make you hallucinate! This is simply not true. It's a myth that revolves around thujone, a chemical found in absinthe that many have attributed to the component that induces hallucinations. 
In fact, what thujone can do is cause convulsions at extremely high doses; but you would need to drink an unhealthy amount of thujone-rich absinthe before feeling any effects from this spice. 
Note that sagebrush (sage) contains thuja as well—a common ingredient used in cooking without issue by people every day. When the ban on absinthe was lifted in the early 1900s, Europe, Canada, and the US established acceptable percentages of thujone in absinthe.  
In the US and Canada, almost no wormwood is allowed in it, except for British Columbia which is not regulated. So, in effect, the absinthe you purchase in the US is thujone free. But there is a workaround and absinthe lovers in the US can buy it online and have it delivered to the US.
The maximum permissible amount of thujone additions in absinthe are:
35 mg/l for Europe 

10 mg/l for USA + Canada 
The Rise of Absinthe
Absinthe was first used as a medicinal tonic to help cure various medical issues like jaundice, menstrual pain, anemia, and even bad breath. The first known texts mentioning absinthe come from Northern Africa most notably by the ancient Egyptians. Wormwood was referenced in texts as it was used for medicinal purposes. 
Centuries later, European war records show that absinthe was even sent to soldiers as fever and malaria preventative. And that relationship between absinthe, its ingredients, and herbal medicine very much exists today.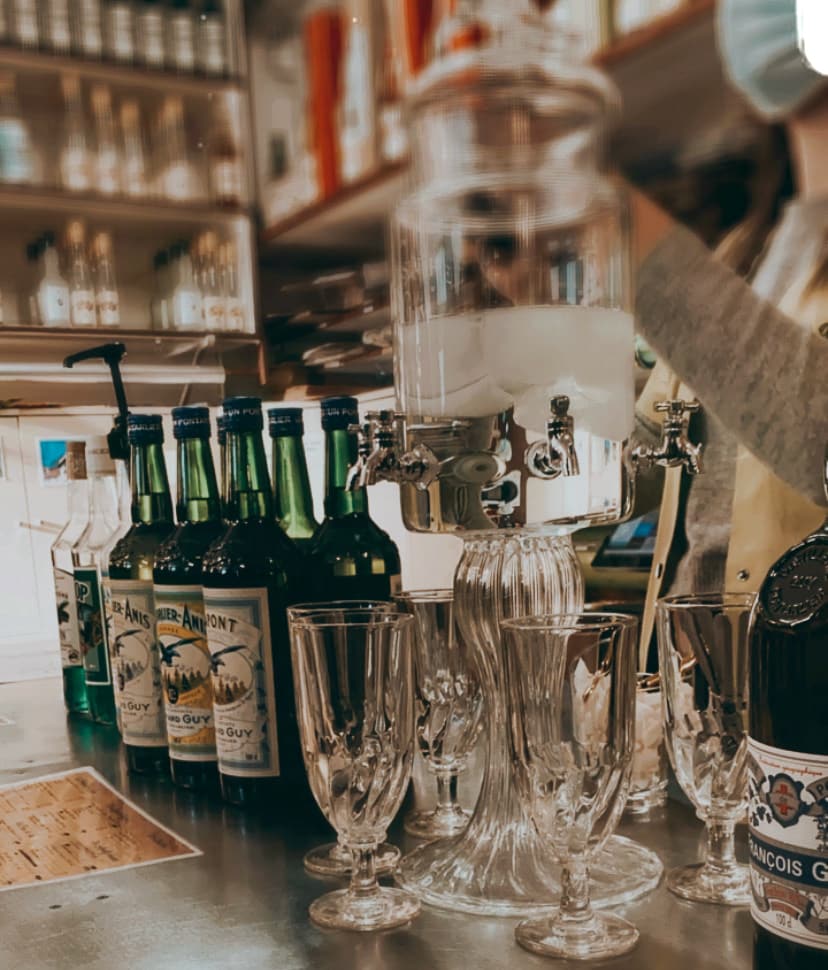 Today's version of absinthe emerged in apothecaries in Switzerland in the late 18th century. It wasn't long before the demand for absinthe grew throughout France—perhaps from soldiers returning from war who developed a thirst for it. The drink gained popularity in Parisian cafés, and artist salons, and absinthe became popular among artists and intellectuals including Van Gogh to Picasso. It intoxicated the piano composition of Chopin and made its way into famous works of literature. 
"In the late 1800s there was one bar per every four people in Paris", said Francois-Laurent Vitrac of Distillery Armand GUY. "The green hour at 5:00 p.m. was the happy hour. Terraces were full and absinthe would flow." The absinthe green fairy made her home in Paris. 
The Fall of Absinthe: Panic, Politics, and Phylloxera! 
As absinthe's popularity grew so did crude counterfeits, rumors, and myths. The principal culprits of such rumors were the French wine growers who desperately needed to make a comeback. While absinthe was in its heyday, so was phylloxera, a root louse that devastated French vineyards in the mid-1800s. A rise in consumption of absinthe had threatened the wine industry. Ironically, the winegrowers banned together with the Ligue nationale contre l'alcoolisme—the French temperance movement. The two groups conspired to push for a legal ban of absinthe through propaganda and artfully crafted smear campaigns. 
Then in 1905, moral panic across France and Switzerland against absinthe arrived at the tipping point after a dark and tragic story made headlines. Jean Lanfray (a Swiss worker) in a drunken rage, murdered his family and then attempted suicide. He missed and shot himself in the jaw instead. Later it was found that throughout the day in question, he had consumed two glasses of absinthe, seven glasses of wine, six glasses of cognac, one brandy coffee, and two glasses of crème de menthe.Of all the alcohol he consumed, it was the two ounces of absinthe that were blamed for his actions. 
The tragedy led to a petition with over 82,000 signatures that eventually led to the banning of absinthe in Switzerland in 1910. The United States followed with a ban in 1912. Then due to the continued public pressure, France officially banned absinthe in 1915.
The region of Franche-Comté and the route through Switzerland in Val-de-Travers were home to several villages whose main economy was absinthe production. The once buzzing villages along La Route de l'Absinthe would become ghost towns after the ban went into effect. Many distillers and their families from both Switzerland and Franche-Comté immigrated to the south of France to begin new distilleries focusing on anise. Little remains of this period of prosperity. The aftermath devastated the region's economy. 
Bootleggers! 
Despite the ban, like prohibition in the USA, underground distilleries were born in Val-de-Travers. I drove into this area of Switzerland to the tiny village of Couvet to meet with Nicolas Stauffer, the owner of DistAB artisanal distillery and fourth-generation absinthe distiller. His family had operated a local pharmacy here for more than a century. 
Stauffer shared stories of his father, Pierre, a third-generation pharmacist. The family pharmacy was used as a front for many years to conceal the illicit operation. Using his skills and knowledge, Pierre was able to craft excellent absinthe flavor profiles and soon became quite renowned. He used plants from Val-de-Travers including local wormwoods and lemon balm. He discovered that vintage variations are important on these plants like grapes in wine. 
Clients used a code name to order by phone and during his childhood, and Stauffer answered those calls."'I am the baron of Russia and I would like 10 doses,'" would be a typical request, recalled Stauffer. "We had a black notebook by the phone that contained all client references in numbered code," he explained, noting that only his father could decipher the code. The codes were quite cryptic. "A '4-3-3' meant 400g of one plant, 300g of another, and 300g of a third one." His dad also advised other distillers who wished to improve their techniques.
During the 80-year ban, absinthe was distilled outdoors and people would burn tires to hide the smell in the village. "The pot still had to be small enough to go into a car's trunk," says Stauffer. "My father was often tailed by gendarmes," he recalls (meaning the local police). The French authorities tolerated bootleggers as long as the alcohol came from the country and not sourced elsewhere.
Above: some images from the DistAB Artisanal Distillery. Click for a closer look.
Before the end of our visit, Stauffer walked me upstairs and took me through a secret door into the attic hidden above the pharmacy. Like stepping into a treasure trove or museum, the room is filled with apothecary jars, books, and artifacts dating back to the 18th century. Today, the DistAB artisanal distillery is still located in the original Couvet pharmacy, and Stauffer still uses his father's recipes. 
Absinthe Revival
In the 1990s, British importer BBH Spirits began to import Hill's Absinthe from the Czech Republic, where it was never officially banned. This sparked a modern resurgence in its popularity in the 1990s and it became one of the hottest drinks across Europe again. But all these new influxes were nothing more than poor-quality versions made with synthetic ingredients that did little to represent the original style of 19th century spirit. 
Thus began a movement throughout the Franche-Comté and Switzerland to both lift the ban and go back to the traditional distillation methods that represent the regional heritage along La Route de l'Absinthe. 
Absinthe was made legal in the rest of the European Union in 1988, provided the amount of thujone falls within the agreed limit of 10mg/kg, or 35mg/kg for grande absinthe. It was made legal in the U.S. in 2007. In 2019, French absinthe is given geographical protection by the E.U. 
There are very few drinks that involve such a beautiful ritual as absinthe. Perhaps the closest is decanting an old bottle of wine with a candle. Absinthe is a unique drink with a rich history and can be enjoyed in many different ways.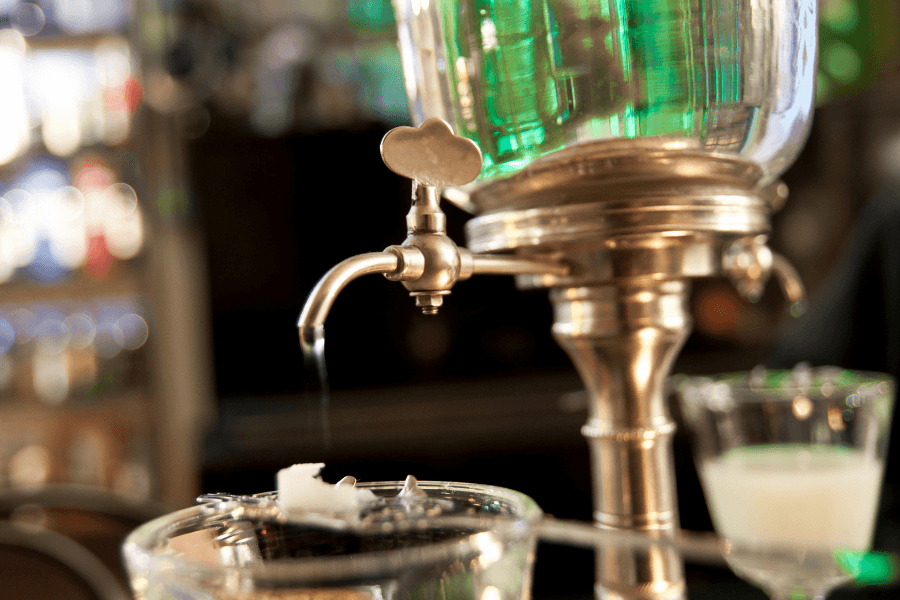 My personal favorite is the ritual, the classic ode to its roots. Fill your glass one-third with absinthe then slowly drip ice water over a sugar cube on an Absinthe spoon until it is almost full. The aromas and ritual itself will transform you back to the golden age. And if you find yourself in Paris, stop by Lulu White Drinking Club where you will find artisanal absinthe, cocktails, and frequent live jazz music.
I hope you are inspired to explore absinthe further and connect with other enthusiasts. Who knows, maybe you will even gain some creative inspiration of your own to travel and learn more about this fascinating spirit. 
Editor's Note: Although Napa Valley Wine Academy does not offer a course dedicated to absinthe—not yet!—there is plenty in the world of spirits to dive into.
See how much you learned from this article: take the Absinthe Quiz
Sources:
Interviews / Visits 
Nicolas Stauffer, DistAB artisanal distillery, Couvet, Switzerland  
Francois-Laurent Vitrac Armand Guy distillery, Pontarlier, France