What we can say, decisively, about pinot noir is that it is capable of producing some of the finest wines in the world. Think of profound Burgundian pinots, and New World expressions from Martinborough or the ones from California and Oregon–wines that are utterly captivating, thoroughly perplexing, and supremely contemplative–not unlike Monet's Rouen Cathedral series (pictured below). On the other hand, pinot noir is capable of producing wines of utter disappointment, often bulk or large production wines, over-oaked, over-ripe and acidified, boasting about as much charm as a ballerina who can't jeté to save her life. If pinot noir could talk, the thin-skinned, tiny berried grape might say: "Do I contract myself? Very well then I contradict myself (I am large, I contain multitudes)," positively quoting Whitman, though she'd be anything but large, in fact.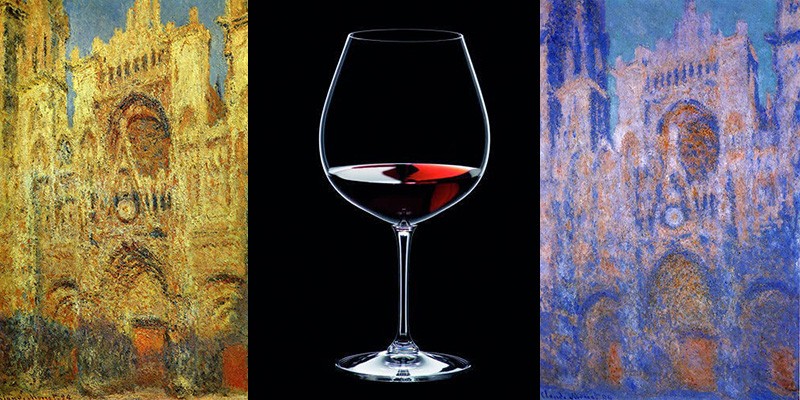 Here in California, we have our pick of impeccably fine pinots, of incredibly varying degrees of style and expression. And with so many styles and options available, is it any wonder someone like Rajat Parr, co-author of "Secrets of the Sommeliers," and owner/proprietor of Domaine de la Cote, ELV, Sandhi Wines and Maison l'oree, would seek for pinots he deems In Pursuit of Balance?
We're riding an acid high, and invite you to join us on a sensory experience–let these seven wines lift you into cherry scented clouds, dusted with lofty red spices, occasionally darkening with savory, cocoa, graphite and tobacco notes that will rain down on your palate in such a glorious fashion that only the sound of another cork releasing more of the same flavors and aromas will bring you back down to earth–damp, wet, mushroomy, forest-floored earth.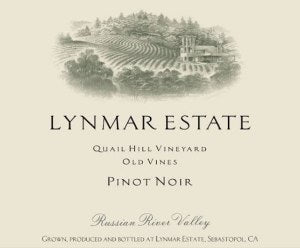 Lynmar Estate 2012 Quail Hill Vineyard Pinot Noir, Russian River Valley, Sonoma County, CA
The prince of pinot clones, Lynn Fritz, has been busy at work over the last couple decades planting and re-planting different clones of pinot to different sites. This is blend of 14 clones from the Quail Hill Vineyard, which was originally planted in 1974. It offers a lovely and round, velvety mouthfeel, lofty spice, black cherry, strawberry, rose petals and more baking spice and hints tobacco on a long finish.
Appellation: Russian River Valley
Price: $60

Fel 2012 Savoy Vineyard Pinot Noir, Anderson Valley, CA 
Black cherries, violets, a savory character that appears in other Savoy Vineyard-designate wines, leading into cedar, fig and more spice–an exemplary and thoroughly satisfying pinot from this 43-acred vineyard, owned and farmed by the Lede Family (other standout producers using fruit from Savoy are: Failla, Peay and Auteur).
Appellation: Anderson Valley
Price: $65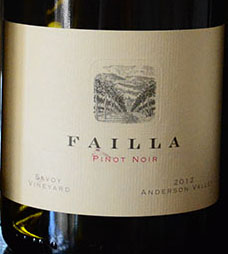 Failla 2012 Keefer Ranch Pinot Noir, Russian River Valley, Sonoma County, CA
On the westside of the RRV (the southern-most part of the Green Valley) where the overall climate is wetter, foggier and a prolonged growing season allows for slow ripening, these elements combine to deliver this feathery wine of bright red berry fruit, orange peel, toasty cinnamon notes and savory earthen character. Winemaker Ehren Jordan uses all native-yeast fermentation, which adds to the excitement of subtle style-variation from vintage to vintage.
Appellation: Russian River Valley
Price: $42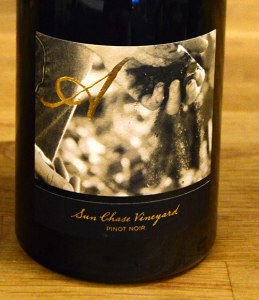 Agnitio 2013 Sun Chase Vineyard Pinot Noir, Sonoma County, CA
Winemaker Alexandre Remy holds a master's degree in food science from the University of Montpellier. His consulting credits include Gallo, Mumm, Kendal Jackson and Opus One, among others (if he was a baseball player he'd be batting .400). The Sun Chase Vineyard, owned by the Guarachi family, sits 1,400 feet in elevation within the Petaluma Gap at the northwest corner of Sonoma County. This Pinot is sourced from three different blocks. A juicy core boasts dark cherry fruit underscored by fresh earth and just-turning rose petals.
Appellation: Sonoma County
Price: $60
Flood 2012 Pinot Noir, Santa Barbara County, CA
This astonishing gem, made by winemaker Ernst Storm (Storm Wines), was brought to our attention at Mattei's Tavern in Los Olivos, CA, by Kelly Lam, the restaurant's event coordinator. After teaching a WSET Level One class nearby at Firestone Vineyards, Jürg Oggenfuss, W.M.D., C.S.W., WSET-Certified and Partner of the NVWA, who sampled the wine, along with Christian Oggenfus and myself, demanded we order a bottle. "It's absolutely seamless," said Jürg. And it was and we can still recall the sinuous mouthfeel, refined red cherry fruit, cedar, mesmerizing earth and savory notes, all wrapped in a absolutely perfect glass of wine, so exemplary of what California Central Coast pinot noir has to offer (the fruit source is Dierberg Vineyard in Sta. Rita Hills on Drum Canyon). If you can find it, stock up.
Appellation: Santa Barbara County
Price: $39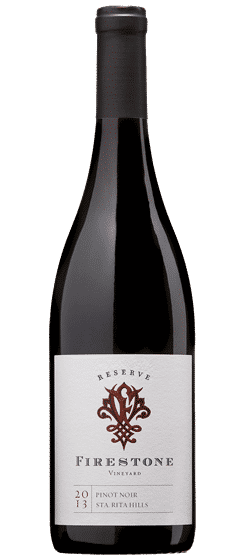 Firestone Vineyards 2012 Reserve Pinot Noir, Sta. Rita Hills, Santa Barbara County, CA
Having tasted this wine for the WSET Level One class, which was offered August 1 at the winery, our tasting notes are lost to the ether of classroom adjectives, but these are winemaker Paul Warson's notes, which are quite similar to the descriptors that filled the room: "Aromas of ripe berry and forest floor give way to complex flavors of cherry pie, ripe raspberries, dark berries, and spice. The dark tannins give the wine a full, soft palate with a tart acidity and lingering finish."

Appellation: Sta. Rita Hills
Price: $35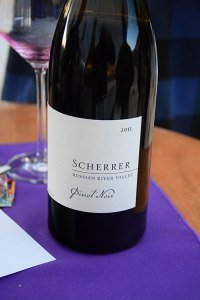 Scherrer 2011 Pinot Noir, Russian River Valley, Sonoma County, CA
Winemaker Fred Scherrer is a UC Davis grad who worked for Fieldstone, Greenwood and Dehlinger. He comes from a family of farmers, and though is quiet when you first meet him, will freely speak his mind once he warms up to you, and regal you with stories of visiting vineyards in France. Succulent mid-palate, hearty, earthy, with rich and spicy fruit that delivers a depth of character.
Appellation: Russian River Valley
Price: $46
Don't forget to check out our American Wine Studies program, if you'd like to learn more about the many regions in the U.S. producing exceptional pinot noirs.