With 18 candidates (as of today) having announced their plans to run for the highest office this free and independent nation has to offer, variety is the name of the game this July 4th holiday weekend (however, no, we did not recommend a Trump wine, sorry). So, for those of you visiting family, attending barbecues, hitting the beach or boating on a lake or tubing down a river, keep things interesting and do your part to teach your fellow American friends, or visiting friends from other countries, a little bit about wine and how it plays a big part (really deserves its own chapter) in American history.
To help with some American Wine knowledge bombs, our instructors have offered up 5 wines to try this Independence Day, along with a bit of history and tasting notes. And feel free to tag us on Instagram if there's a bottle out there that you think truly speaks to the American way of celebrating.
Happy fireworks viewing and cork popping.
Pick by: Christian Oggenfuss, D.W.S., F.W.S., A.I.W.S., I.W.P.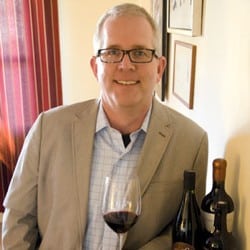 Proprietress Jennifer Lamb of Herb Lamb Vineyards is one of the most genuine and warm personalities in Napa Valley. She brings charm and grace to the wine business–the same qualities that I try to impart to guests in my home during the warm, sunny days of summer and this sauvignon blanc does not disappoint! This is a classic Napa Valley expression of Sauvignon Blanc with ripe flavors in the tropical fruit realm and unctuous texture.
This is a wine that represents summertime in a glass with its aromas of fresh cut flowers, white peaches and Meyer lemons–its refreshing on the palate with zesty lime acidity, which gives lift to flavors of melon, tropical fruits and white peaches. The texture is creamy and the wine finishes with a long lingering request to sip some more.
 This wine also brings to mind a quote from the movie
Box Trolls
, as it is: "reminiscent of a mother's hug on a warm spring day."

Chrysalis Vineyards 2011 Locksley Reserve Norton, Virginia, USA ($38)

Pick by: Catherine Bugue, D.W.S.
The story of the Norton grape is a true American tale. Early settlers eagerly gathered native grapes such as Concord and Isabella to produce wines for their daily meals. With the taste of red Burgundy and Port on their lips, however, the reds created from these American grapes proved utterly disappointing.
Attempting to produce something better, Thomas Jefferson and others, tirelessly explored planting European grape varieties known for fine wines. These attempts proved unsuccessful in the soils and climate of the new country. Experimentation was rife, however, along with a good dose of patriotic determination, and those dedicated to making good American wine began to create crossbreeds between European and American vines for something more than passable in taste.
It was amongst hundreds of attempts at crossbreeding in the 1820s, that the Virginian Daniel Norton came across a lone survivor, the wild child that survived in the vineyards when none others would. It was here that the Norton grape was born.
Today, Jenni McCloud embodies the same wonderfully stubborn spirit of Daniel Norton, and crusades for this American-bred grape through her Virginia winery, Chrysalis. In her campaign to bring back the glory that was once Norton's (the grape won international acclaim in the 1800s), Chrysalis produces several Norton wines–Locksley is the flagship.
Don't expect Norton to taste like cabernet sauvignon, tempranillo, nebbiolo or any other red grape. While its descriptors may sound familiar–dark-berry fruit (like blackberry and black cherry), with spicy and earthy flavors, generous acidity and tannins–it is a truly unique tasting experience, and a very American one at that.
Charles & Charles 2014 Rosé, Columbia Valley, USA ($14)
Pick by: Brenda Audino, C.W.E., S.G.D., WSET Certified Advanced

This Independence Day celebrate the Red, White and …. Rosé with a wine from patriotic Washington–state that is.
The vibrant salmon-pink colored Charles & Charles Rosé from Washington's Columbia Valley consists of an impressive lineup of grapes: syrah takes the lead in this blend with plenty of support from mourvedre, cabernet sauvignon, grenache, cinsault and counoise. Together they achieve a harmonious rosé. The wild strawberry, raspberry, watermelon and Herbes de Provence aromas will accompany any picnic, barbecue or fireworks celebration with pizazz.
Salinia Wine Co NV Wellspring Solera Chardonnay ($49)
Pick by: Gence Alton, D.W.S.


The United States of America has always been the shining beacon of independence. It has therefore taken many internationally renowned wine grapes to new heights, creating examples that are daring and unique, just like the peoples that she has been welcoming wholeheartedly for centuries. Chardonnay is prime example of these efforts–a grape made famous by France's Burgundy producers, adopted by American growers and producers to make a truly American varietal-expression in the California sunshine, which gives Chardonnay an intensity, provided by gorgeously golden-ripe berries at harvest. Salinia's Kevin Kelley has taken this already independent, characterful genre to a whole new dimension by Solera aging this Chardonnay (Sherry-style) and allowing a Jura-esque amount of oxygen to add to its personality an even deeper meaning. It's sweet, it's salty, it's tangy, bright, bold, intense and even elegant at times. There is nothing like it out there that can bring splendidly colorful Independence Day fireworks closer to your palate.
Monticello Vineyards 2014 Rosé, Napa Valley, USA ($24)
Pick by: Jonathan Cristaldi, WSET Certified Advanced
I'm more than a little obsessed with Mr. Thomas Jefferson. In fact, if I had to point to one defining reason for my getting into wine, it was because of Benjamin Wallace's book "The Billionaire's Vinegar," which tells an incredible tale of several bottles of wine sold at auction, believed to be Thomas Jefferson's. And recently, I discovered Monticello Vineyards in Napa, a few hundred yards south from the intersection of Oak Knoll Ave and Big Ranch Road. There's even a replica of THJ's Monticello Estate house.
Owners of Monticello Vineyards, and growers since the 1970s, the Corley Family built the Jefferson house in 1983 as a "Physical tribute to Thomas Jefferson, the father of American Wine," Stephen Corley told me while tasting through his portfolio a week ago. Corley is the the director of sales and marketing. Guests can visit the house. There's a downstairs private tasting area for club members and for private tasting experiences–call ahead and inquire. Their 2014 rosé is made from syrah, with half the grapes for the wine coming off the vine a bit early, and the others going through saignée. The resulting wine boasts a pretty nose of strawberry and bright watermelon notes, along with subtle fragrant herbs and spices–the saignée juice lends a robust structure, while acids are vibrant and well-retained from the early-picked fruit. 
And while the Corley's may have come from Westport, Ireland or Corley, England or from Normandie, France (they're not sure), they are living the American dream as closely as can be, in Presidential fashion, and with several members of the family running the business–like Chris and Kevin Corley, winemaker and grower, respectively. I plan to share more on my visit to their estate vineyards in a later post, along with details on the rest of the wines in their portfolio–beautiful expressions of classic Bordeaux varieties.