We know that you read wine blogs. We also know how hard it is to keep up with the array of fantastic bloggers out there, the likes of: 1 Wine Dude, Dr. Vino, Fermentation: The Daily Wine Blog, The Gray Report, Hawk Wakawaka Wine Reviews, Vinography and many others in addition to the laundry list of Wine Blog Award winners—in brief: there's no shortage of opinions, wine recommendations and in-depth coverage of wine regions, winemakers and wine industry pros. So pull up a Google search and add a few more to the list, if they're not already bookmarked:
Jeremy Parzen, Ph.D. has answers to your Italian wine and food questions, and beyond. There's an Italy you've never been privy to, but through Parzen's writings, a world of Franciacorta and amazing Prosecco offerings will open to you, along with lists, tips, videos and wine tastings that will inspire (or slightly enrage out of sheer jealousy). Go to Italy now (through Parzen's blog).
Author Alice Feiring is the stalwart champion of the natural winemaking movement and has written a couple radical books that should be on your reading list: "The Battle for Love and Wine: or How I Saved the World from Parkerization" and "Naked Wine" and she also produces a newsletter worth forking over the $65 per ten issues. Live vicariously through Feiring's many encounters with natural and biodynamic producers and drool over some of the older wines she is constantly drinking and posting about. Consider this blog your plug into the seriously natural side of wine.
If you're in the mood to discover a new wine, just scroll through the pages upon pages of Meg Houston Maker's "Maker's Table" blog, which is riddled with detailed tasting notes, suggested retail pricing and all-around exceptional writing. You'll leave this blog with a real sense of the stories behind the wines Meg reviews and also an honest and thorough explanation of what she thinks of the wine.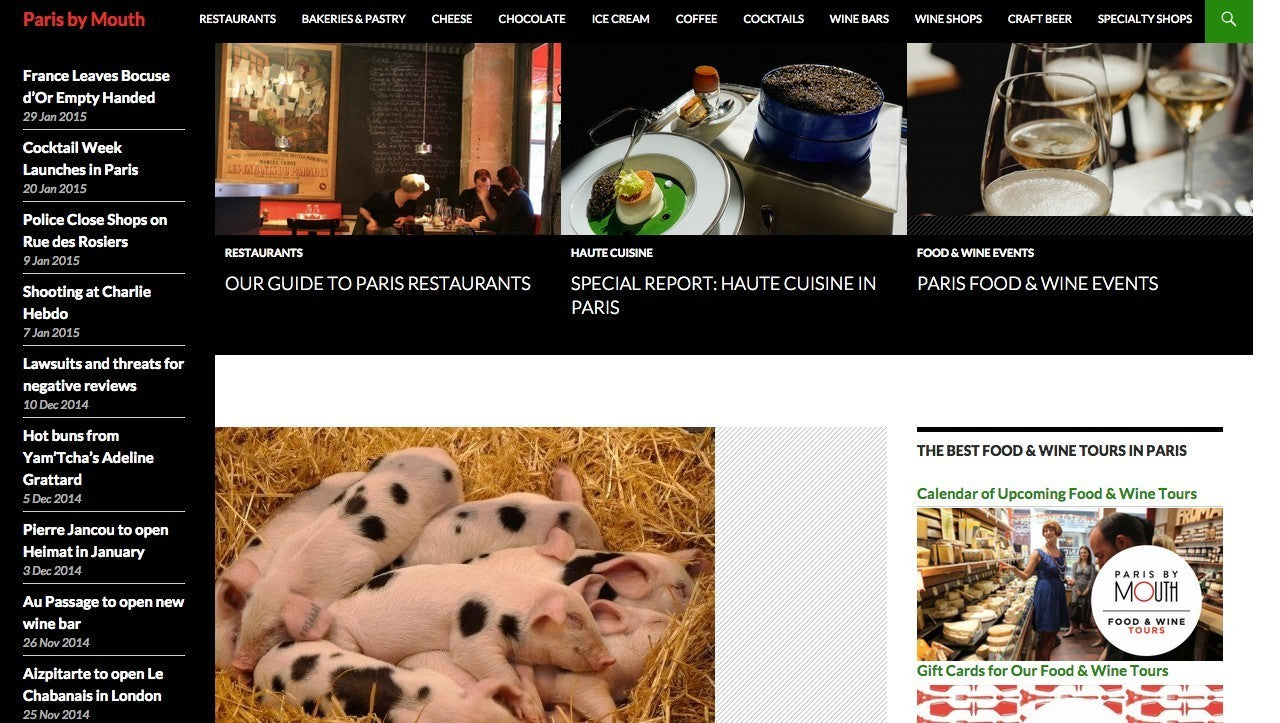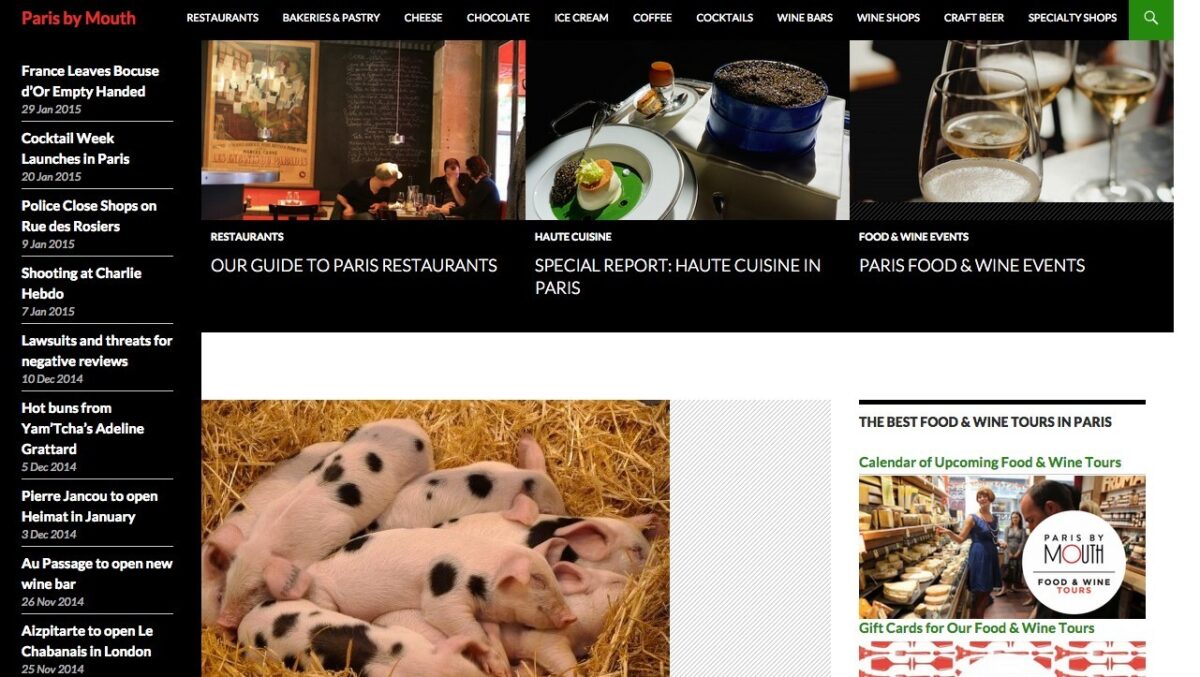 Haven't been to Paris? Or haven't been lately? No problem: Paris By Mouth will take you and provide you with a myriad ideas and places to visit next time you're in Paris. On a personal note, a few years ago strolling around the Left Bank, I passed by a wine shop called "La Dernière Goutte" and eventually mustered the courage to accept my limited French-speaking abilities and head inside. My eyes immediately fell to scanning a collection of Rhone reds and white Burgundy facings I had never seen, and to my delight (and egotistical disappointment) I perceived a conversation in English coming from a back room. Two ex-pats and one Paris blogger had just finished a wine tasting class. That blogger was Meg Zimbeck, the founder and Editor-In-Chief of Paris by Mouth, and to this day I value their wine bar and wine shop coverage like nothing else, in addition to their food writing.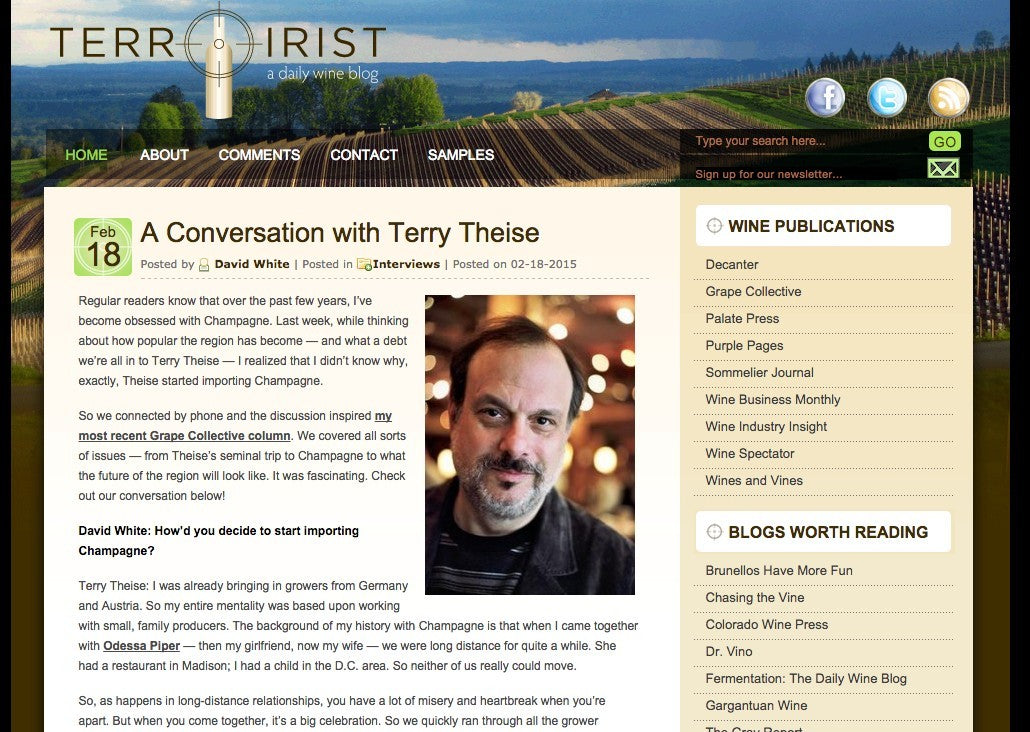 How does David White and his stellar team of writers do it? Week after week, Terroirist brings solid reporting from around the digital wine-globe via their "Daily Wine News." Winemaker interviews come out on Fridays and are often revelatory and fun reads and White never misses an opportunity to opine on a subject that matters to him (especially if it involves Steve Heimoff or Robert Parker).
---
ABOUT THE AUTHOR
Jonathan Cristaldi is a WSET Certified Instructor with The Napa Valley Wine Academy. He is also the Deputy Editor of the SOMM Journal and Tasting Panel Magazine, a contributing editor to FirstWeFeast.com, wine writer for Los Angeles Magazine's Liquid LA blog, Liquor.com, Thrillist and former bar-reviewer for Time Out LA. He tweets from @NobleRotNYC.